German Dressage News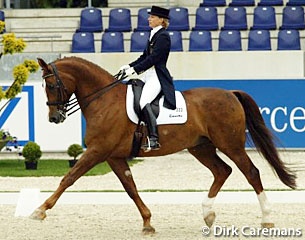 Nadine Capellmann has decided to retire her 18-year old Gracioso. Despite the fact that Gracioso was still healthy, in top shape and winning dressage classes, Capellmann pulled him back from competition
as she felt "boycotted" by the German Dressage Selection Committee.
The FN-DOKR did not to select Capellmann for the German Dressage Team for the CHIO Aachen, nor for the 2003 European Dressage Championships, even though she won the bronze medal at the 2003 German Dressage Championships one month ago and scored better than presently selected team members.
In September 1995, the now 38-year old Nadine Capellmann purchased Gracioso from her trainer Klaus Balkenhol for a rumoured 1 million Deutsch Marks. Balkenhol discovered the chestnut gelding by Grundstein and trained him to Grand Prix level. Capellmann successfully took over the reins of the very difficult Gracioso and showed him at the 1997 and 1999 European Championships and the 1998 World Equestrian Games, winning three times team gold.
Gracioso will be officially retired in the autumn.
Image copyrighted: Dirk Caremans
Related Links
2002 CHIO Aachen: Capellmann and Gracioso, Still a Dominating Pair
Capellmann and Husenbeth, 2002 German Dressage Champions