2003 World Championships for Young Dressage Horses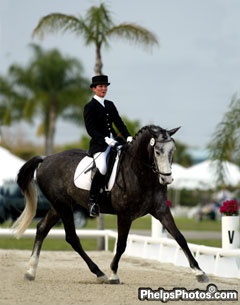 Three USAE Selection Trials for the 2003 FEI World Breeding Championships for Young Horses in Dressage were conducted in May and June in Cincinnati, OH, Raleigh, NC, and Pasadena, CA.
Horses which competed in the Finals class of these Selection Trials in their respective age division, and earned a score of 7.5 or better, are qualified for the Young Horse Short List for the World Breeding Championships.
American combinations selected for the short list are:
5-year olds
Rachmaninoff - Hanoverian gelding by Rubinstein out of Gloriette
Rider: Joseph C. Sandven / Owner: Joseph C. Sandven
Remy Martin - Dutch warmblood gelding by Inferno out of Iris
Rider: Marissa Festerling / Owner: Marissa Festerling
Red Romance DC - Oldenburg mare by Rubinstein out of Perglanz
Rider: Susan Dutta / Owner: Tim Dutta
Rykaard - Dutch warmblood gelding by Kimberley out of Milonia
Rider: Ashley Fornell / Owner: Ashley Fornell
Raison d'Etre - American warmblood gelding by Regulus out of Little Doozie
Rider: Elly Schobel / Owner: Elly Schobel
Donna Novella - Hanoverian mare by De Niro out of Walessa
Rider: Meike Moeller / Owner: Melissa Mulchahey
6-year olds
Partous - Dutch warmblood gelding by Juventus
Rider: David Wightman / Owner: David Wightman
Kavalier - Trakehner gelding by Amatcho out of Kandice 
Rider: Jane Cleveland / Owner: Jane Cleveland
Fabrice-S - Hanoverian gelding by Fabriano
Rider: Jules Anderson / Owner: Holly Hains
Persimmon ISF - Dutch warmblood mare by Contango out of Hidden Road
Rider: Angela Sasso / Owner: Iron Spring Farm
The FEI World Breeding Championships will be held August 7 – 10, in Verden, Germany. The United States will be allowed two (2) representatives in each age division (Five- and Six-Year-Old). For more information, please contact Jennifer Keeler, Sport Manager – Dressage, at (859) 258-2472 or via email at jkeeler@equestrian.org.