FEI Dressage News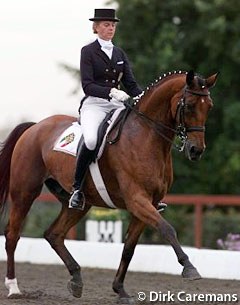 At the FEI Bureau Meeting in Madrid, Pia Schneider-Laus has been elected as FEI representative, i.e. spokewoman, of the dressage riders. Laus is succeeding Mr Richard Davison in this position.
The FEI Bureau held its spring meeting on 26 and 27 April 2003 in Madrid (ESP) on the invitation of the Royal Spanish Equestrian Federation and the City Council of Madrid.
The Italian Pia Laus has been living in Wetter and der Ruhr, Germany, for many years now and is married to the German show jumping rider Ralph Schneider. Pia Laus is 35-years old and has already participated in three Olympic Games, three World Championships and four European Championships.
Image copyrighted: Dirk Caremans
Related Links
Pia Laus and Renoir Make an Impression
Ballaseyr Stables signed up Richard Davison as their new competition rider