2000 CDI-W Neumunster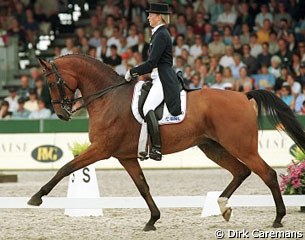 Making an impression at the World Cup Qualifier in Neumunster, Germany, was  31 year old Pia Laus. Aboard the Westphalian gelding Renoir, the Italian number one Grand Prix rider scored 70.63% in the first leg of the two day World Cup qualifying competition.
Incredibly successful as a young rider, Laus had to step back for a while after the retirement of her mount Adrett (by Adlersfeld). It wasn't until Renoir came into the picture that Laus was able to score high again. Purchased at age two, Renoir was trained up to Grand Prix by Laus herself.
"I loved being coached by Schulten-Baumer, but he had a hard time to chose between Isabell and his other students," Laus explained.
For a while now, it is Pia's mother who supervises her from the sideline. Renoir was very difficult as a youngster, but thanks to Pia's perseverance the bay gelding by Rex Fritz came to trust her and the combination clicked.
Pia Laus, daughter of a German/Italian couple, is lawyer by profession and puts her equestrian career on second place. After having won four gold team medals, two individual gold and one individual silver medal as a young rider, Pia was confronted with doubts towards a professional equestrian career or the occupation of lawyer.
"After my final examinations I took a year off to reflect on my life. The only thing I did then was ride, and strangely it didn't go that well. I was always pushed to perform and one moment I had enough," she said. "There is more to life than just riding horses. If your happiness depends on the points you receive from judges, than your world gets creepy and small," she wisely says. "I enjoy training at home as much as going to competitions. I buy my horses at age two and train them myself. In my life I rode three horses up to Grand Prix, so I think I'm doing not at all too bad."
Related Link 
CDI-W Neumunster 
Image copyrighted Dirk Caremans -  no reproduction without permission