2003 World Cup Finals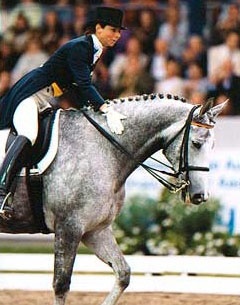 Monica Theodorescu (GER) is leading the standings of the Western European League, with a total of 72 points, ahead of Heike Kemmer (GER) with 62 and Jan Brink (SWE) with 58 points.
The last qualifier of the Western European League will take place from 20 to 23 March in 's-Hertogenbosch (NED) before the Final to be held in Göteborg (SWE) the following week. Riders can obtain points at 12 qualifiers, of which a maximum of A 4 events count for the standings.
Until now the following riders qualified for the Final:
Title defender: Ulla Salzgeber (GER) 
Central European League: 2 best of the standings Irina Lys (BLR) and Alexandra Korelova (RUS) 
Canada: 1 best from the League Final (Shannon Dueck (CAN) 
Australia: 1 best from League Final: Ricky McMillan (AUS) 
USA: 2 best from League Final: Günter Seidel and George Williams 
Wild Card: Debbie Mc Donald (4th at the 2002 World Equestrian Games in Jerez) 
Japan: withdrawn
It is the first time in history that three US riders will compete in the Final.
The best 8 riders of the Western European League will be qualified to participate in the Final. Unfortunately, the leader of the standings, Monica Theodorescu, will not be able to participate, due to an accident of her horse the week after Neumünster.
The Chairman of the Dressage Committee, the World Cup Director and the OC will decide on two additional wild card after 's-Hertogenbosch. A maximum of three riders per nation are allowed to compete in the Final, with the exception of the title defender.