2003 World Cup Finals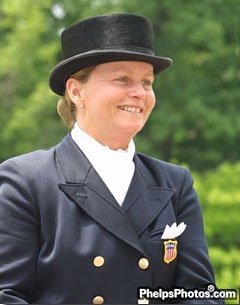 Guenter Seidel riding the 13-year-old Westphalian gelding, Nikolaus 7, scored 77.650 in the freestyle, to win the U.S. Grand Prix Freestyle Championship/U.S. League Final presented by USA Equestrian.
In the field of 8 riders, 6 declared their intent to compete for the U.S. slot at the 2003 Dressage World Cup Finals in Göteborg, Sweden, March 27 - 30. Prior to the event, Sue Blinks and Nancy Polozker announced that they did not wish to be included in the League Final.
This year, the World Cup Organizing Committee and the FEI Dressage Committee, increased the number of participants in the finals from 11 to 18. This paved the way for George Williams and Rocher, a 12-year-old Westphalian mare, the winners of the Grand Prix with a score of 70.640, to join Guenter Seidel and Nikolaus 7 and wild card participants Debbie McDonald and Brentina as U.S. representatives in the finals.
The U.S. Freestyle Championship was held in combination with the U.S. League Final for the Dressage World Cup on February 21 - 23, in conjunction with the Miami Dade Winter Dressage CDI*** held at the Tropical Park Equestrian Center in Miami, FL. For the Freestyle Championship scores were calculated with the Grand Prix being 40% and the Grand Prix Freestyle counting 60%. For the U.S. League Final, the Grand Prix scores determined the start of the Grand Prix Freestyle.