Irish Dressage News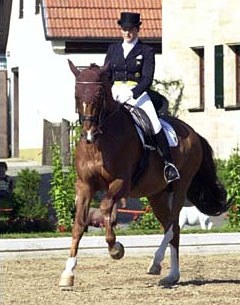 Senior Irish International rider, Anna Merveldt-Steffens from Ballymore Eustace, Co Kildare is the winner of the prestigious "Irish Field" Dressage Rider of the Year award for the third year in a row.
The German based Merveldt-Steffens was the leading Irish rider at the World Equestrian Games in Jerez, Spain. She had a storming finish the 2002 season with top ten placings in Stuttgart and in the Grand Prix at the Munich indoor show. On the first Sunday in December riding Fosbury, a 15 year old Westphalian gelding owned by her trainer Johann Hinnemann she won the Munich Grand Prix Speciale. Third place in the Grand Prix class at the Milan Masters in Italy a fortnight later set her up for a grand finale on her final international outing in 2002 and she duly delivered scoring over 70% with Fosbury for a clear cut victory in the €10,000 Milan Masters Grand Prix Kur (Freestyle to Music) .
These performances saw the Irish rider move up 39 places in the FEI/BCM World Dressage Rankings to 60th place at year end.
The awards are to be presented at a special lunch in Kingswood Country House Hotel outside Dublin on Tuesday, February 4th 2003.
Image copyright: Rainer Dill
Related Links
Anna Merveldt Steffens and Fosbury
Anna Merveldt-Steffens Wins Irish Field Award For Second Time 
Anna Merveldt-Steffens wins Irish Dressage Rider of the Year Award 2000