2002 Central American Games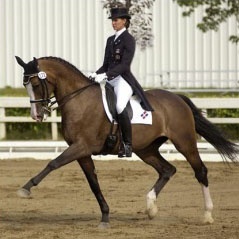 In an almost perfect final performance, Yvonne Losos de Muñiz won the individual gold medal in dressage at the 2002 Central American Games, held November 23 - December 7 in El Salvador.
Riding the test of her lifetime, Yvonne and her 12-year-old Dutch-bred mare Inatana Las Marismas earned a score of 70.95%, the highest score of the day. Added to her 68.15%, the top score overall in the Team competition, Yvonne was awarded an additional gold medal for her accumulated dressage scores. Mexican teammates settled for both the silver and bronze medals.
Coached by Holland's Diederik Wigmans, Yvonne and fellow Las Marismas riders, Georgie Fernández riding Joris Las Marismas, Diana Ramos de Tejeda on Arabella, and Vanessa Doyle riding Hulster Las Marismas, earned the bronze medal for the Dominican Republic Dressage Team. Mexico was awarded the gold medal while Colombia captured silver. Individually Georgie finished 7th, Vanessa 10th and Diana 21st.
"I am really pleased with our scores. We accomplished what we came here for and we're one step closer to representing our country when it hosts the Pan American Games next summer," said Yvonne, 35, of the Dominican Republic Dressage Team's performance.
In show jumping action, Hector Florentino riding Maretty Las Marismas was the Dominican Republic's highest placed finisher at the Central Americans. The pair held their own throughout the week, being one of 25 competitors out of a starting field of 36 to advance to the final. With 46 accumulated faults after five rounds of competition, Hector and Maretty Las Marismas finished 15th overall.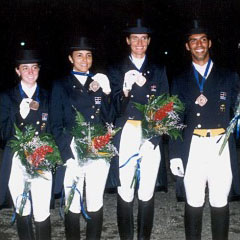 Coached by Mariano Bedoya of Argentina, Hector was joined by Yvonne Losos de Muñiz riding Jilou Las Marismas, Juan Jose Bancalari on Trovador and Maria Gabriela Ricart riding Conway on the Dominican Republic Show Jumping Team.
After her euphoric gold medal win in dressage only a few days previously, Yvonne, who represents the Dominican Republic on both Teams, experienced sheer disappointed when her mount Jilou Las Marismas hurt herself during the first day of show jumping competition, which ultimately caused the pair to withdraw later in the week.
Picture: Left to Right: Vanessa Doyle, Diana Ramos de Tejeda,Yvonne Losos de Muniz and Georgie Fernández earned the bronze medal for the Dominican Republic Dressage Team.