2002 World Equestrian Games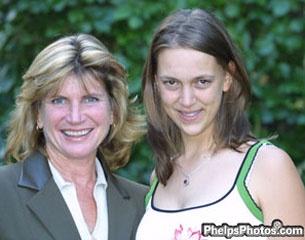 Total request live. Due to popular demand, I welcome you again on the other side of the scene. For more than 5 years, Horsesdaily.com has brought you coverage of every major equestrian event in the United States
and the world, featuring articles, scores and photos of the all happenings at a show. For more than 4 years I had the privilege of being part of Mary Phelps' and JJ Hathaway's journeys which resulted in the top quality reports at www.horsesdaily.com. However, there is more to online coverage than html files and .jpgs
Saturday September 7, 2002: Reinstating the Online Diary
Behind each photo, behind each article, behind each score hides a dedicated person who infiltrates into the show scene and extracts the essence from it. Coverage of a horse show is not just one to five pages of texts and pictures, but is a human life that sacrificed time, money and effort in order to cast his "equine fixed" perspective on what he considers to be essential to share with an audience.
There is more to show coverage than articles. The whole journey to a horse show starts by making the decision to go, booking the plane ticket, packing suitcases and mentally preparing to leave that safe haven of home for a unknown world in which horses are the only binding, comforting and soothing factor. Some people are already so much blend in into the horse world that the trip to a show is no effort whatsoever. Others know that being sucked up into one week of competition is an exciting prospective that, unfortunately, requires a mental effort to get pepped up for it.
I have been reporting on shows for Mary and JJ since the 1998 North American Young Riders' Championships and have contributed to the website journals of my travels with them since then. Four years have passed and my priorities have slightly changed into the direction of an academic, university life and career. Yet, the passion for horses has not died and I never expect it to. I still ride and care for my own two horses, I actively manage my own websites (Eurodressage and Junior Riders), I am the managing editor for Horsesdaily and Dressagedaily and make myself available about three times a year to spend some "real life" action with my dearest American friends, Mary and JJ.
It has been since 2001 Dressage at Devon that I covered a horse show live with them. We were together at the 2001 USDF Dressage Convention and in July 2002, Mary and JJ drove to Mol, Belgium, for my graduation party from college. It was there that I again made the decision to embark on a journey, which would lead me this time to Jerez de la Frontera, Spain.
Saturday September 7, 2002: Bye Bye Belgium, Welcome WEG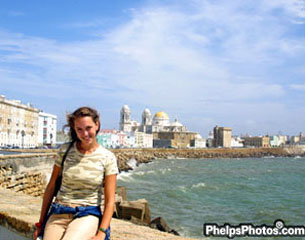 So, being out of the routine of horse shows and after a year of total concentration on university life, a master's thesis and finals exams, it was hard for me to reshift my focus onto horse shows. They require a totally different perspective. I had to drop my supposedly intellectually fixed mind for an unreal, often self involved world that idolizes one central gentle natured animal, the Horse. The show scene is a world "driven by the thrill of victory, the agony of defeat, and lots of money. A world populated by the ultrarich and the very poor; celebrities, royalty, and ordinary people [...] people who love horses, and people who love to exploit people who love horses. A world with a glamorous surface and a tough underbelly," as Tami Hoag describes it in her new novel Dark Horse (Bantam, 2002).
It has always been my goal in show coverage to mention the winner but also to praise those riders who deserve the credit, even if they finished at the bottom of the ranking. This is also what I hope to do for the World Equestrian Games. As a treat, I offer you "Postcards from the WEG", a diary of my daily excursions in Spain and in Jerez in particular, focussing on the special aspects that make show coverage worth the effort and intellectually, emotionally and socially fulfilling.
My dear parents and grandmother accompanied me to Brussels Airport where I had to take a direct flight to Jerez at 4.40 PM on Saturday September 7, 2002. Knowing that I'm a homesick person, they reassured me that the trip to Jerez would be an exciting one and that I hardly would have the time to think about home and the people and animals I would be leaving behind for 11 long days. At the gate I noticed the Belgian dressage official Jacques Van Daele, but he didn't recognize me. That's what happens when you work with websites. You write hundreds of articles but nobody knows your face. It's in fact pleasant to be so "low-profile". Most people don't even realise that I'm an equestrian journalist as I am 22-years old and supposedly "too young to be taken seriously professionally."
Saturday September 7, 2002: Hugs, Kisses and a ride to Cordoba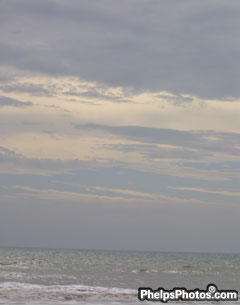 The flight to Jerez took 3 hours and I spent my time reading the newspaper and writing in my journal. Previous to Jerez, JJ had sent me one of his super handy Motorola radios and as I got out of the plane I heard his voice. "Hey Astrid, are you there?" I forgot to lower the volume and the whole bus filled with tourists now knew my name. Although I booked a flight-only ticket and was treated as a second rate passenger by being crammed into a tiny seat with no space at all for my knees, my suitcase was the first one to appear on the conveyer belt. It still had the tag of "VIP Selection" on it of a previous trip to Majorca with my parents, but the airport crew of course didn't know that I was now a cheap customer instead of a VIP traveller.
Reuniting with Mary and JJ is always a very special moment. In Western Europe there is no such tradition of hugging people when they meet each other, but I very much like this American culture, which gives a unique feeling of bonding with a person. I was excited to see them again and the void of 2 months missing each other was immediately washed away by an intense hug.
Mary and JJ were based in Cordoba for the night as they had flown in from Madrid two days before me. They had immediately driven all the way down to Cordoba (a 6 hour drive) before settling down for the night. During our 2-hour drive up north, we caught up on the latest happenings in my social and their professional life. We exchanged opinions on politics, economy, business and horses. Although I am not a fan of car trips, time flies when you have good company. I utterly enjoy talking to Mary and JJ because our conversations are always life enriching.
Mary and JJ provided me with a room in an absolutely divine four star hotel (Hotel Amistad) in the old city center. After I unpacked, we strolled through town and found a cosy dining place outdoors in a patio that was overcast by a strong scent of jasmin. I ate Andalusian Gazpacho and grilled salmon. The gazpacho was delicious but by the time I was finishing my salmon my stomach got upset. Spanish food and mt stomach have never matched and I never seem to find my taste in the Spanish cuisine. That's a disappointment as I am a true gourmet.
To get rid of the feeling of battling intestines we walked through the old center of Cordoba which displays an old architecture with Spanish, Morish and Judean influences. Cordoba is a fabulous city that impressed me a lot even though I had little time to explore it. I went to bed round 1 AM.
Sunday September 8, 2002: Settling in at Costa Ballena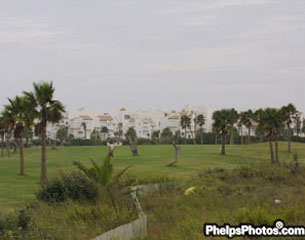 JJ woke me up at 8 AM in the morning as we planned on doing a short walking tour through town round 10. I took a shower, then decided to run the bath and got freshened up for a new day. Cordoba is the most charming little town with mosques, churches, plazas and so much more. The fact that the weather is great in Southern Spain adds to the vacation feeling. We made some breakfast to take away at the hotel and were on the round round 10.30 AM.
Our supposed two hour drive had to take us to Costa Ballena, a resort area near a golf center at the Atlantic Ocean. We were in Jerez within two hours, but the mere 30 kilometers from Jerez to Costa Ballena took us another 2 hours. Jerez has hectic traffic and preserving your life at the same time as finding your way to your new residence was a straining thing to do. At 3 PM we finally drive up to the golf resort but had new instructions where to find our host. Mary had to call her assistent Tracy in the United States to figure out which apartment was ours. Mary had arranged a place to live through Canadian Karen Robinson of applausedressage.com. The small white ground floor apartment has two bedrooms, a kitchen, bathroom and living area.
After we got unpacked, I walked alone to the beach to enjoy the great view of the ocean. Meanwhile, Mary was taking her beauty sleep and JJ watched the only English speaking channel available on Spanish television, CNN. A strong wind was blowing on the beach, and while I was writing in my journal, my pen failed to write because of the salty, wet wind that mixed with the ink. Our late afternoon lunch, a club sandwich at a small cafe near the supermarket of the development, turned out to be dinner too. Round 10.30 PM I went to bed exhausted of a day travelling.
Monday September 9, 2002: The Early Bird Catches the Worm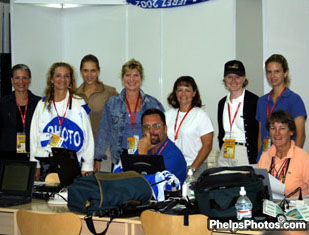 One thing which turned out to be a clever move was coming a day early for the show to get our accreditation and to get settled in in the press centre. Round 9.00 AM we had wrestled out way through Jerez traffic and were at the office for the credentials. Within the hour we had our press passes and parking card. For us, the organization ran smoothly but we heard stories of other people having to wait at least four hours to get their passes.
The press centre was as good as empty with the exception of Australian Gill Rolton, American Diana Derosa and a few other Spanish journalists. We were all having major problems getting online but in the afternoon help came from TelefonicaNet, the Spanish provider. Using an expensive pin code, we were able to have a dial up in Jerez, but the connection is nervewrecking slow and almost useless, at least for my computer. But, maybe I'm pampered by the cable connection I have at home. Internet connection is still often one of the greatest weaknesses in the organization of an equestrian event. Round 1.30 PM, JJ and I went into a very small tapas bar at the south corner of the Chapin center. We ordered cold potatoes, meatballs, french fries and bulltail. The food was a surprise but as it was the first bite of food I had today, it was too greasy for my hungry stomach.
All afternoon, Mary and I spent working on the computer, writing pages, updating the website and organizing photos. I also checked out the trade fair which was still very much under construction. We drove home in the late afternoon and did one of the most fun things of the day, grocery shopping. Tonight was no eating terrible Spanish food, but home cooked JJ's Café. At the resort's supermarket we bought pasta pesto, chips and dips, fruit, wine and beer.
JJ cooked dinner while I went to watch the sunset on the beach and regretted the fact that I didn't bring the camera to take a picture of the gorgeous view. Mary bumped into her long time acquaintance Sean Hamilton, the Canadian photographer of Clix Photography. She also rented an apartment at Costa Ballena through the internet, but completely independent from Karen Robinson. Sean joined for dinner later on and the most sympathetic twosome from Florida that I know, John Zoppati and Bent Jensen, also dropped by for a beer. We had a blast telling stories about the "old" days and sharing memories. I went to bed round 11 PM because tomorrow was the first day of true Jerez action, the day in which my diary will turn into show coverage.
Saturday September 14, 2002: Out on Cross Country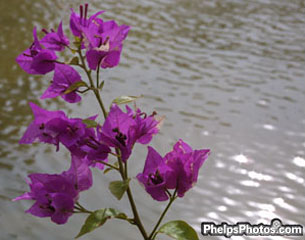 Taking a break from "Dry-sage", the Horsesdaily/Eurodressage alliance ventured on the cross country course of Garrapillos Cavalery School in La Barca de la Florida, Spain, for one day of sun, fun and excitement in the most thrilling segment, the cross country, of the multidisciplined equestrian sport.
I was really pleased with the spot I got assigned to for taking photos. Not only was I comfortably settled near the water, which was surrounded by beautiful flowers, but I also had great company from a few photographers. So, besides the action I would get from water splashing up, the world's best eventers taking this jump smoothly and some others making a nasty fall, I had lovely conversations in between with Diana Derosa, Karen van der Meul (Dirk Caremans' new girlfriend and peace&love bringer), the "encyclopaedia-man" Bob Langrish and Kit Houghton.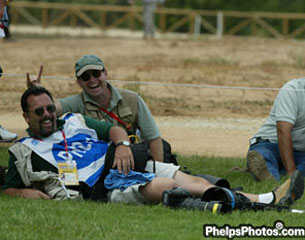 The person I probably bonded with the most throughout my 2002 World Equestrian Games experience is the Maryland based photographer Charles F (Francis and not Karl) Mann. I first got introduced to Charles when he claimed his place in the press room on my left side. We started talking and making jokes and ended up comparing photos, talking about show coverage or just listing the things we are desperately missing at the Games, for instance Pina Colada with Haagen Daz ice cream and Malibu rum. Working for The Chronicle of the Horse, Dressage Today and many other equestrian publications, Mann is a respected American dressage photographer who started out with polo shots but is mostly challenged by the technicality of dressage. Thank you for lending me that memory card
Sharing a cosy apartment in Costa Ballena, Mary, JJ and I have learnt to work in shifts when it comes to sharing the bathroom. The first wake up call rang (my Nokia cell phone alarm clock) for Mary at 5 AM. Fortunately, I snoozed until 6 AM and then showered and dressed in a hurry. We had agreed to join up with Sean Hamilton at 7 AM at the car, as she knew the way to Garrapillos. Yeah right, ej....
Pretty soon it became obvious that friend Sean had forgotten the correct route to La Barca de la Florida, as we got stuck on a toll way to Sevilla with no turning point for 20 miles. Desperate to make it on time for the cross country, we sped back to Jerez and followed the reliable signage to Garrapillos instead of Sean.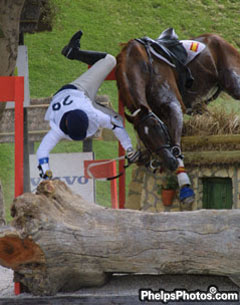 Cross country lasted until 5 PM that day and the result was great photos, a nice tan, very pleasant conversations and too much sugar in my system from eating delicious Prince cookies. When walking back to the press tent after the last ride of the day (Kim Vinoski), I joined photographer Jacques Toffi on my way back to the press center. Maybe, the biggest "artiste" of all equestrian photographers, Jacques is one of the press people on the scene who has done the effort to remember my name and appearance, as I only cover three or four shows a year.
We have conversations in a mixture of English and German (I understand German completely, but am a little shy to speak it) and philosophize on the purpose of photography. Listen to this: you don't have to run into a spot to take a photo, the photo has to come to you. That's some advise from an expert.
JJ, Mary and I drove back to Costa Ballena and had a nice dinner from one of the take aways in the golf resort that broils his own chicken. We probably are his customers of the week by now.