2002 World Equestrian Games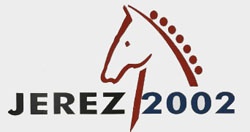 After the jog, the German team gathered at the stables for an official photo shoot. The lady riders were dressed in beautiful ensemble-outfits while the males wore stylish suits.
The clothing line for the German dressage team was sponsored by Karlstadt, AG, the company Isabell Werth provides legal advice for. In an interview with the German radio and television station WDR, Nadine Capellmann told that she was excited that finally a male is again on the German Dressage team.
High hopes are set on newcomer Klaus Husenbeth who is competing the former auction horse Piccolino. It has been since 1996 that a male rider, Martin Schaudt with Durgo, was on the German Dressage team.