European Dressage News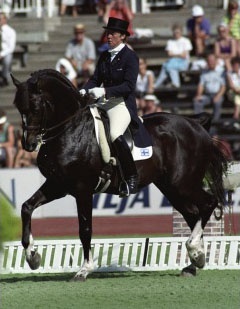 On April 23, 2002, Finland's most renowned dressage horse, Matador, passed away. Matador spent his last days as a retired breeding stallion at the stallion station of his breeder George Mollebjerg in Herning, Denmark.
Matador claimed international fame under the Finnish Dressage Champion Kyra Kyrklund. Matador was by May Sharif x Wersal x Guter Gast xx.
Born in 1952, Kyra's equestrian career started in a stable near Helsinki, where she attempted to ride her uncle's draft horses. In 1967, she participated for the first time in the National Show Jumping Championships for junior riders with the Polish gelding Dragon. Two years later, she purchased her first horse, Kasper. With this Swedish gelding she achieved various successes in dressage, show jumping and three-day event competitions. In 1972, Kyra and Dragon were the Finnish Dressage Champions. She participated for the first time at a European Championship with the Danish horse Piccolo (by Pilar), finishing 20th. In 1980, the combination represented their homeland at the Olympic Games in Moscow, placing fifth. Riding Danish Nor (by Monark) in the Los Angeles Olympic Games in 1984, she placed 17th.
Matador, however, was perhaps the most special horse of her career. She placed fifth at the Seoul Olympic Games in 1988. Surviving colic surgery, Matador with Kyra as his guide, won the silver medal at the 1990 World Equestrian Games in Stockholm, Sweden. After their victory in the 1991 Volvo World Cup finals, Matador (by May Sharif) was sold to Yoshinaga Sakurai from Japan. Sakurai took the black to the Olympic Games in Barcelona and then leased him out to the Böckmann Stud in Germany. Afterwards, he moved back to Denmark where was only up for stud for a select group of mares.
Related Links
Rider in the Spotlight: Kyra Kyrklund
Great Sires: May Sharif
Matador as Breyer Model Horse, Special Edition