2001 Pavo Cup Finals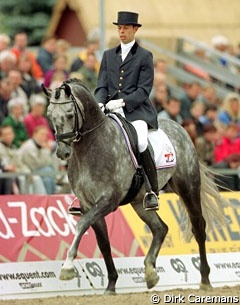 Four days of strict judging were necessary to select a solid group of six finalsts for the 2001 Pavo Cup Finals in Ermelo during the KWPN Paardendagen, August 23 - 26th, 2001.
Due to Foot and Mouth disease crisis in Holland in spring, no selection trials were allowed to be held so that extra preliminary rounds had to occur at the KWPN Paardendagen itself. While in the qualifiers for 4-year olds, Paddox and Pedro were in the lead, the finals brought about a different champion. In the 5-year-old division the qualifiers and finals were a match between World Young Dressage Horse Champion Rubels and OO Seven.
Patser Is the Name
Patser is the name of the new 4-year-old 2001 Pavo Cup Champion. The preliminary rounds were dominated by the 2000 Licensing champion stallion Paddox (by Ferro) and Pedro (Krack C) but Patser closely followed this twosome. Judges Harmoen and Peeters granted Patser high scores in the qualifiers so that he was automatically transferred to the finals. It wasn't until then that the Jazz x Ariban xx descendant started to bloom. Guest judges from Germany, Holga Finken and Dr Ulf Moller, were there to physically test the quality of the six finalists. Patser, bred by C. Spierings, absolutely excelled under Finken and received a 10 for rideability. Moller gave Patser 9,5. In the preliminary rounds, Patser was presented by Madeleine Vrees. Reserve champion was the stallion Paddox with Marijke Folmer as rider. Paddox received 9,5 and 8,5 from the German jury. Third place went to Pays Bays NL (Cabachon x Zeoliet), owned by Gert Willem van Norel and Christa Laarakkers. Pedro (Krack C x Damiro) was fourth. Paragon, a Gribaldi x Zonneglans, was the best placed mare of the 5-year-olds. Paragon finished fifth and was presented by Anne van Uytert. The stallion Puccini (Gribaldi x Souvernir) was sixth.
Rubels Now Also Recognized in Holland
At first glance, it seemed that the new world champion Rubels (Rafurstinsels x Amethist) would win the Pavo Cup title with only a blink of his eyes, but the finals turned out to be more exciting than expected. It was the black outsider OO Seven, who has never shone before, who became a competitor to be taken into account. Imke Bartels presented the Rubinstein x Doruto son in the preliminary rounds and didn't dazzle that much but Finken and Moller were, nevertheless, quite impressed by him, as Rubels gave a tired final impression. However, when ridden, it was clearly Rubels who stole the show. The dapple grey stallion received two 10s for his rideability while OO Seven 'only' got 9,5 twice. Third place went to Orion, a TCN Partout x Belisar gelding bred and ridden by Bart Bax. Fourth position was offered to O'Jazz (Jazz x Sultan) ridden by Carla Niessink-Busser. Merieke Voorneveld replaced Ollia Day's (by D Day) steady rider Marie Jose Hulsman in the Pavo Cup final and finished fifth. Moller and Finken gave Ollia Day 7 because of his resistence when ridden.
Related Links
Hans Peter Minderhoud and Rubels, 5-year old World Champions
KWPN Stallion Patser Sponsored by Reduson