2001 World Championships for Young Dressage Horses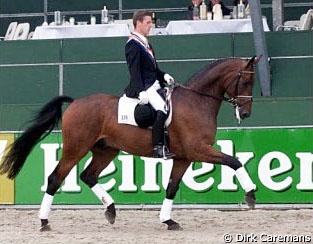 The German Equestrian Federation selected the combinations that will represent Germany at the 2001 World Young Horse Championships in Verden.
Five year old horses:
Danny Wilde, Rhinelander by Donnerwind-Mephistopheles ( Lisa Wilcox, Cappeln)
Dream a little Dream, Oldenburger by Duntroon-Arratos xx (Sandra Deker, Hagen)
Los Lagos, Oldenburger by Le Coeur-Figaro (Susanne Gattermann, Hamburg)
Wanesco, Bavarian by Weltmeyer-Werther (Holga Finken, Kirchwalsede),
Wildest Dream, Hanoverian by Wolkenstein II-Castro (Holga Finken)
Woyzeck, Oldenburger by Welthit II-Veritas (Sabine Egbers, Gölenkamp).
Six year old horses:
Cherie, Hanoverian by Don Primero-Lanthan (Karin Rehbein, Gröhnwohld)
Münchhausen, Trakehner by Hohenstein-Königsstein (Fie Christine Skarsoe, Krefeld)
Placido, Hanoverian by Prestige Pilot-Watzmann (Dr. Ulf Möller, Hagen)
Rescue me H, Oldenburger by Rubinstein I-Inselfürst (Martina Hannöver-Sternberg, Lütjensee)
Ricardo S, Oldenburger by Rohdiamant-Imperator (Silke Schaerffer, Guderhandviertel)
Rosemount Quando-Quando, Oldenburger by Quattro B - Akzent II (Falk Rosenbauer, Gröhnwohld).