2000 Olympic Games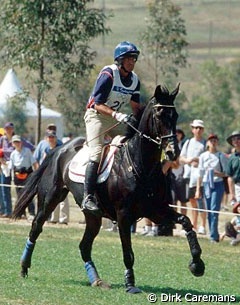 David O'Connor Makes Olympic History with Lowest Dressage Score Ever
September 20, 2000 - David O'Connor of The Plains, VA scored 29.0 penalties in the opening dressage phase of the individual eventing competition, taking the lead with the best score in Olympic history.
O'Connor impressed the judges and amazed the crowd with his ride on his veteran partner, Custom Made, a 15-year-old, Irish Thoroughbred gelding owned by Xandarius, LLC. His ride was accurate and precise with good cadence throughout and research indicated that his score was the best ever achieved in an Olympic eventing dressage test.
"He was just beautiful to ride today," said O'Connor who just the day before made Olympic history by sharing an Olympic medal (eventing team Bronze) with his wife for the second time. "When he floats like that, he's so enjoyable to ride.
"This has been coming for about six months; he's been getting stronger and everyone has done a great job. Today he felt good in his mind and he was good in his body. He's really quite special when he comes together like that."
Standing second with a score of 34.80 is Marina Koehncke of Germany on Longchamps. Heidi Antikatzidis of Greece is third with a score of 37.40 on Michaelmas.
David O'Connor Dominates Cross Country
21st September 2000 -- David O'CONNOR (US) continues to dominate the individual three-day event, remaining on his dressage score of 29 after a faultless cross country round. Heidi ANTIKATZIDIS (GRE) on a score of 37.40, and Mark TODD (NZL), on 39, are still second and third.
The experienced partnership of O'CONNOR and CUSTOM MADE breezed around the testing cross country phase of the endurance section. An awkward jump over Pemulwuy's Waterhole, the first water fence, was the only hiccup in an otherwise perfect round.
The diminutive ANTIKATZIDIS, the first three-day event rider to represent Greece at the Olympics, completed a superb round on the stylish MICHAELMAS. Looking secure throughout, ANTIKATZIDIS' timing was perfect to finish with just five seconds in hand.
Completing his final international cross country round, TODD was delayed twice due to other riders experiencing problems on course. Looking a little tentative in places, EYESPY II was fortunate to have been piloted by the Event Rider of the Century.
The thrill of the medal chase continues Friday with the third horse inspection at 08:30 followed by the showjumping at 11.00.
Source:www.olympics.com © 1996-2000 SOCOG and IBM. All rights reserved.
David O'Connor Wins 3-Day Event
22nd September 2000 -- American David O'Connor won the gold medal in the individual three-day event on Friday ahead of Australian Andrew Hoy and Mark Todd of New Zealand.
O'Connor, a bronze medallist in the team event, knocked down only one rail in his jumping round to finish on a very low 34.00 penalties after the three tests — dressage, cross country, and jumping.
O'Connor led after each stage. Australia's Hoy, a gold medallist in the team event, moved to second from fourth after a faultless jumping display, while Todd remained in third place after incurring three time penalties.
Greece's Heidi Antikatzidis dropped from second to sixth when she knocked down two rails and ran over time.
The event was Todd's last competition before retiring. He has won a record 25 international eventing titles, including Olympic gold in 1984 and 1988, and was named the International Equestrian Federation's eventing rider of the century.
Image by Dirk Caremans
Source:www.olympics.com © 1996-2000 SOCOG and IBM. All rights reserved.