2000 Olympic Games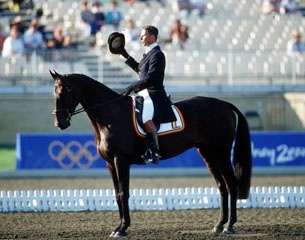 Team three-day event Australia wins dressage
Source: Olympics.com
Australia leads the world with 112.60 penalties after the dressage section of the team three-day event and is on track for a third successive gold medal. Stuart Tinney and Jeepster produced a personal best score of 36 penalties to keep Australia in front. Barcelona dual gold medallist Matt Ryan with Kibah Sandstone currently have the team discard score of 47.8 penalties.
However, Great Britain has greatly reduced Australia's overnight lead of 18 points. They now are just 2.6 penalties behind. The outstanding performance of current European champion Pippa Funnell (GBR) on Supreme Rock, scoring a perfect 10 for one movement, was the turning point for the British team.
A further 10.2 penalties away is the United States team in third place. Their fourth rider, team silver medallist in Atlanta Karen O'Connor, made up a lot of ground with a score of 32.6. This is the second Olympic appearance for the husband and wife team of Karen and David O'Connor.
Karen O'Connor joins the exclusive group of six riders who have achieved scores in the 30s in this Olympic dressage test. The others are Andrew Hoy and Stuart Tinney of Australia, and Ian Stark (GBR) and Ingrid Klimke of Germany.
The competition continues Monday with the endurance section, where New Zealand is expected to improve on its current fifth place. At this point, the competition is still wide open.
Archive Image: Dirk Caremans - copyrighed: no reproduction without permission
Australia Continues Winning Streak after Cross Country 
Sydney, Australia - 18th September: Australia has once again proven to reign surpreme on the cross country course, the second phase of three-day eventing. With three clear rides, Australia kept its penalties very low on 114.20 points. The gap between the leaders and second placed Great Britain widened to 12.8 penalties. New Zealand is now in third place with 151.20 and the Unites States follow on fourth position.
Andrey Hoy, Oi Oi Oi
The slickest ride in the cross country at the 2000 Olympic Games came from the Australian Andrew Hoy, who would actually be in the lead if there was an individual ranking in this team competition. Hoy had to stop half way the course as second starter, the Belgian Constantin van Rijckevorsel had a nasty fall off his Withcote Nellie. Nevertheless did Hoy's lovely white thoroughbred quikcly picked up his tempo and flew over the jumps again. The white seemed to have no difficulties with the heavy jumps. On one combination, Darien's hind leg got a little stuck, but he kept on going. "There were two incidents where Darien helped me out," Hoy said. "On the waterjump, he landed a long way out on the border. We were jumping a double of oxers. I got half way across and Darien basically said, "leave this one to me, I'm helping you out." You have to be sharp all the way round; you have to stay awake. I believe my horse has been more than a fair horse," Hoy said very pleased.
Tinney Roadrunner, Jeepster Wiley E. Coyote. 
Stuart Tinney and Jeepster rode an astonishing course as the combination cleared in one of the fastest times in this phase. Tinney seemed determined to get round, as well as his mount Jeepster. Keeping a steady, strong pace Jeepster jumped falwlessly over the 32 obstacles which were described to be extremely horse friendly but demanding in technique. Tinney was extremely happy with his top speed round. "He's a very easy horse to ride. You just have to sit up and don't touch his mouth," Tinney commented. "We are going well, the lead of the team after dressage is amazing. In stadium jumping he can have a rail or two, but if he's jumping like today, he's super." Tinney is a rookie here in Sydney but keeps his head exteremly cool. "I did a lot in Australia and a lot of championships, but this is my first Olympics."
Pippa Funnel Pushes Supreme Rock
Pippa was determined not to repeat the terrible cross country she had at the CCI **** Badminton early this year. Before Funnell's start owner of Supreme Rock, Emma Pitt, said, "the heat here is not affecting him so I'm just crossing my fingers." Pitt, who competed her horse up to intermediate level, was very proud to have seen her boy jump sow easily over one of the best cross country courses ever made. Funnell, who is the only one who won both the European Young Riders and Senior Championships, kept enough pace throughout the course. On the second waterjump, Supreme Rock left his left leg, causing Pippa to lose her balance. Nevertheless did the small British rider push him over the second element with an incredible grin on her face. "I didn't want Badminton being repeated. He was just brilliant, I just had one very hairy moment," she explained afterwards. Her score was 32.40 keeping Britain in a strong second position.
Karen O'Connor shows experience counts!
Last rider to go for the American team was Karen O'Connor on her good-old Prince Panache. Winner of the individual silver in Atlanta, O'Connor gave an even more experienced look at Horsley Park. She hardly had to steer her horse in the first waterjump. The combination was completely in balance, in rhythm, while Prince Panache beautifully arched his back over those huge jumps. At the 1998 World Equestrian Games in Rome, O'Connor had problems on the steeplechase but here in Sydney the pair was untouchable. Her wonderful ride helped improve some of the time penalties team mates David O'Connot and Nina Fout had. With a 2.4 time penalty, David O'Connor was incredibly happy with Giltedge's performance "That's pretty much what I expected (being outside the time). But, he's a horse that won't say no. I had more than the ride I expected."
Australia wins historic equestrian gold medal
19th September 2000 -- The Horsely Park Equestrian Centre in Sydney's west has erupted in celebration following Australia's gold medal victory in the team three-day event.
It is Australia's third Olympic gold medal in a row in this event, a first in the history of the sport. Australia went into the final jumping round with a 12.80-point lead over Great Britain, having led the competition since the first day of dressage. Australia finished with 146.80 penalties, while Great Britain (161.00) fought tenaciously to claim the silver ahead of the United States (175.80). "This has been a mission [of ours] since Atlanta, to see if we can create history and win a third [gold medal]" Matt Ryan told Australian ABC Radio before the victory ceremony, "...and we've done it!"
The win was set up in Monday's cross-country section when the Australian team of Andrew Hoy, Phillip Dutton, Matt Ryan, and Stuart Tinney all managed near-faultless rounds, while Ian Stark of Great Britain's crashed to collect a high penalty score. That meant Australia had four riders whose final scores could count in today's (Tuesday's) jumping round, while Great Britain only had three. Only three scores out of each team's four riders count to the team final score.
The first Australian rider in the jumping, Matt Ryan, collected 12.00 penalty points to increase the tension for the Australian camp, but that evaporated as Great Britain responded in kind. By the time Andrew Hoy, the final Australian rider, went around the challenging course, Australia had the gold in their keeping. Hoy pumped his fist after finishing his round as the parochial crowd lifted the roof off the stadium. It is the 41-year-old Hoy's third gold medal, and a third also for Matt Ryan, who won the individual three-day event at the Barcelona Games.
by Darren Booth for www.olympics.com