2000 World Cup Finals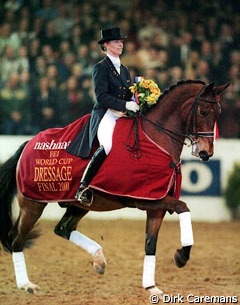 The famous Indoor Brabant Bell is clung as a sign for riders to begin their test. Twelve times did this beautiful copper bell sound during the kur to music, the final leg of the 2000 World Cup Dressage Final. The first leg gave a provisional prognostication of how the final rankings would look like, and, eventually, the rankings turned out to be almost the same as in the short Grand Prix.
Anky won her fifth World Cup title, Coby van Baalen set a personal record by scoring 80.87%, Dutch shooting star Arjen Teeuwissen came in third. Indoor Brabant became a Dutch sociable party and they had all the right to feel cheerful for that.
Anky van Grunsven, Supreme Goddess of the Kur
"It's wonderful that Arjen and Coby are able to score so closely to the marks I ride, it makes it all more exciting but I will always try to be ahead of them," Anky commented after her winning freestyle. Anky van Grunsven, 32 years old and already winner of five World Cup Titles. At Indoor Brabant she did it again, and how! With good old Gestion Bonfire, her 17 year old mount with whom she was elevated to equestrian stardom, Anky rode to the music of her new freestyle "Something Old, something New, a composition based on her older track Song Sung Blue.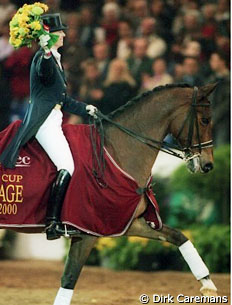 Many critics have been sceptic about the age of Bonfire and him having lost his 'touch' but in de Brabanthallen, they were baffled. Her test was completely errorless and if one would be extremely critic than the only comments to be made were that Bonfire's piaffe is a little bit swung beside the body instead of under the gravitational point and that the tempi's every single stride could have been jumped more forward instead of upwards. But these remarks were so small in regard to the sheer brilliance of the whole, that one could not but conclude that Anky is simply the supreme goddess of the kur. Her new kur featured the score of Song Sung Blue for the piaffe-passage reprises, which fits Bonfire like a glove. However, personally I believe that the West Side Story kur is nicer as it arouses feelings of ambition, wanting and dreaming thanks to to the lovely lines of "I feel Pretty" and "Maria".
After the announcement of the final scores, Anky was called into the arena for a live interview. When she was asked by tv-commentator if she experienced any problems in her freestyle, Anky simply said "No". For the future, Anky's planning on giving her Bonnie a period of rest. This actually consists of going out on the trials and being lunged. "I still want to enter him in the Dutch Championships so that I can show him in one outdoor competition and then it's Sydney, I really want him to run there," she said in all honesty.
Coby van Baalen Produces Personal Record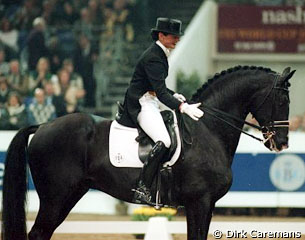 The difficulty of riding breeding stallions is that they can get so nervous. The positive aspect of riding breeding stallions is that due to their hormones and muscles they are just divine creatures. "Black Beauty" is his nickname but he goes through live as Ferro. Breeding highlight for the KWPN studbook in the years 1999/2000 is this gorgeous black pearl, which can be proclaimed as the master of piaffe and passage.
Cobyvan Baalen rode to a personal record of 80.87% with her new kur based on the Greek Zorba theme. The selection of the Zorba for the piaffe and passage is simply thrilling and it matches Ferro's gaits perfectly. The canter reprises are performed on banjo music which is just exhilarating. However, the negative aspect about this new freestyle is that the transitions are hard and abrupt. Ferro managed well,  but he still might have lost valuable points on them. Two slight remarks can be made to Coby's
ride and that were that Ferro was extremely tensed throughout his test and mainly in his piaffe, and although superbly elevated, the movement was a little hectic. Further Ferro fell over the shoulder in one pirouette to the right. Nevertheless, when Coby saw her 80.87% personal record score she was about to burst into tears while trainer Johan Hinnemann hugged her for her excellent ride that positioned her second in the final ranking.
Arjen Teeuwissen Skipping Details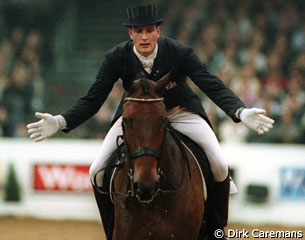 It is commonly known that Gestion Goliath T (by Zebulon) excels in his piaffe and passage but in his freestyle these movements are so predominantly inserted that Goliath gets tired at the end of the test and skips a few paces in the piaffe and rendering his passage not entirely fluent at all times. It were the little details which set Arjen Teeuwissen on a final third position, but there is hope for the future. The hesitating moments can be pushed out of the test by training and the Goliath-Arjen combination is still young. The musical score was pretty nice. Castanets for the piaffe and passage, trumpets for canter and extended gaits, it all sounded quite well. 
Judge at C, Stephan Clarke was very enthusiastic about the pair in the final press conference. "Gestion Goliath is the best horse I have ever seen. He has excellent gaits, he has everything what  a modern dressage horse should possess. To beat the competition he still has to improve on the details," Clarke stated.
Photos © Dirk Caremans - No Reproduction allowed
Related Links
Scores 2000 World Cup Finals
Anky van Grunsven Leads in First Leg of 2000 World Cup Finals
Ryan and Reiber Withdraw from 2000 World Cup Finals
Aktion to be Retired at 2000 World Cup Finals
Anky Premiers New Kur "Something Old, Something New" at 2000 World Cup Finals