2000 World Cup Finals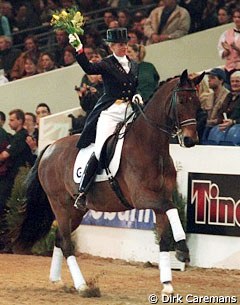 With great ease did Anky van Grunsven ride to victory in the first leg of the World Cup Dressage Final. Hosted at the Brabanthallen in 's Hertogenbosch, The Netherlands, the World Cup Dressage Final was poised to be a grand show.
Coincinding with a three star international show, the Final draws the crowds to the stands which enables them to experience this world class competition in real life, as the seats are only set two meters away from the ring. In front of a full house Anky rode to a 76.43% score and took the lead. The 31 year old Dutch rider is the favourite for the title, which she already captured four times (Los Angeles 1995, Goteborg 1996, Den Bosch 1997 and Dortmund 1999).
Father van Grunsven watched his daughter's test from the stand concentrating on every little detail. Of course he could not be but proud when he saw the high marks of Anky's Short Grand Prix test on the score board. Director of a construction company in Gemert, Holland, Mr Van Grunsven has been a great stimulus in Anky's professional career. He bought her first horse and created the possibility to establish a successful professional equestrain career.
Judges and Their Cyber Scores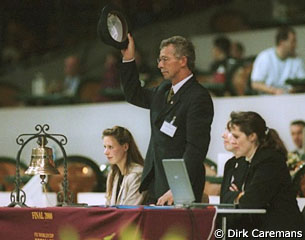 The distinguished panel of judges gathered for the Final consisted of Francis Verbeek-Van Rooy (NED), Evi  Eisenhardt (GER), Stephen Clarke (GBR), Vicenzo Truppa (ITA) and Ernst Holtz (RSA). It was the British Stephan Clarke who took up the role as president of the jury, giving him the right to judge at C. The field of competitors was of  extreme high quality with three out of four Dutch Olympic A-team riders. The Germans sent out two of their A-team members. Isabell Werth and Jurgen Wirths were the lucky ones. Holland was able to enter one extra rider as it was the hosting country. The Dutch Equestrian Federation selected Barbara Koot of Berkenhorst Dressage in De Oude  Tonghe, Holland, as she was the fourth most successful Dutch rider during the qualifiers.
In-house photographer Dirk Caremans took this lovely shot illustrating the way international judging is done. While on national level a scribe notes down all scores and comments, on the international turf computer literate scribes are required. Only via this medium accurate and quick scoring can be executed in order to give the audience and riders quick access to results
Ricky MacMillen and Crisp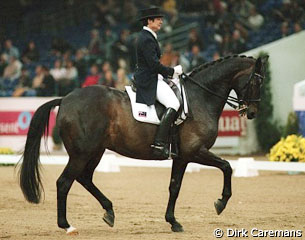 Two Australian ladies were able to distinguish themselves from a moderate pack of Aussie Grand Prix Riders and qualify for the World Cup Final up above in 
's Hertogenbosch, also known as Den Bosch, Holland. Ricky MacMillan, a dentist by profession, had already been to Europe to compete the year before, but it 
wasn't until the 1999/2000 World Cup Qualfying season that she started to make headlines. Producing high sixty percentage scores, MacMillan easily qualified for the final with her Hanoverian Crisp (by Consul x Aktuell). In the short Grand Prix MacMillan rode a 64.54% test and placed 9th.
Rosamund Ryan and Exellent
The second Australian competitor in the Final was Rosamund Ryan and Exellent. On her way to and in The Netherlands Ryan received the constant support of Horsemagazine editor Chris Hector and its subscribers. She saddled Exellent, a thoroughbred gelding by Saros xx but, although a star in her own country, in Europe she got faced with the high routine top combinations who pushed her back to a 14th position of 61.12% in the short Grand Prix. Still a lovely performance for a newcomer on the scene.
Gina Smith, Sisyphus in Europe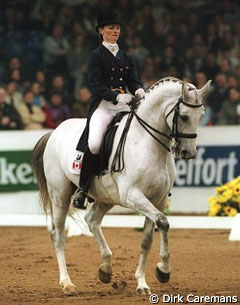 Unable to keep the Canadian flame alive was Gina Smith and Fledermaus (by Purioso). Although trying hard, Smith could not produce a same score in Den Bosch as she gathered at the Royal Horse Show in Toronto late 1999.
With the 13 year old Dutch warmblood Fledermaus (by Purioso), Gina Smith rode a nice test with some good moments, but 60.20% set her 15th. Fledermaus and Smith nevertheless gathered valuable experience at this show which created a highly tensed atmosphere due to its importance.
Jurgen Wirths
German Jurgen Wirths did fulfil the high hopes which he raised at various world cup qualifiers during the winter season. Although his Hanoverian gelding Souveran W sometimes shows slight marks of his age (15), the dark bay is still able to produce divine traversal movements and quality dressage test. Jurgen Wirths sat highly concentrated in the saddle during his short grand prix test, resulting in a 5th place and 70.49% score. Trained by Seigried Peilicke, Wirths is one of those few European international riders that have an amateur status. 
Photos © Dirk Caremans
Related Link
Scores 2000 World Cup Finals