2002 World Equestrian Games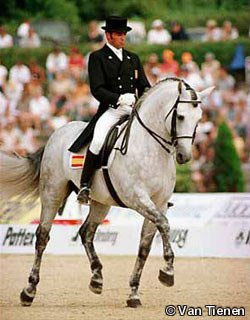 Jerez de la Frontera, will be the host of the 2002 World Equestrian Games. Dressage, Show Jumping, Three Day Eventing, Endurance, Carriage driving and vaulting will take place at the National Andalusian Breeding Centre, located in the South of Spain. 
Dressage will be the only discipline in which the Spanish Riders can achieve high notes. With the assistance of Chef d'Equipe Jean Bemelmans (native Belgian but living in Germany) the Spanish Dressage Riders captured a fourth place in the Nations Cup at the 1997 European Championships in Verden, Germany. Even though top rider Ignacio Rambla finished eleventh, and not at the eighth place Bemelmans hoped for, the president of the Spanish Equestrian Federation promised to support dressage as much as possible in the future. They especially hope to promote the Andalusian horse for sports; an excellent breed with enough  forwardness and spirit to keep on running. Ignacio Rambla sets an example with his Andalusian stallion Evento by riding him in several shows and clinics at the Andalusian Equestrian Centre. Championships are more like a treat for Evento: 12th in The 1996 Atlanta Olympic Games, 11th in the 1997 European Championships in Verden, Germany.
Jean Bemelmans, living in Dusseldorf, is the dream coach for the Spanish Dressage team for the upcoming years. But they are warned to be careful as the French have already expressed their interest in this trainer as well.
Image by Ruud van Tienen