1998 European Pony Championships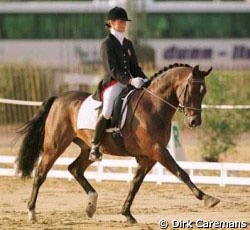 The phone is ringing, I pick up. It seems to be a fax; I put down the horn and press the "start" button. Six beautiful pages are rolling out of the machine. Yes, the results of the European Championships!
I start reading the preliminary test. Delphine placing third. My predictions coming true, Delphine is going to win Bronze, the other Belgian riders are placed in the middle. Par Equipe, Delphine still third, Individual test, Delphine first. Goose bumps appeared over my whole body. Delphine Meiresonne became European Champion!
My eyes were filled with tears. I was so happy. This girl who has been training so hard, who has put so much money, time and dedication in her work, achieved her life time goal. Becoming European Champion. There is nothing more beautiful, nothing more desired by an FEI pony rider than achieving that title. I was never able to pursue my dream, to go to the E.C., but I was so glad Delphine reached it.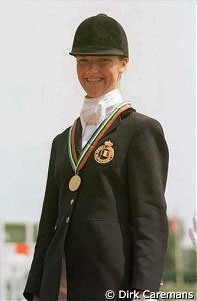 Chef D'Equipe Jan Meersmans commented the Belgian performances by phone to me: "Delphine Meiresonne's first test was very good and she was able to win that class, but the finishing touch was lacking; the same goes for her Par Equipe test, which she really would have won if she didn't loose her canter for a fraction of a second. Hannelore Volders made five mistakes and that's too much if you want to have a chance for a team medal. Katrien Verreet started off with a satisfying preliminary test but there was a lack of impulse in the team championships test. The Belgian team placed sixth (1. Germany, 2. Denmark, 3. United Kingdom, 4. Holland, 5. Sweden). After the Preliminary test I decided to form a team with Delphine, and Hannelore and with Annelies instead of Ruth Van Campen. Her first test was pretty disappointing since Crack Drum was too nervous. Ruth's dad was very upset with this decision which only brought more tension and pressure onto Ruth, who rode an even worse Par equipe test".
It has been since 1993 that Belgium had a European Champion. At the E.C Hasselt Judith Godefroid then became Champion with her excellent dark bay pony mare Emaly. Like Jan Meersmans said: "Delphine's individual test was 100% faultless. It was an example for each dressage rider. The Germans made mistakes and that cost their gold medal. During the award ceremony the Belgian three day eventing and showjumping team came to the dressage ring to applaud Delphine Meiresonne. Trainer Coby Van Baalen was called up the platform where she received flowers from her student. The atmosphere in the team was so great now that Delphine had won the gold medal".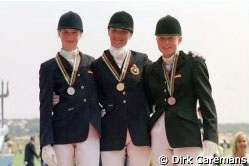 Jan Meersmans did say afterwards that next winter the selection of the team will be even stricter and details will be more important. "The combination of three" has to be with each rider if you want to have a golden team. 
1. The right structure between student and trainer
2. The pony has to have enough quality 
3. The rider has to show some input and can not give up at any time
Delphine Meiresonne proves to handle this combination and that's why she deserved and had won the golden medal!
Related Links
Scores 1998 European Pony Championships
1998 European Pony Championships: Photo Report by Dirk Caremans