KWPN Online Auctions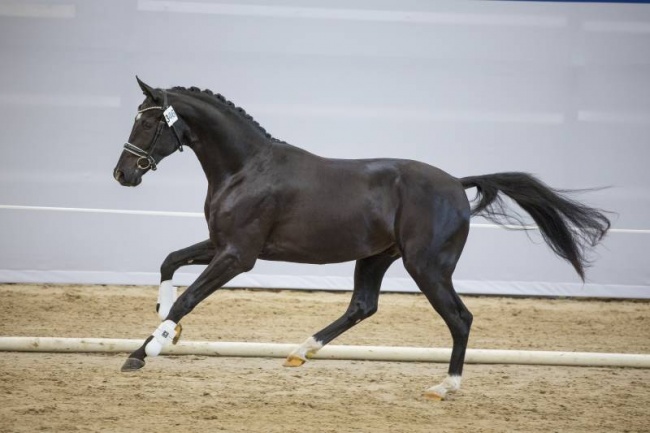 Princero and Pikachu T became the best selling horses in the 2022 KWPN Online Colt auction which the Dutch breed society organized for 2.5-year old colts that were presented at the pre-selection for the 2023 KWPN Stallion Licensing. 
Princero and Pikachu T both fetched the same top selling price of 22,000 euro. Princero (by For Ferrero x Guardian S) moves to Belgium, Pikachu T (by George Clooney x Glamourdale) stays in The Netherlands. 
Power of Dreams (by Just Wimphof x Johnson) got a highest bid from a Dutchman of 16,000 euro. 
A Polish customer secured Perfect Boy HT (by Imposantos x Uphill) for 16,000 euro. This horse will be joined by Pontius de Tjonger (by Toto Jr x Flemmingh) for 10,000 euro and Elbright HJH (by Erdinger x Bright Speed) for 8,000 euro.
A Belgian bought Piccolo (by Intro K x Rhodium) for 15,000 euro, while a Canadian got Pro Europe (by Lord Europe x Ferro) for 12,000 euro. A Dane got Patser (by Livius x Jazz) for 9,500 euro.
Pegasus (by Desperado x Ferro) found a new home in Spain for 9,000 euro, while Paragon (by Ladignac x Ampere) moves to the U.S.A. for 8,500 euro.
Complete results here.
Related Links
Le Formidable Offspring Shines on Fifth Pre-Selection Day for 2023 KWPN Stallion Licensing
Thirteen Colts Pass on Fourth Pre-Selection Day for 2023 KWPN Stallion Licensing
Fourteen Colts Pass on Third Pre-Selection Day for 2023 KWPN Stallion Licensing
Seventeen Colts Pass on Second Pre-Selection Day for 2023 KWPN Stallion Licensing
Fifteen Colts Pass on First Pre-Selection Day for 2023 KWPN Stallion Licensing