2022 U.S. Dressage Finals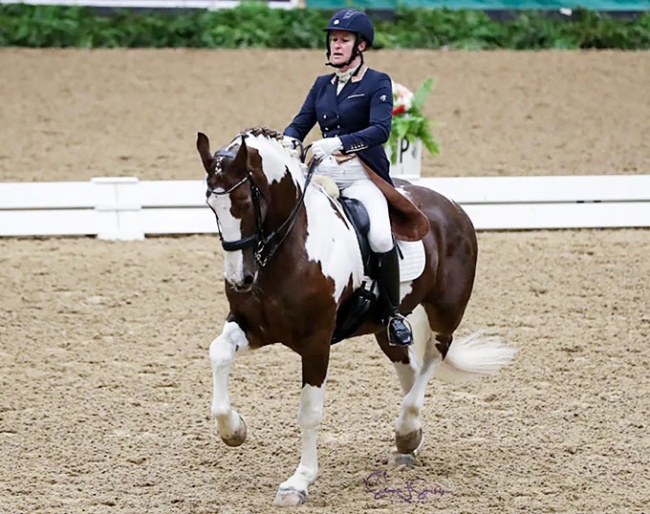 Ashley Maul, Heather Mason, Greta Vowell, Cecilia Stewart were the FEI level winners on day three of 2022 US Dressage Finals on Saturday, 12 November 2022.
The prestigious show, which offers over $120,000 in prize money, runs through Sunday, November 13, and features competition from Training to Grand Prix level. Music and artistry abounded on Saturday as many of the classes were freestyles. 
Grand Prix Freestyle Adult Amateur: Ashley Maul
From reserve champion in 2021, Ashley Maul went one better this year, landing the AA Grand Prix Freestyle – and the Calaveras County Perpetual Trophy – on her own Adiah HP. Their 70% marked the first time the pair have reached that magic score at the level, and they did it on the national stage. Maul also finished third on her own Johnson gelding, Caprice.
The 15-year-old Adiah HP – who is part-bred Friesian by Nico out of Marije Ant (by Anton) – has an impressive record, having competed extensively under James (Jim) Koford at international Grand Prix before Maul bought her.
"The 70% score was actually what I was after, and the win was just an extra that I wasn't expecting," said Maul, who used to event and is a long-time student of Koford's. "I knew Adiah really well. Then when we started looking for a horse for me, I wondered if they [Koford and former owner/breeder Sherry Koella] would ever sell her. I tried her, and we liked each other."
Taking on an educated horse has its own challenges, though: "I call her a supercomputer because there are so many details, and she is so nuanced," explained Maul. "Occasionally I put in the wrong input and I get an error message back, so I'm trying to keep decreasing the error messages by making better inputs."
How does Maul, who works full-time as a small animal veterinarian, cope with the inevitable pressure of showing a well-known and well-loved horse on the circuit?   
"It's intimidating because people recognize her everywhere I go, and I'm just the amateur riding her," she laughed. "But Jim is the best cheerleader and gets you feeling like you can do it even though you've never done it before. He sees her all the time and comes to teach us." 
Come December, Maul will head to Wellington for the winter season and her new farm with both of her horses.  
Mason Lands The Elusive Triple Crown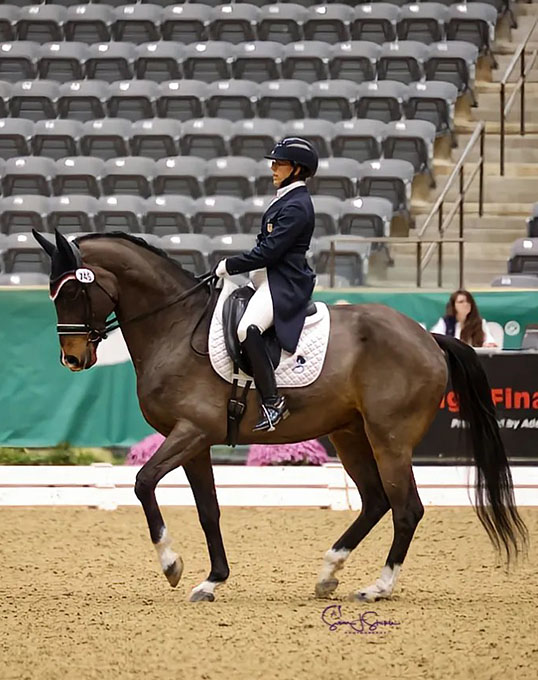 Heather Mason achieved her goal of winning the triple crown on RTF Lincoln (by L'Andiamo), adding the Open Grand Prix Freestyle title – and with it the Jazzman Perpetual Trophy – to the Intermediate II and Grand Prix classes she and the 17-year-old gelding claimed earlier in the week. 
A spectacular test featuring a line of 25 lofty one-time changes as well as pirouettes and piaffe/passage work performed one-handed was richly rewarded with 76.2% by the judges – and whooping from the spectators.
In a high-scoring Saturday night finale, Lauren Sprieser on the Elvis Syndicate LLC's Guernsey Elvis finished second (74.517%), with Shelley Van Den Neste on her own Eyecatcher just behind on 74.067%.
"I'm glad Lincoln is mature now because the crowd doing that during the freestyle would have set him off in the past," said the rider from Lebanon, NJ. "He actually got into it though. I think 25 ones is the most we've ever done, but he just felt so solid. I was very happy when I saw my score because I knew there was a 74 in there already. That's why I did more one-handed than I had intended to. I really wanted this particular class – it's the one I didn't get last year [they finished fifth]."
Mason has the management of the quirky gelding down to a fine art. He lives out at night at home, is lunged before rides, and doesn't show too much. 
"I didn't show him a ton this year but he's still getting better, and we'll keep going as long as he's getting better and stronger and he wants to do it," said Mason. "It's great to be in the Grand Prix ring, and it teaches you a lot. CDIs would be stressful for a horse like him, so this is where I want to be. This show is great to make you push yourself because the competition is strong."
Judge at C, Mike Osinski, agreed that Mason had taken risks: "The judges agreed it was an exciting performance and a pleasure to judge," he said. "There were so many highlights that the crowd saw, and we saw too. Heather took so many risks, and they paid off – we love to give the big marks."
Mason's day was replete with championship accolades as she also topped the Open Second Level Freestyle on her five-year-old Manuskript SCF (Jazz x Krack C) with 73.822%.
Intermediaire I Freestyle Open: Greta Vowell Delivers on Her Trainer's Birthday
In a class where the top 13 all achieved 70% or more, it was the first to go, Greta Vowell, who held the lead throughout the Open Intermediate I Freestyle. She rode her own Guinevere CPF (UB40 x Contango) to 74.358% and delivered exactly what her trainer Olivia LaGoy-Weltz had requested for her birthday: the win.
"The test felt amazing because Guinevere stayed with me, and that's been our struggle," said Vowell, who bought the now 11-year-old as a foal. "I couldn't be happier with her. Things haven't all been straightforward with her. She was injured in the pasture at three years old so only got started when she was five. She's an incredibly sweet mare but she's very hot and can be tense, so we've been building her confidence and getting her relaxed in the ring so she can show her talent and not just the tension."
Vowell rode to a freestyle made by her mother Julie and used music from the TV show Bridgerton and a Colorado-based band called Spinphony.  
More Titles
Cecilia Stewart added the AA Intermediate I Freestyle to her war chest, riding her own Friend to 72.533%.
Text by Alice Collins, edited by Eurodressage
Photos © Sue Stickle
Related Links
Jim Koford's Adiah HP Sold to Amateur Ashley Maul
Truett, Stewart, Chanca and Mason Win FEI Titles on Day Two of 2022 US Dressage Finals
Heather Mason and 1$ Horse RTF Lincoln Win Inter II Open Championship at 2022 US Dressage Finals
Chanca and Renilla, Husband an Wife, Claim Titles on Day One of 2022 US Dressage Finals