Westfalian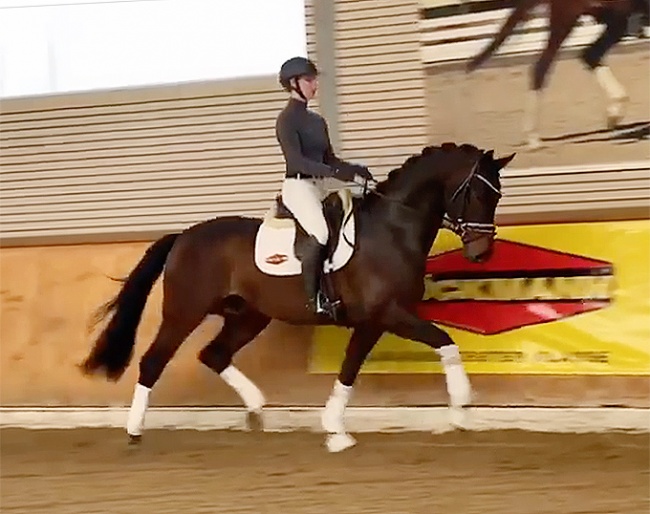 The 4-year old Victorianus and the 5-year old Zuperman were the high scorers of the Stallion Sport Test which was held in Warendorf on 12 - 14 September 2022. 
Only a small group of stallions participated in this sport test: four 4-year olds and five 5-year olds.
In the 4-year old group the Hanoverian bred Victorianus (by Vitalis x Rubin Royal) became the high scorer with a total of 8.17 points under Felicitas Rost. He received 8.5 for walk, 7.8 for trot, 7.7 for canter, 8.5 for rideability and 8.2 for general impression. He is bred by Johannes zu Lage and owned by Frank Rost. 
The Hanoverian Dolce Gusto (by Da Costa x Floriscount) was the runner-up. Bred by Wiebke de Buhr and owned the Warendorf state stud, the bay got a total of 8.12 points with 8.8 for walk, 7.8 for trot, 8.3 for canter, 7.8 for rideability and 8 for general impression.
In the 5-year old group, the Oldenburg stallion Zuperman (by Vincent Maranello x Destano) topped the board with 8.59 in total. Bred by Stefan Tietje and owned by stallion station Hoffrogge, the bay got 7.8 for walk, 8.5 for trot, 8.8 for canter, 9 for rideability and 8.7 for general impression.
The other stallions scored significantly lower with two even in the 6.9 range.  The runner-up on the score board was Laudate Dominum (by Lord Leatherdale x Furst Fugger) with 7.64 points. Bred and owned by Natascha Meiners, he got 8 for walk, 7.4 for trot, 7.3 for canter, 7.8 for rideability and 7.6 for general impression.
Full scores here. 
Related Links
Zuperman and Bon Vivaldi, High Scorers of the 2021 Munster Stallion Sport Test
For Kingdom and Ibiza Dream, High Scorers at the 2022 Stallion Sport Test in Verden
San to Alati and Va' Pensiero, High Scorers of 2022 Stallion Sport Test in Münster
For Fontane and Brixton, High Scorers of the 2021 Munster Stallion Sport Test