2022 World Para Dressage Championships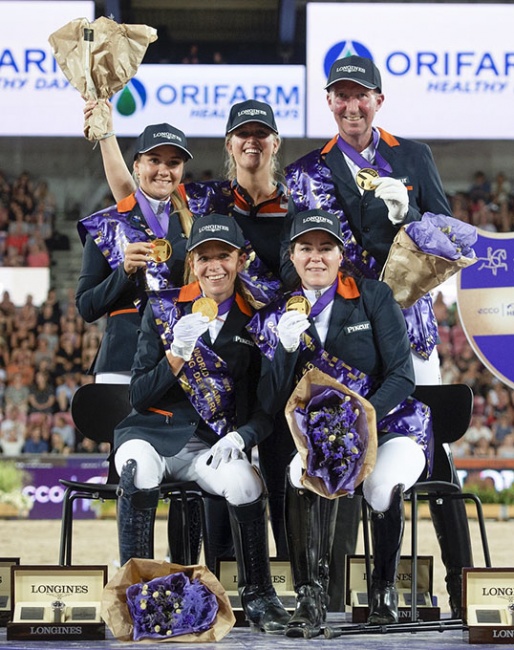 -- FEI press release by Rob Howell, Herning show PR, edited by Eurodressage
In a thrilling finale to the 2022 World Para Dressage Team Championship in Herning (DEN), The Netherlands successfully defended the world title they won four years ago in Tryon (USA).
The gold clinching team of Sanne Voets (Grade IV), Demi Haerkens (Grade IV), Lotte Krijnsen (Grade III) and Frank Hosmar (Grade V) scored 230.225%, just 0.464% ahead of Denmark with 229.751%. And in a repeat of their Tokyo 2020 Paralympics breakthrough, The USA took the bronze with 225.355%.
In doing so, all three teams have secured qualification for the Paris 2024 Paralympic Games.
Each Grade competes separately in a team championship test and the best three scores from each team are then combined. The team with the highest score wins the gold.
Sizzling heat, sizzling competition
Held over two days, the first day of the competition had left The Netherlands and Denmark in a strong position following high scores from Sanne Voets and Demi Haerkens (NED) in Grade IV and Katrine Kristensen (DEN) in Grade II.
Day two began with the Grade III team test, which featured the home team's Individual test winner Tobias Thorning Joergensen, riding Jolene Hill. He was expected to deliver a big score and did, with 79.265%. 
Rebecca Hart (USA), secured her country's medal with an impressive 74.706% (though not after a tense wait to see what some other country's riders could produce) on El Corona Texel.
Great Britain's Natasha Baker, on Keystone Dawn Chorus, scored 73.676, leaving her teammate Sophie Wells with a big, but not impossible, task of scoring 78.400% or thereabouts to get on the podium.
At the end of Grade III, it was clear that the final medal positions would be decided in the Grade V test. 
First up among the medal winners was Denmark's Nicole Johnsen on Moromax. She scored 73.310%, leaving Frank Hosmar with a target of 75.297% to take the gold. Entering the arena a handful of riders later, he pulled out a stunning performance on Alphaville  to score 75.786%, and retain the gold.
The top three positions were then confirmed when both Sophie Wells' (GBR), and Michele George's valiant efforts fell just short of the scores needed to edge the USA off the podium. 
Gold for Holland
The Dutch team renewed their team gold title from Tryon in 2018.  The pressure to perform in a team can be crippling but other may thrive. Dutch team anchor Frank Hosmar is one of them.  
"It was fun today, I feel no pressure, I am never nervous when I am on a horse. We thought when we came to Herning that maybe we can get a medal for the team but definitely not gold. Then after a few days here it all felt better and we started to hope, maybe it is possible", said an emotional Frank Hosmar. He was grateful just to have his longtime partner Alphaville back in the game. 
The Dutch Chef d'Equipe Joyce van Rooijen-Heuitink was over the moon with happiness over her team's great achievement.  
"I cannot describe the feeling; I am very moved. Beforehand I could only dream of a result like this – a Dutch gold. I had two new riders in the team, you never know how riders takes to championships, but they were so good. It is a change in the sport with the top three teams on the podium without grade I participants that usually score high. The quality is so high that it changes everything. I am so proud of my riders and our team and what they have achieved," said van Rooijen-Heuitink visibly moved short after realizing the gold was in orange hands.   
Silver for Home Team Denmark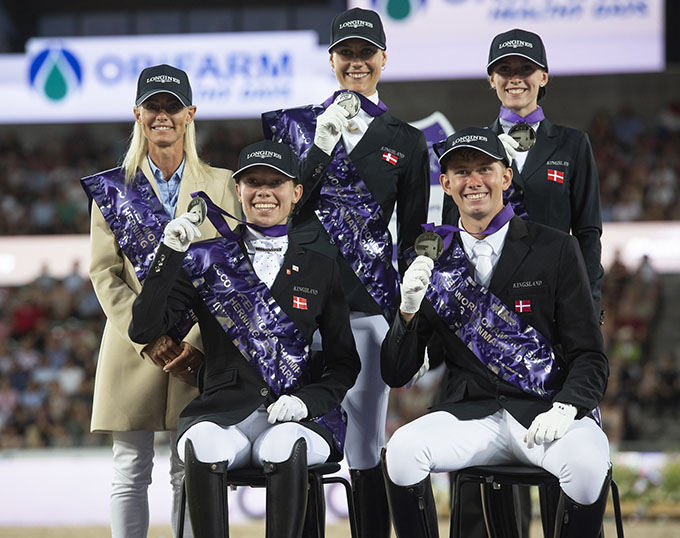 At the Tokyo 2020 Paralympic Games, Denmark had come agonisingly close to the bronze medal, finishing a horse's hair's breadth away from the USA.
Speaking after the medal presentation, the team's Chef d'Equipe Anette Bruun said: "I am feeling so glad. They were so sterling the riders today. It was such a fantastic event and we got the silver medal, it's fantastic. 
"It was so close we could taste the gold medal, but no we're here and we'll go for gold next time," said Anette Bruun (DEN).
The last team rider for Denmark was V grade rider Nicole Johnsen and she was incredibly happy and proud to be part of the Danish para-team.  
"It feels good to be on the team and I am pleased because I had a better ride today. I was last in the team, but my teammates made it easy for me, scoring really good and giving me a secure start. I could just enjoy my ride and my horse was carrying himself well. It is also slightly unreal to have so many cheering us on and such an amazing event on home soil," said Nicole Johnsen. 
Bronze for the U.S.A.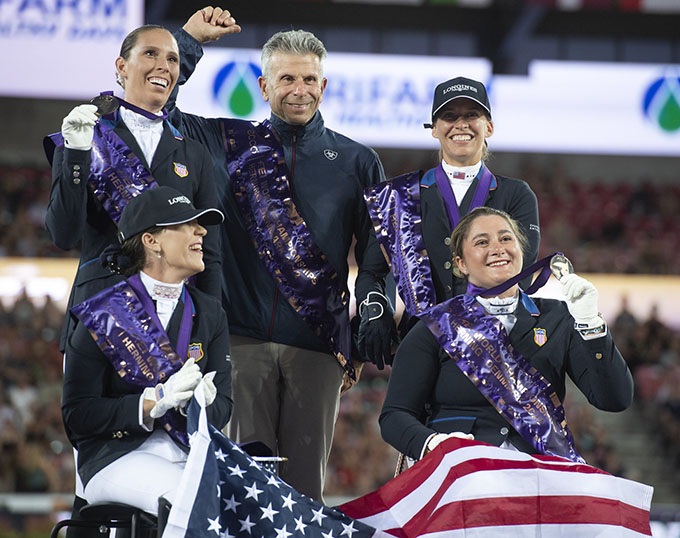 The bronze medal went to another young and aspiring team with a great future ahead of them – USA.
The American team consisted of athletes from four different grades and Roxanne Trunnel in grade I rides a 6-year-old breeding stallion named Fortunato H2O, indeed a very fortunate and talented addition to the team. Her world record setting horse Dalton has been sidelined with an injury.
Athletes Kate Shoemaker, a veterinarian and experienced competitor, teamed together with Rebecca Hart and Beatrice de Lavalette. All the riders scored consistently above 73 %.
Chef d'Equipe for the USA Michel Assouline stated already after one day of team grade classes how content he was with the American team results.  
"We have not our top horse with us, but we want to qualify for Paralympics in Paris 2024. I am very pleased that we, with hard work, has come up even more. Several of our riders have new horses and they have done absolutely amazing, delivering more than I expected" he said. 
Speaking for the USA, Grade IV rider Kate Shoemaker, said: "Talk about being on cloud nine.
"We came with a very different team of horses than the one we took to Tokyo and our expectation was not for a medal, it was to qualify for Paris and then have a building year. But this shows our programme is going in the right direction. To be bronze with this young team is an amazing feeling. There's something about when you strive for something that is just out of reach and then you grab it and hold tight."
Six Qualified for Paralympics
There will be more celebrations in the stables tonight, as the top seven teams at these Championships have qualified for Paris, so alongside the top three – the Netherlands, Denmark and the USA – the teams from Great Britain, Belgium, Germany, and Italy are also now officially on the Road to Paris 2024! 
Unlike the individual medal prize giving, which took place in the BB arena adjacent to the main field of play, the prize giving for the para teams was held in the Stutteri Ask Stadium in front of huge crowd giving the three para-teams well deserved praise and cheer from the stands.  
Sunday 14 August sees the top eight riders from each grade compete for the Freestyle titles. The music will play and the horses will dance in the sunshine on what is sure to be a celebratory and fitting end to a brilliant five days of sport.
Related Links
Scores: 2022 World Para Dressage Championships
Eurodressage Coverage of the 2022 World Para Dressage Championships