Westfalian Auction News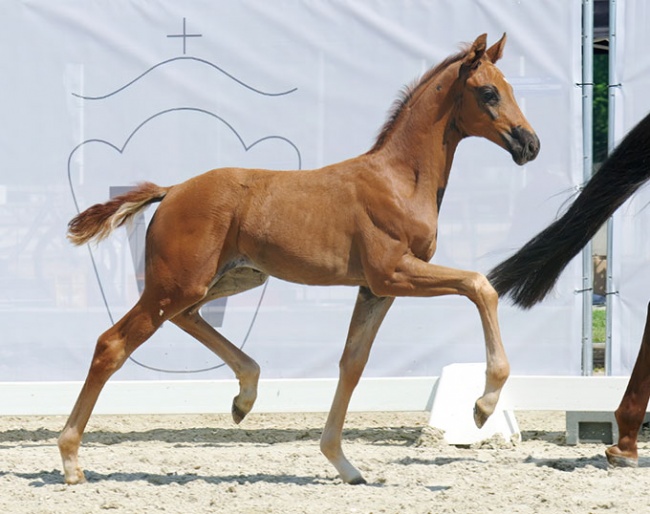 The filly Bonjour (by Bonds x Franziskus) became the best seller of the 2022 Westfalian Online Foal Auction which concluded on 30 May 2022. 
A collection of 24 dressage bred sport horse foals and six pony foals were offered.
The top price was achieved by the Bonds x Franziskus daughter Bonjour, who fetched an auction price of 61,500 euro, selling to Sissy Max-Theurer. This filly is bred by Bernhard Ilting-Reuke and has Seniorita Meyer as grand dam. She produced licensed stallion Fynch Hatton.
The colt Kompliment (by Kjento x Franziskus) was the second most expensive foal. Bred by Hubert Herdering, he moves to Bavaria for the hammer price of 27,500 euro.
Zauberkönig (by Zoom x De Niro) sold for 15,500 euro to Denmark.
 Dow Jones (by Dynamic Dream x L'Espoir) for 14,500 euro, First Lady (by Furstenball x De Niro) and Cheers (by Champagner Fizz x Estobar) for 11,000 euro. Cheers found new owners in Australia.  Quincy (by Qaside MD x Florestan) for 10,000 euro
Of the six pony foals offered, five found a new owner. On average, the pony buyers invested 5,900 Euros that evening. The most wanted riding pony foal was Galileo Galilei (by Gipfelstürmer x Amazing Star). He sold for 8,500 euro and will be based at Lake Starnberg in the future.
Of the 30 foals offered for sale, 26 of them changed hands that evening. On average, the customers invested 10,740 euro in their new dressage foal. 
Complete sales list here.