F.O.C.U.S.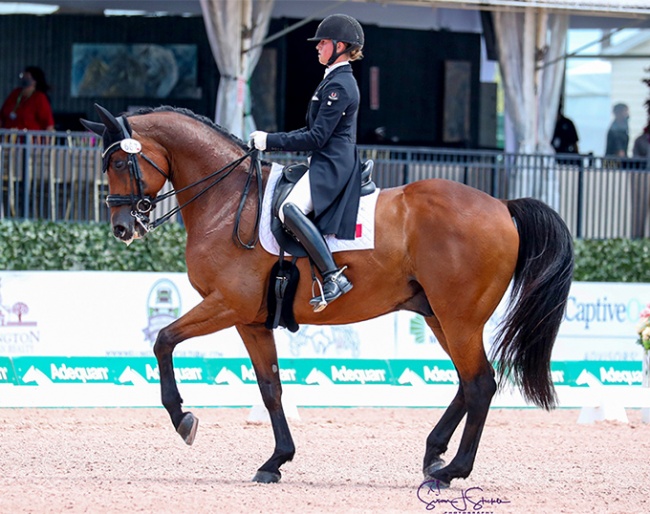 Canadian Under 25 Grand Prix rider Camille Carier Bergeron has taken a flying start of the 2022 show season at the Global Dressage Festival in Wellington, Florida. Aboard her ride of four years, Acoeur, she booked a triple victory out of three starts and was ranked Number 1 on the FEI World Under 25 Ranking in February.
Acoeur is a 15-year old Baden Wurttemberger gelding by Acordelli x Ricardo, which the Bergeron family secured in Germany as Camille's Grand Prix schoolmaster. 
Wellington Success
The partnership gained first mileage in 2019 and found their stride with increasing scores in 2021. Under the careful supervision of coach and Canadian Olympian Brittany Fraser-Beaulieu, they have started competing on a high note this season in the international arena at the Global Dressage Festival.
At two CDI's they rode in so far, they posted a triple victory in the Under 25 division with scores of 70.471%, 70,667%, and 70.059%. 
Camille's success has not gone unnoticed as she was awarded the 2022 Brosda Olympic Bursary, wwhich support Canadians to embrace lifelong participation in equestrian activities. Furthermore, she became the first ever Canadian to be ranked nr 1 on the FEI World Ranking List for Under 25 riders. 
Dreaming Big
While Camille is a routinier at Under 25 level, she is ambitious about her future and is secretly dreaming of the 2022 FEI World Championships Dressage in Herning. To accomplish this feat she will need to make her debut as a senior Grand Prix rider this spring.
"I rode Acoeur in our first ever Grand Prix tests nationally in January and February. He scored nearly 70% in his last Grand Prix and with a lot of room for improvement," she said proudly, adding, "I would like to do my first international open Grand Prix with him soon and try to qualify for the World Championship."
Camille hopes to be heading to Europe this summer with Acoeur as well as her second FEI ride, Sound of Silence, a 14-year old Westfalian by San Amour x Limes.
"Sound of Silence just moved this year in the U25 and so far we have been trying to gain more ring experience," she said. "He scored 71.000% in the U25 Intermediaire II test at the 2022 Palm Beach Derby on 3 March 2022 for the win and I'm so excited with his development."
Sound of Silence has been Camille's junior and young riders horse, who she has been campaigning since 2018. Their partnership culminated last year with a coveted participation in the invitational young riders tour at the CDIO Aachen.
"In 2021 we placed third on the FEI Young Rider World Ranking list in April and now I can officially say he's a Grand Prix horse," Camille rejoiced. "I really enjoy every moment of this journey."
Future Hope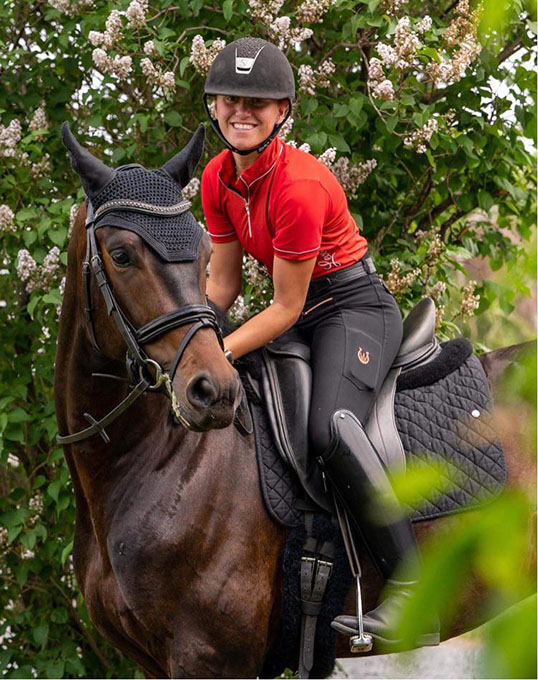 While Camille's competition career concentrates on her Grand Prix campaign with Acoeur and Sound of Silence, she is also laying the foundation for her future with younger horses. 
She is particularly excited about her 9-year old Danish warmblood gelding Toronto Lightfoot (by Totilas x Onassis). "He shows a lot of talent for the Grand Prix and is my 2024 Olympic hope," said Camille.
She also owns a collection of foals, 2.5 year olds, and the 5-year old Oldenburg bred MSJ Fürst Zonik (by Furstenball x Zonik) and the 5-year old KWPN mare Mystery (by Indian Rock x Westpoint).
"My mum Sonia Carier bought MSJ Furst Zonik in the U.S.. He was previously imported from the famous breeding Mount St. John. Mystery won the title of "Best 4-year Old" in Canada last year. My dad bought her of a video in 2020 during quarantine. She was still unbroken when we bought her. And I have to say we have been so lucky! She is one of a kind! She shows extreme talent for collection."
Standing On her Own Feet at Ecuries Elégance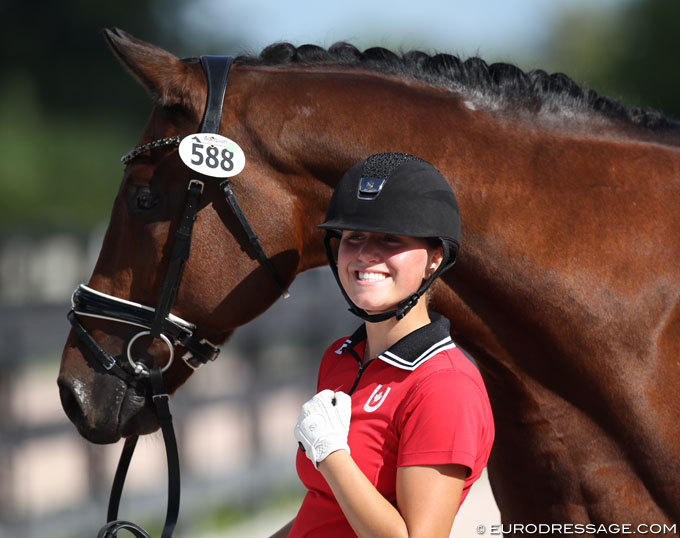 Camille's parents noticed her full-on dedication to horses and dressage sport and agreed to support her dream of being a dressage professional.  In 2020 they purchased a beautiful equestrian facility - Les Écuries Élégance - in Laval just 15 minutes from Montreal airport.
"I feel very lucky to have such supportive parent who are making everything possible for me to achieve my dreams," Camille admitted. "I am very grateful for my whole team, my coach Brittany, my farrier and veterinarians, my therapists, my employees, my sponsors and my friends and family! It really takes a village."
Her parents have also invested in five filly foals to start up a breeding programme. 
"We bought two fillies in Canada in 2020 and three fillies in 2021, two from the British Mount St. John stud and one in Canada," said Camille. "Last year we started our breeding program and our goal is to breed our own horses in the future. I am really looking forward to develop this breeding, training, selling and teaching business over the next few years, in Canada and in Wellington."
Photos © Sue Stickle - Astrid Appels - private
Related Links
Camille Carier Bergeron Awarded the 2022 Brosda Olympic Bursary
Carier Bergeron and Sound of Silence Make Magic with "Patience, Love and Determination"
Camille Carier-Bergeron Earns Victory in 2021 Florida International Youth Dressage Championships
Lyle, Wandres, Carier Bergeron, and Kim Win on Kur Day at 2021 CDIO Wellington
Hexagon's Baldacci Sold to Canada