KWPN Select Sale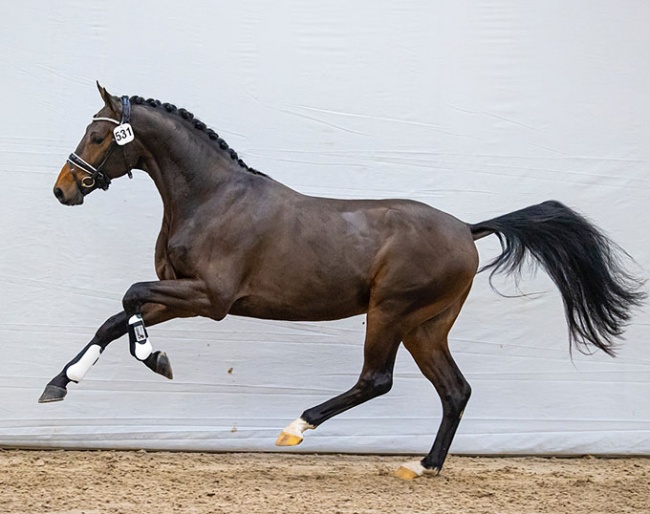 The KWPN Select Sale is the showpiece of KWPN-auctions. This year, an exclusive collection will be auctioned during the KWPN Stallion Show again. An online edition with promising dressage and showjumping horses presented to you on a silver platter. What more do you wish for?
The KWPN has been a trend setter for years with its strict stallion selection procedure based on pedigree, conformation, movement and health. All stallions who qualify for the KSS-auction are invited to the second-round viewing and will present themselves at the KWPN Stallion Show.
World Championships for Young Dressage Horses
The KWPN Select Sale proves itself by presenting approved stallions and remarkable sport horses year after year. Olympic stallions like Dream Boy (s.Vivaldi) and Blue Hors Zack (s.Rousseau) were sold during the KWPN Select Sale. This also applies to Vivaldi son Turfhorst Jersey. This approved stallion was the top seller of the 2017 edition, and last year he won the small final for 7-year-olds at the World Breeding Championships for Young Horses with his rider Kimberly Pap. Dinja van Liere rides a KSS stallion as well. With Zonik-son Mauro Turfhorst she turned heads during the Pavo Cup and Anemone Horse Trucks Stallion competition for dressage horses.
Half-brothers to approved stallions
The collection stands out through horses that have a lot of quality themselves but are genetically interesting as well. The dressage stallions that will be auctioned are the half-brothers of stallions Lord Romantic (s.Don Schufro), Improver DVT (s.Apache) and My Toto VDT (s. GLOCK's Toto Jr.), the top seller of 2020. In total, the KSS selection committee included an exclusive amount of eight dressage stallions, sired by: Olympic Stallion All At Once, Weihegold OLD's grandson For Gold, Just Wimphof, Maracaná, Romanov Blue Hors, Schwarzgold, Springbank and Vitalis.
Auction date: Monday 7 February 2022
On Monday February 7th the stallions will be auctioned via KWPN's auction platform: kwpn.auction.
The collection is available online, obviously with extensive information about the stallions, pictures, a video and veterinarian reports. Would you like more information about the stallions? Please contact Wim Versteeg via 0031 6 54 20 18 00 or send an email to salespromotion@kwpn.nl.