2021 Portuguese Young Horse Championships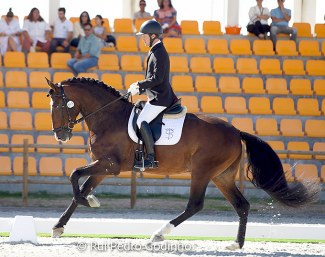 The 4-year old Nobre Saramunheiro, the 5-year old Bambina Plus, the 6-year old Dillinger, and the 7-year old Java Da Hermida became the winners of the 2021 Portuguese Young Horse Championships on 15 - 17 October 2021. 
The National young horse championships took place at the national stud Alter Real in Alter do Chao, Portugal, where also the Nationals were set for all divisions from pony to Grand Prix
The 4-year old division was the biggest of all young horses classes with 12 pairs at the starting line. Nuno Chaves de Almeida was the undefeated winner aboard the Lusitano bred Nobre Saramunheiro (by Dragao x Mandador). They won both rounds with 76.369 and 84.800 points. Mario Eusebio Freire made a make leap on the board to finish in silver medal position with Roberto Brasil's German bred So Prime (by Sir Heinrich). After posting 72.738% in the first round, they leapt to an 84.200 in the finals round and finished second overall. The bronze was for Manuel Vacas de Carvalho aboard  Nogá (by Rubi) who also improved considerably in round two, going from 74.226 to 82.000 to finish third overall.
Just five pairs contested the 5-year old division, which was won by Sarah Nobre dos Santos aboard her own German registered Bambina Plus (by Brettoin Woods). The combination posted two winning rounds of 80.200 and 82.600 points for the gold. Coralie Baldrey and the Lusitano stallion Maestro da Ferraria (by Escorial x Xaquiro) landed silver with 79.000 and 81.400 points. Former young rider Yoann Pinto made his come back on last year's 4-year old champion after an injury and rode the Oldenburg bred Rolex DP (by Radisson x Domani Vengo) to bronze with 78.000 and 79.400 points. 
The 6-year old division featured six pairs but only four were able to complete two rounds. Last year's 5-year old champions Joao Faustino and Joao Sousa Faustino and Steffi Neumann's Hanoverian gelding Dillinger (by Diacontinus x Sion) recaptured the title, producing two consistent rounds that brought him the title. He won both rounds with 75.200 and 77.400 points. Joao Galego Cardiga and the Lusitano Lorus (by Rubi) settled for silver with 73.800 and 74.200, whole Joao Embaixador and the Lusitano Lancelot do Monte (by Campeador) had to battle it out with Luis Fernandes' Lavrador (by Rico) breathing down their neck. Lancelot for bronze with 69.400 and 72.600 points.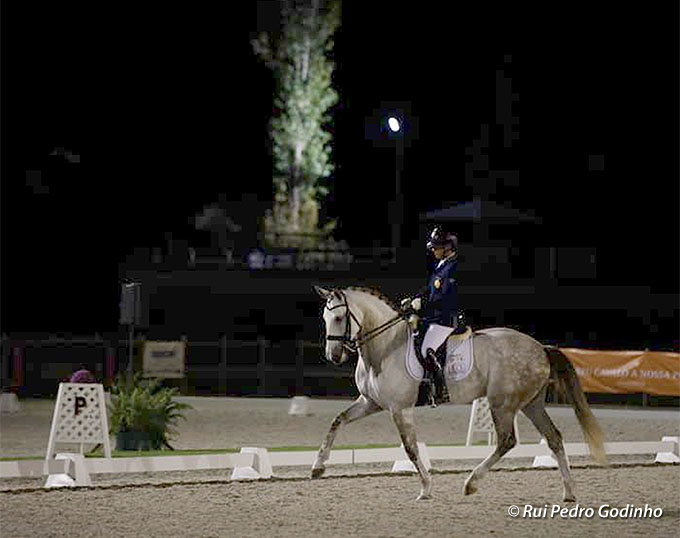 In the 7-year old age category last year's 6-year old reserve champions Vasco Mira Godinho and the Lusitano Java da Hermida (by Carrico x Soberano) now surfaced at the top of the board with 70.886% and 75.814% and grabbed the gold. Pedro Garrido and the Lusitano Jockey (by Coronel x Rubi) followed in the distance in second place with 70.371% and 68.143%, while the bronze was for Ricardo Ramalho aboard Lusitano Jinjebre (by Jacare II x Nabuco). This is the second bronze medal in a row for Jinjebre, who now posted 66.800 and 69.229%. Only five pairs competed in the 7-year old division and two of those weren't able to complete both rounds. 
Photos © Rui Pedro Godinho
Results - 2021 Portuguese Young Horse Championships - Alter do Chao
4-year olds
1. Nuno Chaves De Almeida - Nobre Saramunheiro    76,369    84,800  ---  161.169
2. Mário João Eusébio Freire - So Prime    72,738    84,200 ---   156.938
3. Manuel De Carvalho - Nogá    74,226    82,000  ---  156.226
4. Yara Do Amaral Fernandes - Omero Hi    73,274    80,800  ---  154.074
5. Natascha Djemlea Guth - Nebukadnezar    73,631    79,600   --- 153.231
6. Tiago Albergaria Duarte - Noa (Ae)    74,643    73,600  ---  148.243
7. Gonçalo Diabinho - Nairobi    71,548    69,200  ---  140.748
8. Pedro Vinagre Nalha - Nespresso    64,940    75,000  ---  139.94
9. Francisco Vila Nova - Ilsa Aurelia    67,083    72,100   --- 139.183
10. David Amorim - Niquel    65,119    72,000 ---   137.119
11. Fabio Silva - Napoles Do Monte    65,417    67,400  ---  132.817
Patrícia Isabel Monteiro Palmeiro - Nasibo Santa Marta - ELI
5-year olds
1. Sarah Nobre Dos Santos - Bambina Plus    80,200    82,600  ---    162.8
2.  Coralie Baldrey - Maestro Da Ferraria    79,000    81,400  ---    160.4
3.  Yoann Pinto - Rollex Dp    78,000    79,400  ---    157.4
4.  Manuel Vacas De Carvalho - Missanga    74,000    76,600   ---  150.6
5.  Marcelo André Cruz Silva - Migalha Mc    71,400    70,200  ---    141.6
6-year olds
1. João Faustino - Dillinger 5    75,200    77,400   ---  152.6
2.  Joao Galego Cardiga - Lorus    73,800    74,200  ---  148
3.  João Embaixador - Lancelot Do Monte    69,400   72,600 ---    142
4.  Luis Fernandes - Lavrador    74,600    66,800  ---  141.4
Jorge Cameira Santos - Latino    66,000    Rt   ---   ELI
Gonçalo Sampaio - Leste D' Atela    El    Rt --- ELI
7-year olds
1.  Vasco Mira Godinho - Java Da Hermida    70,886    75,814  ---  146.7
2.  Pedro Garrido - Jockey    70,371    68,143   --- 138.514
3.  Ricardo Ramalho - Jenjibre    66,800    69,229   --- 136.029
Mateus Sousa Abecassis - Firefly    66,879    RET --- ELI
Pedro Vinagre Nalha - Jivago    RET RET --- ELI
Related Links
Rolex DP, Dillinger, Jasmim Plus, Imperador dos Cedros, Ferrolho Win 2020 Portuguese Young Horse Championships
Heroi, Gladiator, Furia Sernandinha, El Romana Win 2016 Portuguese Young Horse Championships
Two Lusitanos Flagbearer For Their Breed to 2020 World Young Horse Championships