Prinsjesdag Foal Auction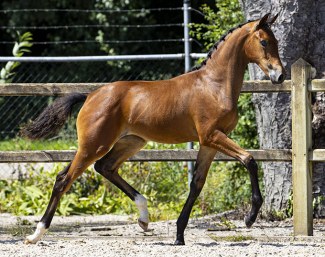 The 2021 KWPN Foal Champion Rosatrichta van de Westen became the best seller of the 2021 Prinsjesdag Foal auction, which held its 29 edition on 21 September 2021.
With a turnover of more than one million euro and an auction top-seller for 44,000 euro, the auction was a success.
Rosatrichta van de Westen (by Le Formidable x Apackle), bred by Cees Kikkert, sold for 44,000 euro and will stay in The Netherlands. 
Roluciënne STMT (by Bordeaux x Ampère) and Rainman Texel (by Toto Jr x Negro) both sold for 30,000 euro.
Promising foals such as Royal Class (by Franklin x Gribaldi) and Rain Beau (by So Perfect x Krack C) sold for more than 20,000 euro. 
The best selling show jumping foal was Ceasaria Key SR Z (by Chacco Blue x Bentley van de Heffinck), a filly out of the famous Usha van 't Roosakker line. Bred by the Sleutels family from Key Stud, Roggel, Ceasaria Key SR sold to France for 36,000 euro. 
The average price of the dressage foals was 13,000 euro, while the showjumping foals brought in almost 14,500 euro. The overall average turned out to be 13,600 euros. A painting by artist Jan Peeters sold for 5,000 euro for the benefit of charity Stichting Wens Ambulance.
"With such an average price and a sales percentage of more than 90 percent, we are proud to be back as an auction," says Foal Auction Prinsjesdag chairman Arjan van der Waaij. "We enjoyed this 29th edition and it was great to be able to organise a live event again. An auction with guests and a wonderful ambiance brings some extra charm for an auction like Foal Auction Prinsjesdag; this is even more motivation for the future," Van der Waaij looks back and ahead.
Related Links
KWPN Foal Champion Part of Excellent Collection Prinsjesdag Foal Auction