Excellent Dressage Sales
Dancer Again and Dutch Dandy were the top sellers of the 2021 Excellent Dressage Sales held online. The bidding came to a conclusion on 27 March 2021.
The 2021 edition of the Excellent Dressage Sales included a large collection of 48 horses, ranging from untrained youngsters to Grand Prix level schooled horses. 
The 13-year old FEI level trained Dancer Again (by Prestige VDL x Tango) was the price highlighty, selling for 240,000 euro, while the 13-year old Dutch Dandy (by Lord Leatherdale x Darnels) sold for 220,000 euro. Both will stay in The Netherlands. 
Young Horse Interest
The 4-year-old stallion Mendez (by Franklin x Don Romantic), who moves with a lot of expression, changed into Dutch hands for 60,000 euro.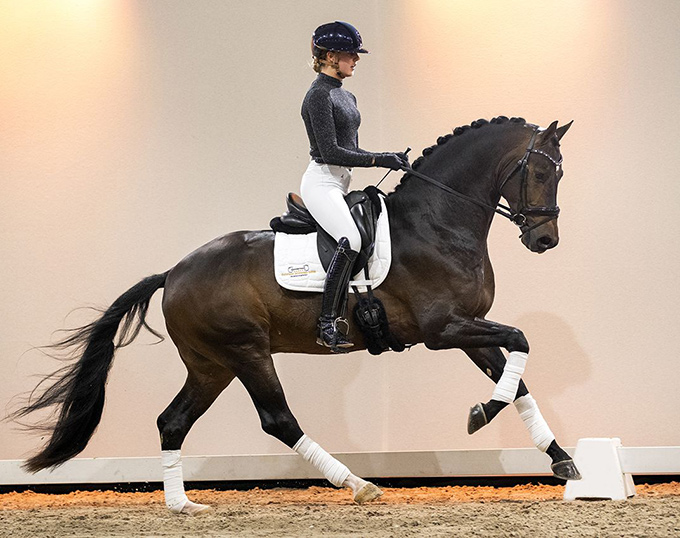 The striking 11-year old Filemon A.K. (by Apache x Welt Hit II), who has already successfully competed internationally in Intermediaire I, attracted the interest of several buyers. This very expressive gelding was sold to Germany for € 65,000 euro.
There was also great interest in the young and unbroken horses. The 3-year old KWPN mare Night Sky (by Franklin x Bretton Woods) turned out to be the most popular of the young horses. She sold to a Dutch client for 42,000 euro. 
No Limit (by Total US x Vivaldi sold for 35,000 euro to a Dutch bidder. Norton (by Just For You x Ampere) leaves for Sweden for 34,000 euro.
Foreign Exchange
While the majority buyers were Dutch, several horses move abroad.
An American client purchased the 4-year old KWPN mare May Fay Texel (by Ferdinand x Jazz), the 3-year old stallion No Limit (by Just for You x Vitalis), the 7-year old Jamal (by Firestone x Ronaldo), and the 3-year olds Niko (by Just for You x Jazz) and Nash (by Toto jr x Furstenball).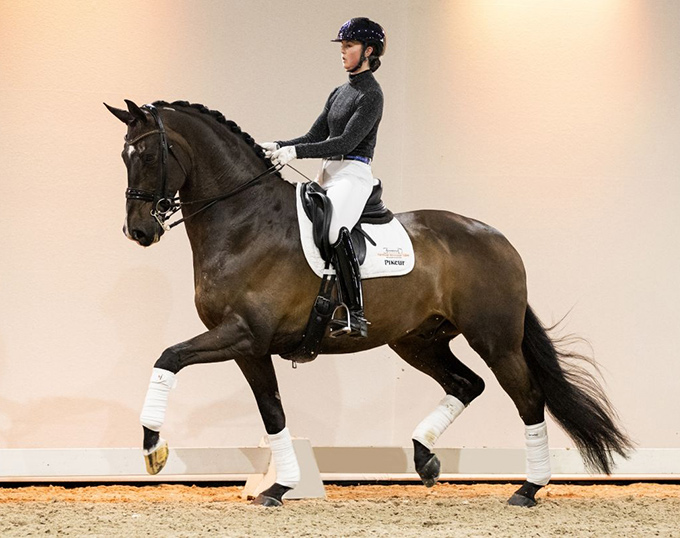 British customers bought Katniss (by Galaxie x Charmeur) for 38,000 euro, alongside No Toir (by Eye Catcher x Connaisseur), Nocino (by Dream Boy x United), and Excalibur (by Furst Romancier x Krack C)
Belgians held a shopping spree at the Excellent Dressage Sales. They are bringing across the border the FEI level 12-year old schoolmaster Devito (by Johnson x Don Renoir), Hylinde (by Wynton x Ferro), NJoy (by Just Wimphof x Zhivago), Napache (by Apache x Gribaldi), Nice Guy (by Impression x Jazz) and Navarro (by Just Wimphof x Jazz).
Spaniards secured Neil Diamond Texel (by Daily Diamond x Ferro), while Nilano (by Dream Boy x Jazz) moves to France. 
The Grand Prix level schooled James Dean (by Jazz Rubin x Fidermark), who was originally ride by German Lisa Horler, moves back to Germany for 95,000 euro. 
Reliability and Diversity
The EDS team is happy to see that the trust of the buyers is also so high online.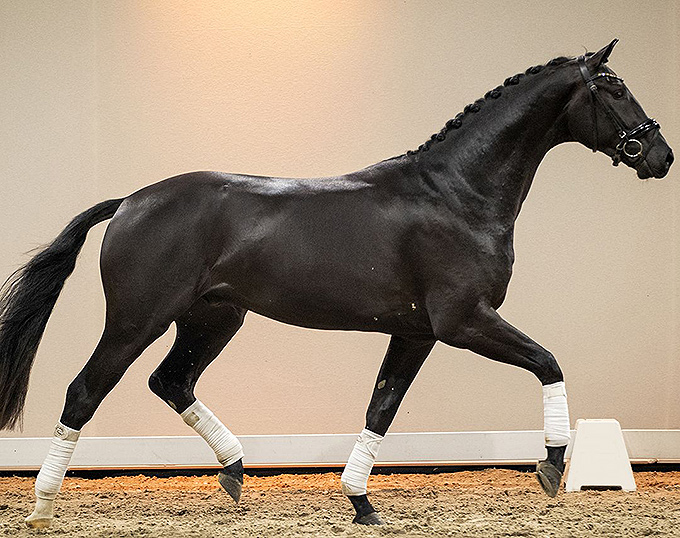 "Reliability is important to us. We notice that more and more buyers find their way to Excellent Dressage Sales and also want to invest in talent. Both at home and abroad. The diversity of the collection is important for this. This year, too, it turned out that precisely this diversity meets the current market needs," according to co-organiser Tim Coomans.
Related Links
From Grand Prix Horses to Young Talents, Excellent Dressage Sales have it All!
2021 Excellent Dressage Sales Publishes Complete Collection
Horses for International Sport For Sale in 2021 Excellent Dressage Sales
Previous EDS Auctions
Excellent Black, Top Seller of the 2020 Excellent Dressage Sales
Our Totilas M, Best Seller at 2019 Excellent Dressage Sale Foal Auction
Charming Lady, Price Highlight of the 2019 Excellent Dressage Sales
Kapralis, Price Highlight of the 2018 Excellent Dressage Sales
San Diamantino, Top Seller of the 2017 Excellent Dressage Sales
Hannelinde TC, Price Highlight of the 2016 Excellent Dressage Sales
Ulysses La Haya, Price Highlight of the 2015 Excellent Dressage Sales
First Edition of Excellent Dressage Sales a Great Success