Canada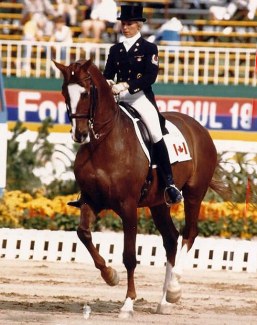 Canadian Olympian Eva Maria Pracht has passed away on 15 February 2021 following a COVID-19 infection.  She was 83 years old. 
Pracht (née Neckermann) was born 29 June 1937 in Würzburg, Bavaria (GER) as the daughter of legendary German dressage rider and trainer Josef Neckermann.  She had two brothers, Peter and Johannes.
German Beginnings
Born into a dressage family, Evi was constantly exposed to the sport, which made her a horse crazy girl from the start. She began riding at her family's stable and initially competed in show jumping in her teenage years, before switching to dressage.
In 1954 she received her first own horse, an off the racetrack Thoroughbred named Graf xx who was a handful. She trained the red bay from riding horse test level to M-dressage
Having proven her commitment to dressage and resilience to stay in the saddle, Pracht then received the ride on an incredible Grand Prix schoolmaster, her father's 1964 Olympic team gold medal winning ride Antoinette (by Anblick xx x Heintze), with whom she achieved her first great successes in the show ring. 
The pair competed for three years (1969-1971) with as highlights a third place at the 1969 CDIO Aachen and a silver medal at the 1969 German Championships. 
Neckermann's name and fame opened many doors for Evi, who became a test rider at the 1972 Olympics as well as on the Olympic Quadrille Team, but she also had very big shoes to fill.
"Showing in Germany was not easy, especially with a father like mine," she said in an interview. ""It's hard coming from such a family when you have to earn your place on any team. There were so many good riders."
Between 1967 and 1981 she claimed six medals at the German Dressage Championships and had the whole array of colours (gold silver bronze) in her trophy cabinet.
Olympian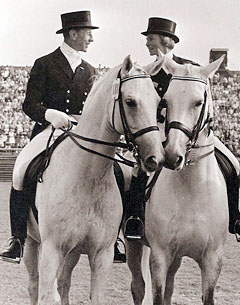 She married Hans Pracht, moved to Frankfurt and had two children, Martina and Josef Johannes. Her husband ran a shipping company and it allowed them to travel to Canada.
The family emigrated to Canada in 1981 and found their base in Cedar Valley, Ontario.  The couple made it their mission to develop the little-known sport of dressage in Canada.
Pracht rode her first Olympics in Los Angeles in 1984 aboard Little Joe, a horse which she later passed on to her daughter Martina. 
While 1984 brought Olympic glory, it also was the year of great loss. On 16 August 1984, the day Evi celebrated her wedding anniversart, Evi's 23-year old son Josef Johannes "Jo Jo" Pracht took his own life by jumping off a bridge from the A45 motorway near Dillenburg. In 1978 Jo Jo had lost his leg in a moped accident after slipping on rainy road. Although Jo Jo learnt to walk and be active as an athlete with a prothesis (tennis, skiing, football), he felt pressure to succeed as part of the Neckermann dynasty and could not cope with the burden. Grandfather Josef Neckermann blamed a newspaper article in the Kölner Express had triggered the fatal deed as recorded in the book "Die Neckermanns."
Josef Neckermann might be remembered for his Olympic sport success, but in fact he was an amateur rider who managed the Neckermann imperium. They were the first "Amazon" style company with mail order catalogs, selling everything from clothes to electronics. The company became famous for as tour operator in Europe, offering affordable holidays to lower and middle class people.
Emirage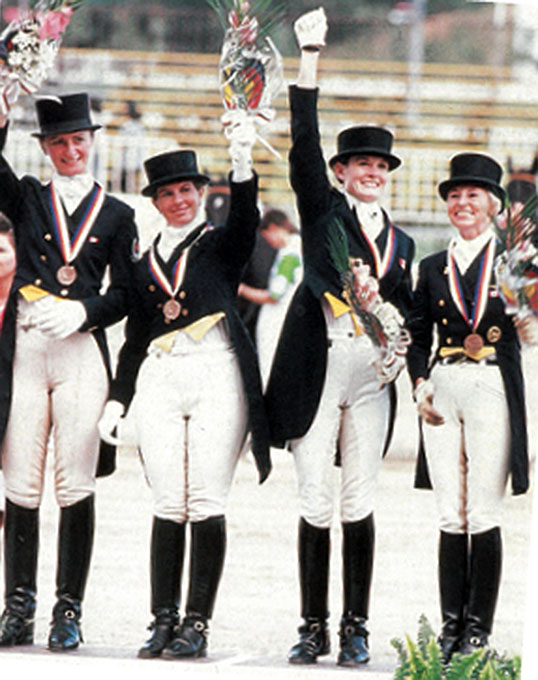 In 1984 Evi discovered the then 9-year old Swedish warmblood Emirage (by Emir) in the stables of Herbert Krug in Germany, who initially did not want to sell the horse. However, Herbert and Hans had a night on the town and over many beers,  Evi's husband convinced Krug to sell the horse. 
in 1986 they became Canadian dressage champion in the advanced division and represented Canada in the small tour at the World Championships, hosted at Pracht's farm and finished in the top three. In 1987 they won team gold at the Pan American Games in Indianapolis. 
In 1988 Pracht rode her second Olympics in Seoul. Sixteen years after her father. Josef Neckermann won his last Olympic medals (silver and bronze in Munich), his daughter won Canada's first and so far only Olympic dressage medal, a team bronze.
Evi's last major show on Emirage was the 1990 World Cup final, after which the horse was handed to Martina. He was retired in 1994 at Evi's stable, where he went on daily hacks with her as well as into the field.
Ontario - Florida
In 1987-1988 Evi spent her first winter in Florida,  training, competing and teaching, a routine she kept up till the end of her life. 
On 16 August 1991 her husband Hans passed away from a lung disease.
Aside from Emirage and Little Joe, Evi's other celebrated competition horses were Mazepa, Duccas, Antoinette, Cantate and Lyogen. In her lifetime she built up her expertise by having been coached by her father, as well as by Willi Schultheis, Walter Christensen, Heinz Lammers, Walter (Bubi) Günther and Harry Boldt.
Evi helped coach numerous quadrilles through the years and organized the choreography. She helped, mentored and was eyes on the ground for Canadian dressage riders such as Gina Smith, Evi Strasser, Ashley Holzer, and many more. 
Legend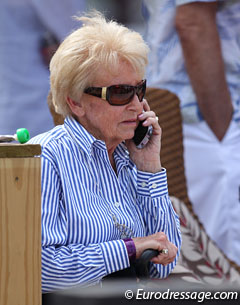 For Canadian dressage, Evi Pracht was a legend in Canada and with her passing a phenomenal horse person has been lost.
"She was always positive, encouraging and honest and it was inspiring to learn from someone with her wealth of knowledge," said Canadian Pan Am team rider Tina Irwin. "She was a stickler for position and never let us get away with anything less than great and reminded us of this constantly! "Stop hampling around in the changes, mensch!" Was one of her favorite lines."
Irwin continued: "even in the last year when her health was not the best she would find a way to make it to the shows or the barn to give her input. She would be leaning out of her golf cart yelling some last words before we went in the ring! She was truly passionate about dressage and it was very evident."
Pracht leaves behind her daughter Martina and grand daughter Sabrina von Buttlar, who is a hunter/jumper.
Related Links
Emirage, the Pracht Family's Olympian
Antoinette, Josef Neckermann's Prima Donna
German Olympian Herbert Krug Passed Away
Ian and Moreen Nicoll Named 2008 Dressage Canada Owners of the Year