Stallion at Stud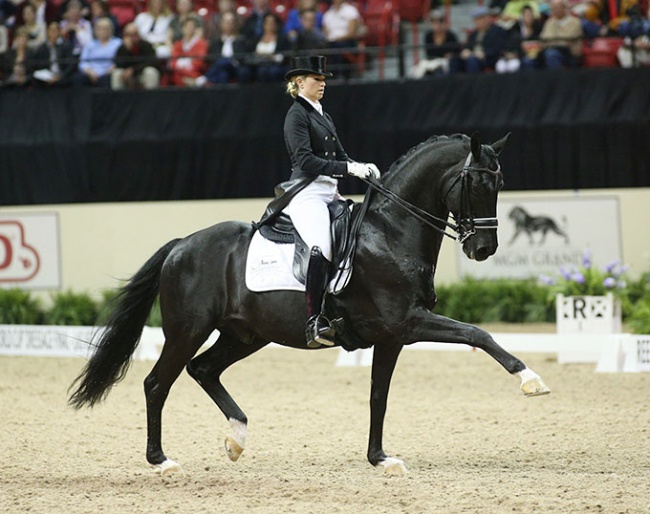 The KWPN licensed breeding stallion and former Olympic  horse Painted Black has proven to deliver on the promise! After his career in international career in international dressage sport, Painted Black has been standing at stud and producing top offspring. 
At the 2021 KWPN Stallion Licensing last week, four Painted Black sons were presented and all four of them were licensed, turning this into a 100% success story for sire Painted Black. No other stallion was able to achieve such an extraordinary feat this year.
Painted Black is a 1997 KWPN born stallion by Gribaldi out of keur mare Litchy (by Ferro x Officier). 
Painted Black
From the start he was a star. He won the 2000 VSN Trophy for 3-year old and the 2001 KWPN Stallion Competition under Hans Peter Minderhoud. He competed at the 2002 World Young Horse Championships in Verden as a 5-year old. 
Trained by Dutch triple Olympic champion Anky van Grunsven, Painted Black won silver at the 2003 World Young horse Championships after which he was successfully trained and competed to international Grand Prix level. They placed second at the 2009 World Cup Finals in Las Vegas.
In 2011 Painted Black sold to French-Spanish Morgan Barbançon Mestre who rode him at the 2012 Olympic Games, 2013 and 2015 European Dressage Championships and 2014 World Equestrian Games. He was retired from sport in August 2015.
Keur Stallion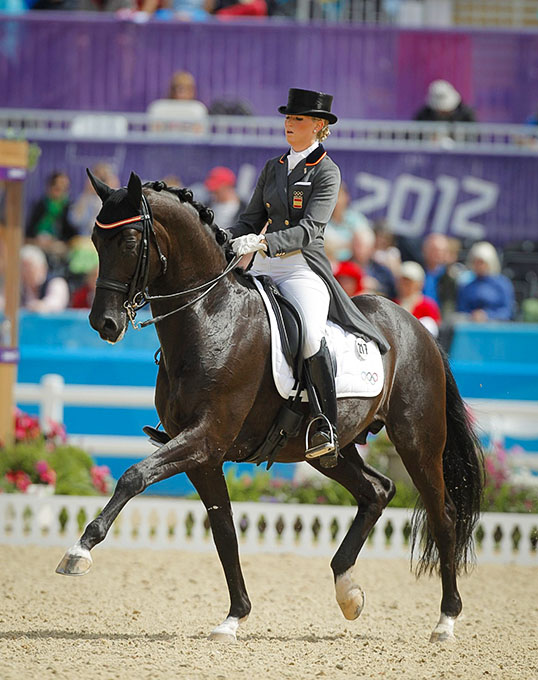 Not only did Painted Black make his mark at the highest echelons of international dressage sport, also as a breeding stallion he stood out, stamping his offspring with beauty, athleticism and trainability, earning him the rare and exclusive title of "Keur" stallion.  
His offspring has been of exceptional quality and many of them are proving their quality at Grand Prix level.
The list of get competing at Grand Prix level is endless! It includes ringing names such as Bon Bravour (Anky van Grunsven), Black Painted (Moises Jover Azuar), Cupido PB (Maxime Collar), Binky (Alexandra Dilliere), Carinsio (Becky Moody), Painted Brown (Marlies van Baalen), Blacktime (Maeva Hoang), Zenith (Nick Wagman), Zircoon Spring Flower (Jennie Larsson), Wervelwind (Denise Hallion), Zingaro Apple (Marieke van der Putten), Don Bravour (Geert Jan Raateland),  Be Painted (Romy van der Schaft), ZZ-top (Brenda de Leeuw), Ebony (Vai Bruntink), Enzo Ferrari (), Excellent Black, Donnadoorn, and many more. 
He has sired five licensed sons, four in The Netherlands: Bon Bravour, Ebony, Enzo Ferrari, and Don Dynamo and one in Germany Picaro Ass.
For Breeders with Vision
Painted Black is a secure and safe choice for breeders with vision. Aiming for a top sport product that will be able to deliver in the competition arena and breeding.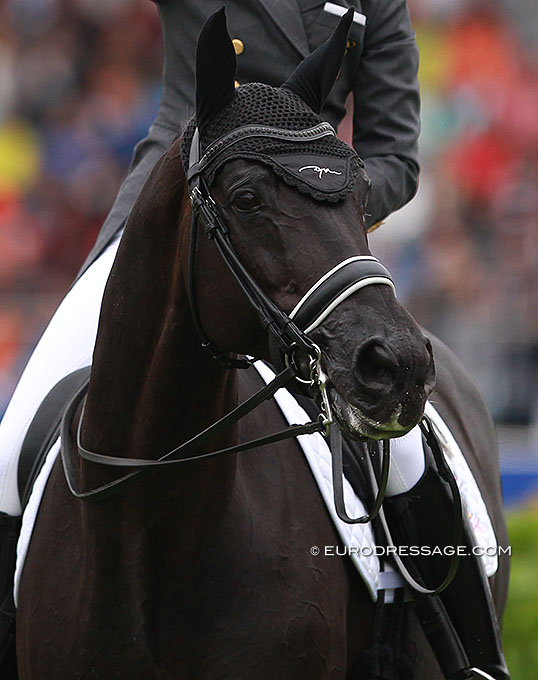 The four newly licensed sons out of a four at the 2021 KWPN Stallion Licensing are just a small grasp of the hereditary power of Painted Black. Owner Barbançon believes that Painted Black is the choice for breeders with vision for the future; those who want to breed a high quality sport horse for sport. 
"He fits for all mares. In my opinion he gives a lot of hindleg, very good balance and great character," said Morgan. "I find the offspring are not that spectacular as foals, but they develop a little later with so much quality and rideability. He's a real Grand Prix horse producer, which is proven by the huge amount of his offspring now competing at Grand Prix level."
Painted Black is WFFS negative.
He is approved for all major European studbooks, including DSP, KWPN, Hannover, Mecklenburg, Oldenburg, Westfalen, Danish warmblood, Swedish Warmblood, NRPS, Selle Français, and AES.
His stud fee is 1,500 euro (300 euro insemination fee / 1,200 euro gestation fee)
Painted Black is standing at stud at Gestut Schafhof in Kronberg, Germany. The semen order form can be found here.
For more information contact