Grand Prix Sales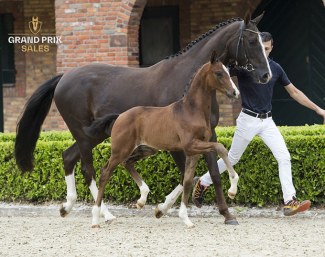 Powerman Texel became the price highlight of the dressage collection of the Grand Prix Sales, the KWPN online foal auction which ended on 4 July 2020. 
The bay colt (by Governor x Don Schufro) sold for 37,000 euro to Dutch Under 25 dressage riders Denise and Jeanine Nekeman. 
"Yesterday I checked the Grand Prix Sales collection together with my wife Berna and our daughters Denise and Jeanine," said Lens Nekeman, the buyer of Powerman Texel. "We were impressed by the quality of Powerman Texel and the way he is moving. We have good experiences with buying top foals at elite auctions. We hope we will be very successful again with this foal. 
The second most expensive foal was Pablo Picasso (by Taminiau x Florencio), which sold for 23,000 euro to a Dutch client.
Pearl Jam LH (by Le Formidable) found a new home in the U.S.A. for 19,000 euro. 
Princess Apple (by Jameson RS2 x Chippendale) switched owners for 14,000 euro, while Princess van de Wimphof (by Escamillo) sold for 13,000 euro. The same price was paid for Pinot Noir N (by Toto Jr). 
Pandémie d'Amour (by Le Formidable) moves to the U.S.A. for 10,000 euro. 
Pablo (by Just Wimphof) sold for 9,500 euro, Perfect Black (by Glamourdale) for 8,000 euro, Purple Rose (by Fontaine TN) for 7,500 euro, Pinatubo E.H. (by Deparon US) for 6.500 euro, and Playboy SQBS (by Daily Diamond) moves to Spain for 6, 500 euro.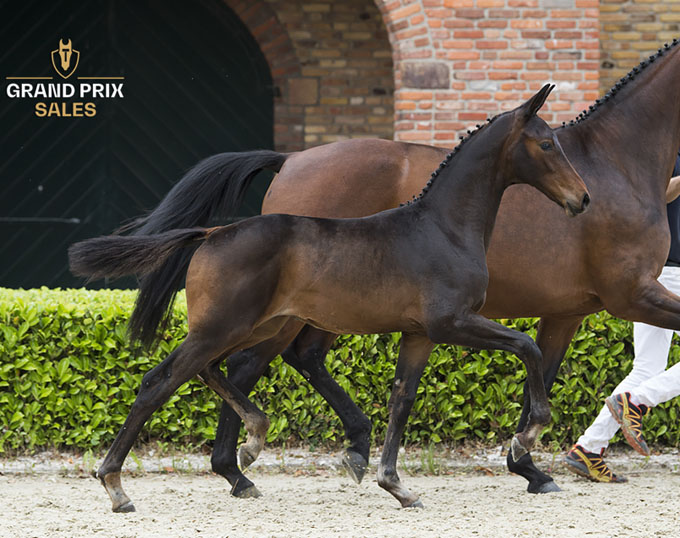 Many professional stables from The Netherlands and abroad invested in jumping and dressage foals offered for sale in the 2020 Grand Prix Sales Online. Buyers from the USA, the United Kingdom, Belgium, Canada, France, Spain, Germany, the Netherlands and Italy made their bids, resulting in good prices for the auction foals and their breeders.
Sannah Angenent, organizer of Grand Prix Sales, said that ​"we succeeded in offering both breeders and buyers an interesting online auction platform. Marjolein Ras and I wanted to auction a small collection of topclass foals. The opportunity to cooperate with partner CSI Twente, the well known prestigious show in The Netherlands, was fantastic. Unfortunately due to Covid-19 we had to decide to auction our topclass foals online. Looking at the auction results we are very happy the way it went and also grateful for the confidence of both breeders and buyers worldwide. In addition, almost all auction foals will go to profession stables and one of them will go to one of the world's best Grand Prix riders".
Related Link
Top-Class Foals with High Potential for Dressage in Selection Grand Prix Sales Online