Grand Prix Sales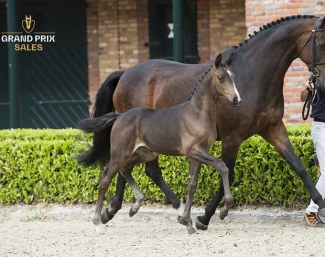 Grand Prix Sales is proud to present you an exciting online auction packed with fifteen top-class dressage foals. The online auction starts on 4 July 2020 at 10.00 AM and closes at 08.00 PM (CEST).
View the entire auction collection at 08.30 PM at ClipMyhorse.tv on July 1st or on our website.
Royal
In our dressage collection Princess van de Wimphof (Escamillo x Riccione) and Princess Apple (Jameson RS2 x Chippendale) are of royal descent. Princess van de Wimphof ,out of Blue Hors Don Schufro's dam line, is a sister to the excellent approved KWPN stallion Just Wimphof. Her dam, Rastede (Riccione), is one of the best breeding mares in The Netherlands.
Princess Apple's dam is a sister to the Grand Prix horse First Apple (Vivaldi) winning every international Prix St. George class and won his first Grand Prix with Sarah Lockman (USA). Princess Apple's granddam Oogappel competed also at Grand Prix level with Aat van Essen. Other interesting fillies in our collection are daughters of Fontaine TN , Just Wimphof and Total Hope.
First crop Le Formidable & Fürst Dior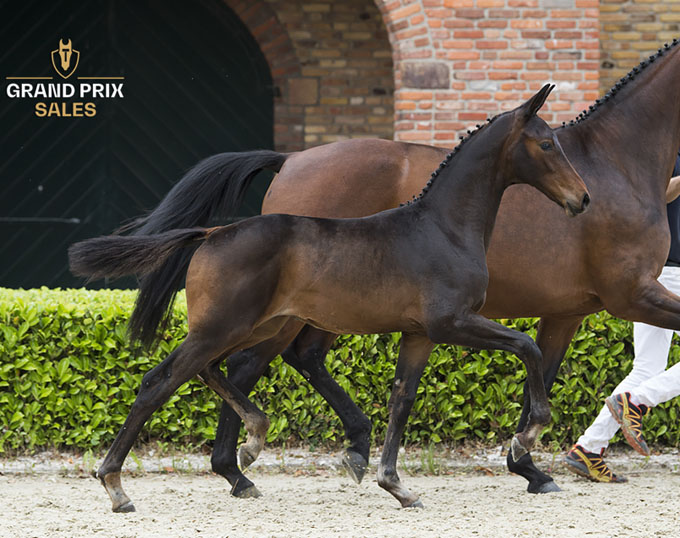 Grand Prix Sales selected two stunning stallion prospects out of the first crop of the impressive KWPN champion Le Formidable. Pearl Jam LH (Le Formidable x Fürst Romancier) is a real copy of his talented father and Pandémie D'Amour IK (Le Formidable x Jazz) descends from a dam line full of sport. Out of the Oldenburger well-known dam line of Welt Hit I- II we selected a top filly by Fürst Dior x Lauries Crusador xx.
Progeny Totilas
The genes of World and European champion, World Cup winner and world record holder Totilas are added to four foals in our collection, all with high potential for dressage:
Pinot Noir N (Glock's Toto Jr. x Negro), colt out of Kyralena N, winner of every class she starts, and Reserve Foal Champion of KWPN; Pablo Picasso (Glock's Taminiau x Florencio) colt out of Izzy ,Reserve Champion KWPN Noord Holland, and invited for the KWPN Championships in 2016;
Powerman Texel (Governor x Blue Hors Don Schufro) colt from 'Texel' with dam line full of Grand Prix, Prix St George and Advanced 4th horses; Pakize-Rijke de la Danse (Total Hope x Tolando), filly out of dam line Grand Prix horses Madorijke and Apart.
World Champion Glamourdale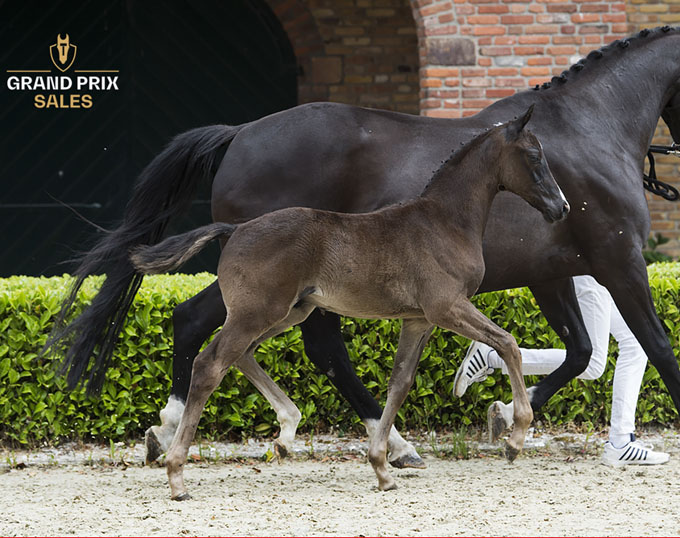 Sire Glamourdale was crowned FEI World Dressage Champion of the seven-year-olds in Ermelo and won the Prix St George in Aachen in 2019 with a score over 80%. Dam Uni d'Ottie (Sandro Hit) was the KWPN Champion of the province of Drenthe, invited for the national KWPN Championships and excelled during her EPTM performance test with a 9,5 for trot.
Hello d'Ottie finishing 7th at the World Championship for Young Horses in 2018 and Corvette winning team silver at the European Championship for Juniors and ranked 2nd in the Nations Cup of Odense in 2016 are the half sisters of the excellent colt Perfect Black (Glamourdale x Sandro Hit).
Online bidding
As of 4 July at 10.00 am (CEST) bidding is open. Before bidding you need to register (for free) on our website first.
Detailed information of all foals including videos. pedigrees and veterinary report are published on www.grandprixsales.nl
The auction of the first foal ends at 08.00 PM (CEST) on July 4th.