KWPN Foal Auctions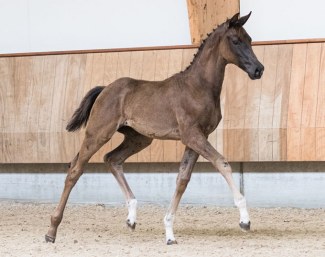 It's time! As of today it is possible to bid on the very first collection of the KWPN Online Foal Auction 2020. Nowadays it is all about sport results, and this collection is not lacking of it.
One of the eye-catchers is the son of World Champion Glamourdale: Playboy van de Mejontsma. He already knows how to impress because of his fantastic trot and canter! His dam is an elitemare and performed at Z2 level. Another son of Glamourdale is Pontiac van het Prinsenland. He's got a daughter of Drossan as dam. She's a half-sister to the international Grand Prix horse Santino (s.Flemmingh) and several other good performing sporthorses.
Eye-catcher Pirouette Pien
Darkbay eye-catcher Pirouette Pien is a daughter of Lord Leatherdale son Lord Europe. Her dam Elhouette (s. Delatio) who is classified at ZZ-advanced level. This mare is a half-sister of Grand Prix horse Well Done, Grand Prix horse Vainquer (s. Negro) and various other good performing dressage horses.
Auction Topper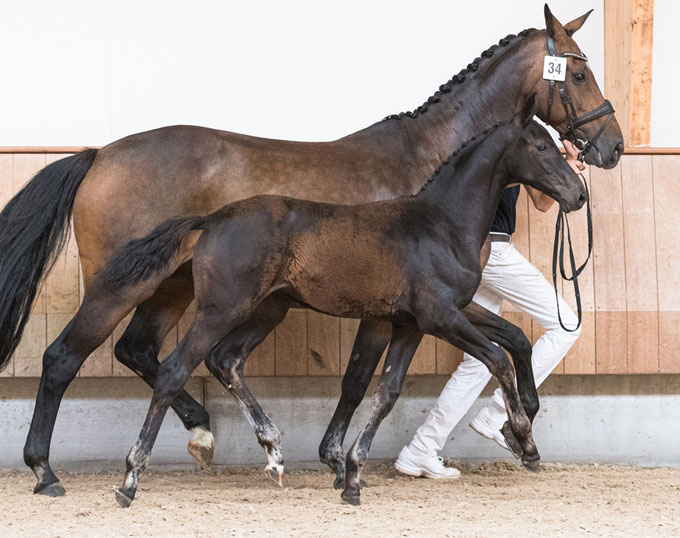 And what about Le Formidable daughter Picobella Dansa? Her dam is the 4yo Elite mare La Dansa B (s. Dream Boy) who scored 83 points at her IBOP test as a 3yo. Various international competing dressage horses can be found in this damline. Princess Irene is a daughter of GLOCK's Toto Jr. and her dam Viva Irene competed at Z2 level herself. She is closely related to KWPN auction topper Madame Tip Top Irene and to the international Grand Prix horse Figaro (s. Apache) of Nars Gottmer.
International Grand Prix horse Toots
And we even have some more very interesting foals. Palermo (s. Negro) his dam is a half-sister to the Grand Prix horse Explosion VR (s. Sir Oldenburg) and to the ZZ-Licht horse Zandro VCG (s. Clint Eastwood). His great granddam performed at Z2 level and brought several national dressage horses. Also Pedro Angulo Sambecano (s. Jheronimus) is bred interesting. He's closely related to the former international Grand Prix horse Toots of Imke Schellekens-Bartels and the Japanese Akane Kuroki. Besides, his dam is a half-sister to the ZZ-Zwaar horse Superieur (s. Metall). The son of I'm Perfect STH, Plunkett Angulo Sambecano, is closely related to the Inter I horse Lord Nunes (s.Lord Loxly) of Diederik van Silfhout.
Dam-line of Dark Legend
Easy Game-zoon Pepijn heeft een moeder die zelf verdienstelijk in de sport heeft gepresteerd. Zijn grootmoeder is een halfzus van het internationale Grand Prix-paard Carramba (by Doruto). Daarnaast gaat deze moederlijn terug op het internationale Grand Prix-paard Dark Legend LH (by Zucchero) van Charlotte Fry.
31 foals
The entire collection consist of 31 foals, of which 16 dressage foals. In addition to the sires mentioned above, also the Worldchampionship of Young Dressage Horses participant and top supplier Just Wimphof, performance test topper Kjento, but also of Taminiau, Kilian and Furst Dior signs for the paternity of the auction foals.
Selected for health and correctness
Are you not registered as a bidder yet? This can be done easily, for free and quickly via www.kwpn.auction. We will also keep you informed of all KWPN auctions. The bidding will close at Monday July 6 from 8PM. During the photo and video day all foals were assessed by the KWPN inspector and a vet. Therefore the foals are selected by health and correctness, the basis of a promising future. Ralph van Venrooij, Head of KWPN Breeding Affairs: "We have expanded the auction videos this year with a walk on hard surface. This way we can provide potential buyers more information. This way everyone can say something about the correctness of the foal."
Talent for the future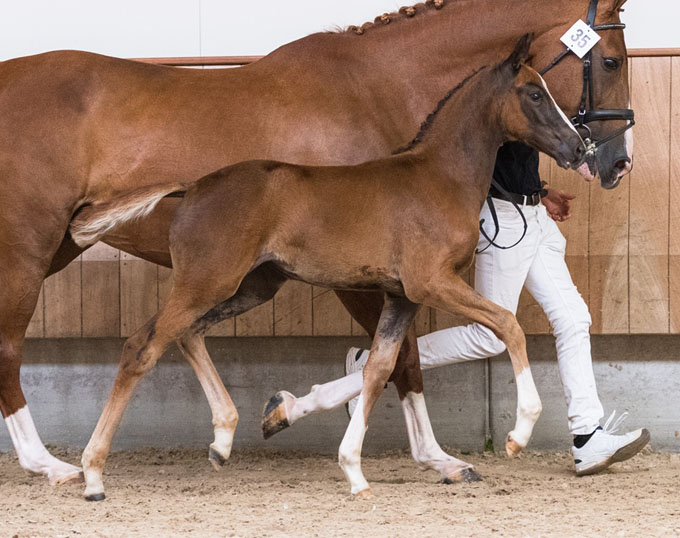 Are you looking for a potential sport horse? A talent for the future? Take a look at the collection now and make your choice. The KWPN inspector is happy to provide you more information about the collection.
In addition, our sponsor Horses2Fly, can support you in the transport of your foal.
Questions? Contact the KWPN inspector Wim Versteeg (+31 6-54201800) or Rianka Hazeleger by salespromotion@kwpn.nl and +31 341-255511.