Holsteiner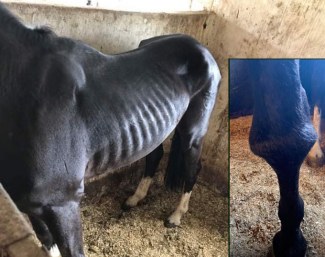 The 24-year old Holsteiner stallion Akribori had to put down due to severe neglect at a breeding yard in Norway, where he was standing at stud and spending his retirement.
Akribori was a 1996 born stallion by Accord II out of Laboe (by Lavall I x Calypso I). He was bred by Gerd Küst.
St. Ludwig's Akribori
The black Akribori became licensed for breeding at the 1998 Oldenburg stallion licensing and two months later was also approved for the Rhinelander association. 
He was initially owned by Gerd Kraft of Gestut St. Ludwig in Wegberg, Germany. 
Akribori did his 100-day stallion performance test in Zweibrucken in 2000 and scored 133.92 for dressage (1st) and 110.35 (7th) for show jumping, winning the test with 131.44 points in total in a group of 18 participating stallions.
Akribori had no significant career in sport in Germany. Martin Sander showed him once in a riding horse test in 1999 and Belgian Philippe Jorissen also competed him a few times.
Flyinge to Holland
Akribori moved to the Flyinge State stud in Sweden, where he stood up for stud for 6 years. He was listed as owned by Dalotex Promo S Gifts.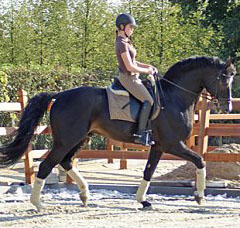 He had a significant breeding career in Sweden and produced no less than 676 offspring there. He was trained to FEI level. 
As a breeding stallion, Akribori produced no licensed offspring in Germany but sired 10 state premium mares. His most successful offspring was the Canadian Grand Prix horse Breaking Dawn, which competed at the 2012 Olympic Games in London under Ashley Holzer. He also sired the small tour horse Mt Athos (Peter John Weston) and Barrington (Joan Lueck).
In September 2007 he sold to Dutch Iris Lobert, who acquired the horse as a junior rider for her 17-year old daughter Madelon.
Akribori was only very lightly competed and did his last show in Holland in January 2008. He stayed with the Lobert family until 2010.
"Madelon was schooling Young Riders with him but he didn't like doing pirouettes, we had him vet checked and it turned out that his right hind had arthrosis, so we retired him from sport," Iris Lobert told Eurodressage.
New Life in Norway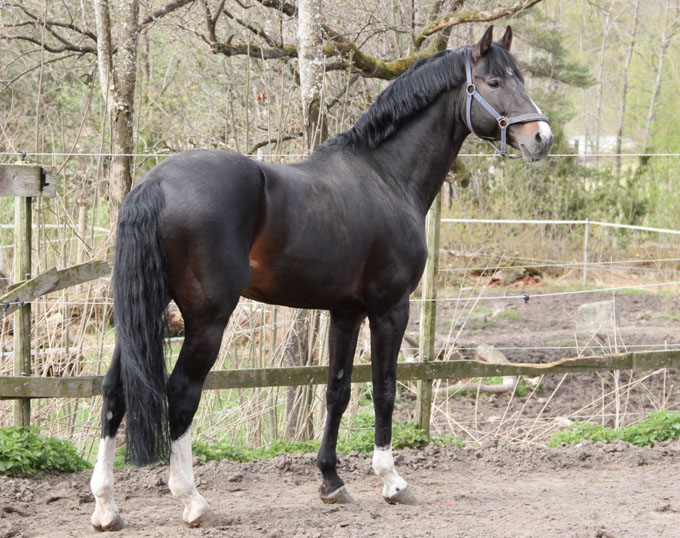 In 2010 Akribori moved to Norway, where he was presented at the Norwegian warmblood stallion licensing by Tobajo Sporthorses. 
In 2011 he was based with Camilla Gulliksen and went back under saddle to compete his Norwegian Warmblood licensing process. Camilla competed Akribori in the autumn of 2011 and throughout 2012, not in dressage, but in show jumping.
In 2013, an acquaintance of the Dutch owner recommended for Akribori to move to Stall Elvira in Stjørdal, Norway, where he would fully retire from sport and stand at stud through live cover.
The Lobert family kept in touch with the stable and assumed their horse, which they still owned, was doing fine. They tried to visit the stallion on a few occasions, but those appointments were always cancelled due to conflicting work schedules of both parties.
"She regularly sent me photos and they all looked good. However in hindsight I always got pictures just of his head or with a blanket on, manipulated photos," Lobert told Eurodressage. "Even the day I drove up to Norway I asked her what is going on, because I received those hideous photos from someone else, she sent me another manipulated photo, said all was ok and that this person was slandering her."
Neglect
On Monday 9 June Iris Lobert was notified of neglect taking place at the yard in Norway with several horses in poor condition. On Tuesday she jumped in the car to drive to Norway. 
On 11 June 2020 Akribori was sent to a nearby clinic where he was X-rayed and his teeth checked as the stallion was "severely malnourished, dehydrated," and with "a huge infection in one (...) of his legs making it virtually impossible for him to walk."
"The keeper told us that he didn't want to eat, but he couldn't eat. He took all the feed we gave him, so he was just underfed. Also the vet said that the teeth were those of an older horse, but they also hadn't been taken care of for two years," said Iris. "His knee joint was so severely injured that there was no hope that he would ever get better, not even enough to make his life tolerable. The vets told us that he got hit against the knee, at least 1.5 to 2 years ago. There were eight fractured pieces of bone in there and more damage from leaving it unattended for two years."
Lobert is not only furious about the tragic condition of her stallion, especially because in her opinion it could have been prevented by Norwegian authorities.
"In 2017 Mattilsynet (Norwegian Food Safety Authority) was alerted about the ill treatment and putrid conditions these horses were living in and did nothing to prevent it," said Lobert. "In 2019, another 4 people reported the stable to Mattilsynet, nothing changed. Last month, once again, a local animal lover and horse owner, Marit Draxen, noticed how mistreated several young horses were looking and managed to see how horrific Akribori looked. Through coincidence she found out that, not Stall Elvira but I, was Akribori's owner and tracked me down via social media."
Lobert continued, "Nothing justifies this sort of abuse and neglect right under the nose of government officials who are obligated to ensure animal welfare."
She told Eurodressage that she has officially pressed charges and that a police report has been made. 
Eurodressage contacted the Norwegian keeper of the horse, we replied: "I have no comment in this case. I have been recommended by my lawyer, veterinarian, the police and the food safety authority to not to come with any statement regarding this case. I have no possibility to defend myself when the conflict and comments have escalated on social media."
Related Links
Stallions Dacaprio and Akribori Sold
Holzer Returns to Winning Ways on 2012 Olympic Ride Breaking Dawn at 2016 CDIO Wellington
Ultiem's Flemming, New Ride for Ashley Holzer
Scores: 2002 CDN Aachen Stallion Gala