2016 CDIO Wellington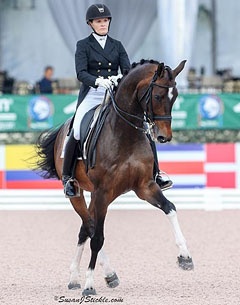 On the final day of competition in Wellington for the 2016 season, Ashley Holzer (CAN) and her 2012 Olympic team horse Breaking Dawn returned to CDI competition and clinched victory in the Grand Prix Freestyle CDI 3*. Holzer and Breaking Dawn received a 75.600%, while Shelly Francis (USA) and Danilo finished in second place, earning a 74.825%. Fellow American Katherine Bateson-Chandler and Alcazar collected third with 70.050%.
Breaking Dawn and owner P.J. Rizvi have been competing in the international arena together this season, but when an opportunity arises to compete the 2001Dutch Warmblood gelding (by Akribori x Eveline), Holzer does not turn it down. The pair, who competed together at the 2012 London Olympic Games, had a flawless effort in their freestyle routine, which will be Rizvi's new music for Breaking Dawn this season.
"It's a privilege to ride such a great horse. It was really fun. I'm a very lucky person. P.J. is a very dear friend of mine," said Holzer. "I think we have such a great community when riders trust another rider to compete their horse. I asked her if I could ride her new music just so I could see how the music works, and she said she didn't expect anything less. It's a nice feeling to go into the ring with so much support, but also that little bit of added pressure."
As for riding to a freestyle routine she herself has never ridden in competition, Holzer brushed it off like a veteran. As the trainer for Breaking Dawn's owner Rizvi, Holzer was a part of the entire selection process and felt that music suited the horse perfectly in the ring.
"We have practiced it at home with P.J. riding. I had the visual of P.J. riding through it and it was fun. I wasn't sure at the end though, if I was ahead of my music or behind it, which worked out great cause the music stopped right when I was at the end of the arena," she laughed.
Holzer confirmed to Eurodressage that her return to the ring on Breaking Dawn is not an official step to throw herself back into the running for a Canadian Olympic individual spot. "It's just a one time thing," Holzer told Eurodressage.
Allison Brock and Rosevelt Achieve Personal Best in Grand Prix Special CDI 3*

In an outstanding effort from U.S. riders this week in Wellington, Allison Brock (USA) and Rosevelt received a personal best for their performance in the Grand Prix Special CDI 3* scoring a 74.333% for the win. Lars Petersen (DEN) and Mariett followed in second with a 70.529%, while Lisa Wilcox (USA) and Galant earned third with a 70.451%.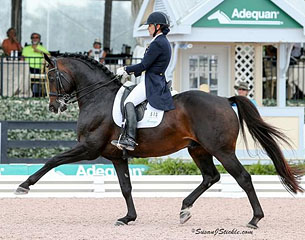 Brock and Rosevelt have received high praise over the past month for their newfound consistency and attention to accuracy in the arena, earning them scores well over 73% for the first time in their partnership together. Noting that the previously used choreography is now being altered, Brock felt it was better for the duo to contest the Grand Prix Special today instead of trying to rush their return to the Grand Prix Freestyle.
"Because I had complications in the CDI 5* Special after we rode the freestyle choreography we created for him, we decided to change the canter tour and it's not done yet," said Brock. "The pattern is written, but I have to film it next week and get it ready for Europe. I just wanted to go in there, and in some ways for myself, so that I was confident that I could go in and hit it and be clean again. I didn't want last week to be a once off, and he was very good today."
"I was really careful in the warm-up today, not to over do and I really just touched a few things to make sure he was reacting well and then not burn him out. I felt like I took a lot more horse in the ring today," she explained. "Mostly, it's just that he's producing a consistent and clean test. He's just solid right now, and I think that counts for a lot."
Brock noted that sometimes "Rosie" does not do well in the heat, but today, she felt the test was precise and he was ready to go again after they exited the ring following their final salute.
"These guys will agree, it was brutally hot out there today in the full sun. There's a breeze now, but there was no breeze when I was going and I'm really happy with the consistency, taking that into consideration," noted Brock.
Text by Carly Weilminster, edited by Eurodressage
Photos © Sue Stickle
Related Links
Scores 2016 CDIO Wellington
Graves Posts Wellington Record Score in 2016 CDIO Wellington Grand Prix Kur
Team USA Achieves Expected Victory in 2016 CDIO Wellington Nations' Cup
Team USA In the Lead After First Round of 2016 CDIO Wellington Nations' Cup