Bits 'n Pieces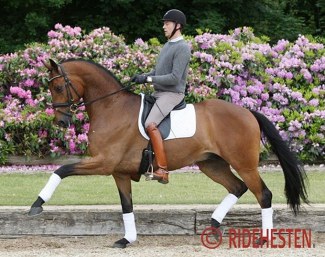 Mikael Stevn, the long-time trainer of Danish Olympian Agnete Kirk Thinggaard (until she switched to Lars Petersen and Team Blue Hors in 2018), has been hired on the team at Helgstrand Dressage. Trained at Hasse Hoffmann until 2003, Stevn also ran his own horse sales business and has now joined Helgstrand for the sales part of the business. Mikael joined as Helgstrand Dressage as "Head of International Development" on 1 January 2020.
Helgstrand's team expanded even further. Danish Michael Grønne Christensen has joined the riders' team because Andreas wants to expand his group of riders that can train horses up the levels due to the growing demand for upper level trained horses. Christensen, who competed Tailormade Temptation and Holballe's Deeba in the Danish and Norwegian Young Horse Championships, worked in Germany in 2019. 
Axel Vervoordt, one of the world's most prestigious interior designers and art dealers, has lost his 22-year old Lusitano Raio on 11 April 2020. The Belgian based art gallery dealer, who lives in 's Gravenwezel castle and recently made headlines again for refurbishing Kanye West's and Kim Kardashian's hollywood home, found Raio in Portugal with the help of retired dressage judge Mariette Withages. "With this confinement I had the chance to ride him every morning with a great dressage teacher and I learned how to obtain a lot by doing very little but precise," said Vervoordt. "It was the best month I spent with him and he was in the best shape ever and in a good mood. He disappeared suddenly without suffering ! I am very grateful to have know him as a teacher."
Axel Vervoordt posted on his social media, with a painting of the horse done by world famous Belgian artist Michael Borremans. Not everyone has his horse painted by such an art super star. Raio was also featured in a second work called "The Horse".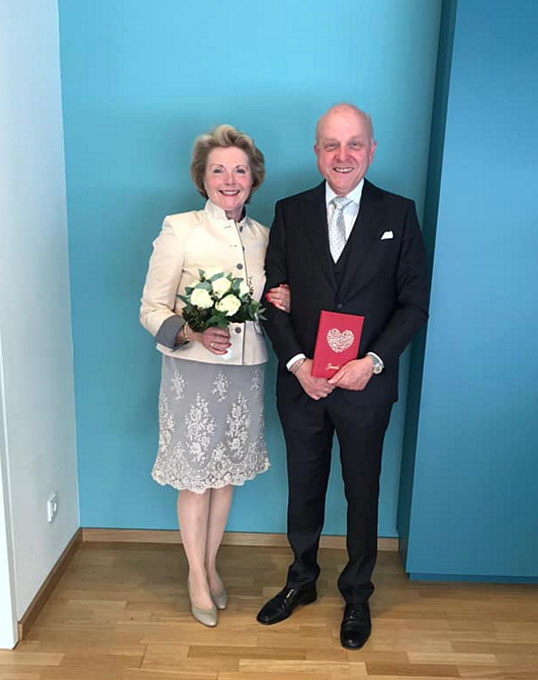 Long-time couple Miriam Henschke and Friedrich Johannsmann got married in a civil ceremony in Steinhagen, Germany, on 17 April 2020. Henschke is the sister of Bianca Kasselmann and works at Hof Kasselmann as a trainer. Her partner of many years, Friedrich Johannsmann runs the eponymous horse shipping company. Friedrich announced the union on Facebook with a nice sense of humour: "We accepted the challenge. We didn't risk the now so beloved gymnastics (of the Koala Challenge), but we both said yes," Friedrich wrote. "Unfortunately due to corona without friends and relatives."
The job carrousel in Germany is going at full speed. Klaus Roeser, chair of the German DOKR dressage selection commmittee and a former member of the FEI Dressage Committee, has a new job. Originally working for Paul Schockemöhle's companies, Roeser has now moved to the Equine Clinic Lüsche, where he has been appointed Chief Financial Officer (CFO). Lüsche is only 15 minutes from Roeser's home and it's the base of German team vets Marc Koene and Jan-Hein Swagemakers.
Antje Kerber, the managing director of the Mecklenburg State Stud in Redefin, is moving to the competition. After 10 years at Redefin, Kerber has swapped Redefin for the Saxonian state stud in Graditz. She will be collaborating with Kati Schöpke, who heads the other Saxonian state stud in Moritzburg. 
Richard Geikie, husband of American 4* dressage judge Sarah Geikie, has passed away at age 74. He died on 15 April 2020 at Backus Hospital succumbing to Covid-19. Richard worked for years as a hydraulic engineer working closely with the Department of Transportation for the State of Connecticut. He was driven to do what was right, regardless of the wear or burden on himself and consistently referred to his lovely wife, Sarah, as his "Beloved". Richard leaves behind his wife, Sarah and children, Christopher (Marissa) Geikie, Douglas Geikie, Laura (Tyler) Anniello, Sarah Jane Geikie, and Susan Ritchotte.