Denmark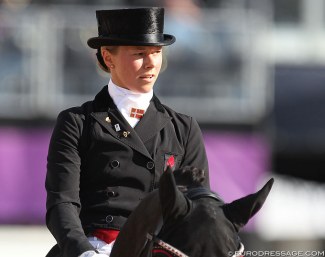 Danish Olympic dressage team rider Agnete Kirk Thinggaard has parted ways with her trainer of six years, Mikael Stevn, and has begun working with Lars Petersen.
"I have decided to look for new inspiration. Our teamwork is ending, after mutual understanding and respect for each other," Kirk Thinggaard stated.  "I am very grateful for the many good years with Mikael, he has taught me so much and we have had some amazing experiences together. Especially with Jojo, we have had some real highlights with the Olympics, World Cup, etc. It has been an amazing journey."
Kirk Thinggaard's career making horse so far has been the Hungarian warmblood Jojo AZ, which she purchased from Jochen Arl at the beginning of 2014.   The duo showed at the 2015 World Cup Finals in Las Vegas and 2016 World Cup Finals in Gothenburg. They represented Denmark at the 2016 Olympic Games in Rio de Janeiro and the 2017 European Championships in Gothenburg.  Throughout this period, Thinggaard was coached by Mikael Stevn. 
"Mikael and I will part as friends and wish each other all the best for the times to come," Agnete added. 
Kirk Thinggaard will now seek training from American based Dane Lars Petersen, who monthly traveled to Blue Hors stud to coach the team there. 
"In the future, I will be closer attached to the team at Blue Hors and my trainer will primarily be Lars Petersen," she said.
Photo © Astrid Appels
Related Links
Thinggaard's JoJo AZ Slows Down a Gear, to Become Schoolmaster
Thinggaard Pullls Orthilia Out of 2018 WEG Team Contention
Fiona Bigwood's Atterupgaards Orthilia Sold to Agnete Kirk Thinggaard
Finnish Team Horse Jojo AZ Sold to Denmark