Denmark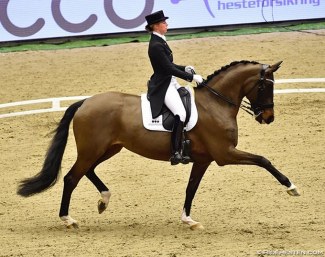 Danish Grand Prix team rider Agnete Kirk Thinggaard has decided to withdraw Atterupgaards Orthilia from Danish WEG team contention this year. The mare recently returned from injury and Thinggaard does not want to chase a team spot with her. 
The Danish rider acquired Orthilia from Fiona Bigwood in February 2017 after the Brit had competed her at the 2016 Olympic Games in Rio. The pair however, missed the 2017 show season soon after arriving in Denmark as she injured herself. 
Agnete and the 13-year old Oldenburg mare Atterupgaards Orthilia (by Gribaldi x Donnerschlag) made their show come back at the CDI Herning in March. 
"After careful consideration, I have decided not to make myself available for WEG team selection," Thinggaard stated. "Atterupgaard's Orthilia has undergone a long recovery from injury, and although she is very well on her way and has got the green light from the vet, the process of bringing her back to top form is taking longer than expected."
Thinggaard is aware that the team observation trials will be in full swing at the start of the outdoor season and they will be too soon for the mare. 
"There is an understandable demand for A-squad riders about competing and achieving good results. There are really many things that need to be in place before we can deliver the results we want and what is expected of us and the time is simply too short," Agnete continued. "I'm not willing to burn Orthilia, and I take no chance and push her unnecessarily. Therefore, I have chosen to us the peace and time she and I need to get the training done. I have made a long-term plan where we hopefully get ready for a great winter season and I still have ambitions to make it on the national team with her - just not this year."
Photo © Ridehesten
Related Links
Atterupgaards Orthilia Injured and Out for 2017 Summer Show Season
Fiona Bigwood's Atterupgaards Orthilia Sold to Agnete Kirk Thinggaard
Fiona Bigwood Acquires Rising Grand Prix mare Orthilia