Danish Dressage News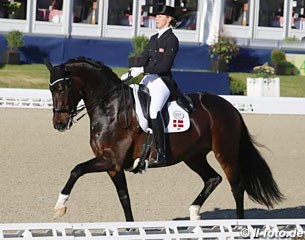 Danish Agnete Kirk Thinggaard is dealing with a heavy blow as her recently acquired Atterupgaards Orthilia sustained an injury in the field and will be out for the remainder of the 2017 outdoor show seaon.
Atterupgaards Orthilia is a 12-year old Danish bred and Oldenburg registered mare by Gribaldi x Donnerschlag. Thinggaard purchased the mare in February 2017 from British Fiona Bigwood, who won silver on her with the British team at the 2015 European Championships in Aachen and 2016 Olympic Games in Rio de Janeiro, Brazil. 
Thinggaard and Orthilia made their international show debut at the CDI Hagen in April, where they scored  72.160% in the Grand Prix and 67.745% in the Special. Agnete was aiming for Danish team selection for the 2017 European Championships in Gothenburg. 
On Tuesday 16 May Orthilia injured herself, twisting the fetlock joint on the field. 
"A badly twisted fetlock has put her out of the game all summer," Thinggaard explained. "This is very annoying and I'm so bummed that this has happened, but it is what it is. It's my priority that all my horses go into the field, every day, and unfortunately that involves taking the risk for injuries. But horses should be allowed to be horses and I will take that risk. Unfortunately this means goodbye to my summer dreams and goals with Orthilia."
Agnete Kirk Thinggaard is based at her own private yard Juianelyst in Denmark and trains with Michael Ravn.
Photo © LL-foto
Related Links
Kirk Thinggaard Makes Winning Debut on Atterupgaards Orthilia
Fiona Bigwood's Atterupgaards Orthilia Sold to Agnete Kirk Thinggaard