Excellent Dressage Sales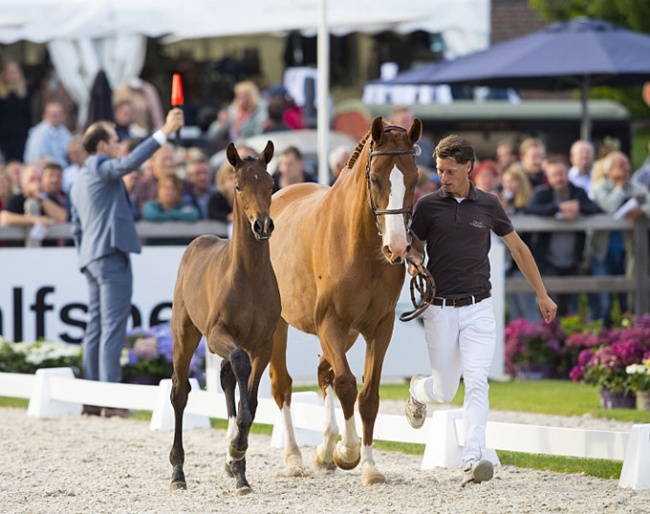 Over 80 dressage and jumping foals will be auctioned on Sunday 1 September during the 'EDS-Prinsenstad Foal Auction'.  The foals have been selected by the team of Excellent Dressage Sales (EDS) and they again have put together a top collection.
This foal auction will be held at the beautiful five star facility of the Prinsenstad Riding School in Delft for the first time and is the very first auction in the Zuid-Holland region. The auction is free to the public. The team of EDS-Prinsenstad Foal Auction is determined to organise a great day for everybody involved.
High quality collection
Tim Coomans, Eugène Reesink, Joep Schellekens, Joop van Uytert and Nico Witte, they all have their unique network, they travel a lot and see many foals including the foals bred by top breeders. The result of this expertise is a very versatile group of foals. Joep Schellekens: "This team has already proven that they can find great horses with the EDS auction last spring. Many of the EDS horses are successfully competing. The individual team members have the skills to select foals that develop into approved stallions or successful sport horses. Every year this team manages to deliver horses for the KWPN stallion selection, an incredible achievement. You need a keen eye for talent and quality. The purchasers at Prinsenstad Riding School will now also benefit from these skills. Auctioneer Marthijs Brouwer will be presenting a high quality collection."
Large group dressage foals
The group of dressage foals includes several movement talents, among them a number of exceptionally interesting foals by Vivaldi and Totilas. Some of the foals were already selected for the National Foal Inspection. Names that also regularly appear in the pedigrees of the selected foals are Jazz, Ferro, Krack C and Flemmingh. The best the Dutch breeding industry has to offer has been combined by the breeders with influential stallions from Germany: the F-line of Florestan I is represented in the pedigree of the foals by Fürstenball, For Romance I, For Ferrero, Fürst Toto, Fürst Jazz, Feinrich, Ferguson and the young Fontaine. Donnerhall's influence in the collection comes from Daily Diamond, Just Wimphof and Deparon U.S. 
Fifteen jumping foals
Successful internationals such Casallo Z, Codex One, Dallas VDL, Quabri de l'Ilse and A'Lee Springpower are the sires of the foals for the jumping fans. The names of founding sires Balou du Rouet, Elvis Ter Putte and Tangelo van de Zuuthoeve capture the imagination. Jumping experts will be interested in the offspring of the young talents Cohinoor VDL, Luigi d'Eclipse, Mosito van het Hellehof, Nixon van 't Meulenhof, Jardonnay VDL and Kitt SB. A versatile group of jumping foals out of exclusive dam lines of which the EDS-Prinsenstad Foal Auction team is very proud!
New entourage
It is the first time that twofold "Equestrian Entrepreneur", the Duijndam family of Prinsenstad Riding School, organises a foal auction together with the international team of Excellent Dressage Sales (EDS). The auction, supervised by the auctioneer, can be watched from the covered tribune or from one of the terraces. Everyone can enjoy a snack and a drink in the Plaza area. During the breaks and after the auction there will be music and visitors can enjoy the pleasant ambiance at  Prinsenstad. For many years the slogan of the Duijndam has been: 'There is always something to do at Prinsenstad Riding School!'
For more information, please visit: www.excellentdressagesales.com