The Netherlands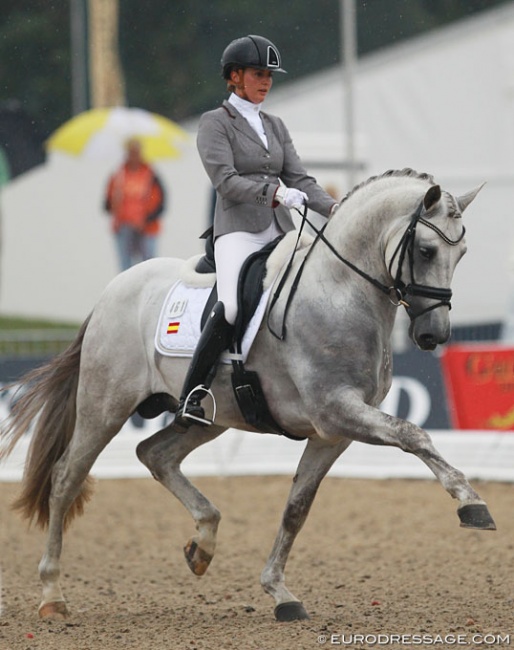 Dutch socialite Britt Dekker has acquired the 10-year old PRE bred Genciano, who first made the spotlight under Emmelie Scholtens.
Genciano is by Datil VII out of Genciana II (by Napoleon II x Pestillo). 
He was listed in the FEI database as owned by Annabelle Collins and Agusti Elias.
Genciano was first competed in Spain in 2013 under Juan Antonio Perez Pulido, but in 2014 he moved in training with Emmelie Scholtens in The Netherlands, and made headlines.
Scholtens made an impression with the tall grey Andalusian especially because the horse had the ground covering gaits of a warmblood. At the 2014 World Championships for young dressage horses in Verden, Germany, the pair finished fifth in the consolation final with 8.06 points. They went on to win bronze at the 2014 Spanish Young Horse Championships. Emmelie started Genciano only one more time, half a year later at the 2015 CDI Can Alzina in the 6-year old classes, . Emmelie trained "George" until he was seven and then the horse was sent back to the owners' base in Barcelona, Spain.
Genciano completed disappeared from the international scene, but did a few national shows in Spain.
"Genciano was moved back to Spain from Emmelie's stable for breeding purposes as he was in demand to breed with PRE mares in Spain," Collins told Eurodressage. "He has been competing nationally in Spain with very good scores and was ready to make his International debut at Small Tour this season."
Genciano has now been sold as new ride to Dutch socialite and tv-personality Britt Dekker. 
The 27-year old Dekker made her name by participating in a television dating show, Take Me Out, and winning a Survivor-like TV show called 'Real Girls in the Jungle' almost ten years ago. She also made an online tv-show with Ymke Wieringa in which she reported on summer party events in Holland. Dekker posed for Playboy and got extra press publicity when the photos were leaked. Dekker is now a tv-host for an entertainment program. Dekker recently rode in a masterclass with Anky van Grunsven at the 2019 CDI-W Amsterdam.
"Five years ago I saw this horse on video, but I could never have dreamed that one day he would be mine," Dekker stated. "I still can't believe it. As a small girl I dreamt of having a horse like this and George is so sweet. I hope that he'll grow old with me and they we'll do many fun things and go on adventures. I can't wait for him to live with me. Welcome to the family."
Photo © Astrid Appels
Related Links
Ferrer-Salat's Delgado Makes Winning Return in Albany Trustee Big Tour at 2015 BCN Dressage Tour
Jose Daniel Martin Dockx and Grandioso Win 2014 Spanish Grand Prix Championships
Estoril Wins 5-Year Old Consolation Final at 2014 World Young Horse Championships
Outstanding Spanish Showcase Expected at 2014 World Young Horse Championships
Spanish Horses Nominated for the 2014 World Young Horse Championships
Ules VDOS, Doctor de Encinasola, Mango Statesman Win 2013 Spanish Young Horse Championships