2016 Klosterhof Medingen Auction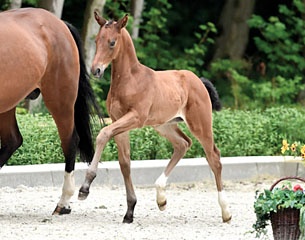 The Olympic Games in Rio are over, but the memories of incredible rides in the dressage arena are still present. Like at all championships the past few years, in Rio there was offspring by stallions from Klosterhof Medingen competing and giving us goose bumps. No less than eight offspring by Klosterhof stallions qualified for the Olympic Games and won four medals there. These statistics prove the quality that Klosterhof breeding delivers. Let's look at the foundation of this success: the Medingen Elite Auction where, for instance, Australian Olympic team horse  Du Soleil was discovered.
On 24 September 2016 it will happen again: clients from all over the world will travel to Klosterhof for the 27th Autuumn Elite Auction, which will be the direct source for your Olympic hope. A hand-picked collection of 22 riding horses and 44 foals of the very best quality is on offer. With eight descendents the D-blood of De Niro and his sons Danone and Duke of Oldenburg is strongly represented in the riding horse collection. In addition there is Trakehner refiner Herbstkönig, who has three offspring in the collection.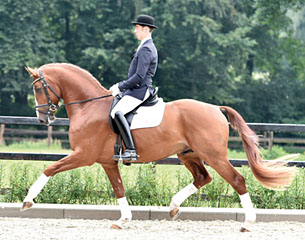 The collection offers a mix of young talents, which have the best potential for international sport, as well as dressage talent on the way of learning the most difficult movements.
Also young riders and ambitious amateurs will find a horse in this well considered collection, which will support them as a loyal partner on their way in dressage sport. In contrast with other auctions, Klosterhof offers a variety which will appeal to many interested persons and which will give opportunity to buy the perfect partner at a fair price. 
And then there is the foal collection which has no equal in Germany. Amongst the 44 exclusive foals there are highlights like no other. With offspring by Quantensprung, the bronze medal winner of the 2015 World Young Dressage Horse Championships, and by the wonderful Westfalian licensing champion Borsalino, as well as nine De Niro foals, all modern "Must Haves" for sport are included in the pedigrees.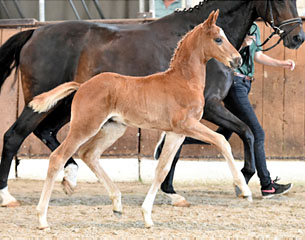 The foal collection is completed with top foals by Danone, Herbstkönig and of course Flanell, who is following in the footsteps of his father Fidertanz. The mix and consistent pairing of Klosterhof stallions that have been successful for generations, is not only proven by the results achieved at last year's autumn auction, but also by the price highlights at auctions throughout Germany.
The team at Klosterhof and the Wahler family will assist and consult clients individually to find the perfect horse or foal. Everyone, who has visited Klosterhof before, can confirm that the family atmosphere and the generation wide love for horses is incomparable.
Feel free to contact us for more information:
Or visit us at www.klosterhof-medingen.de