2023 Pan American Games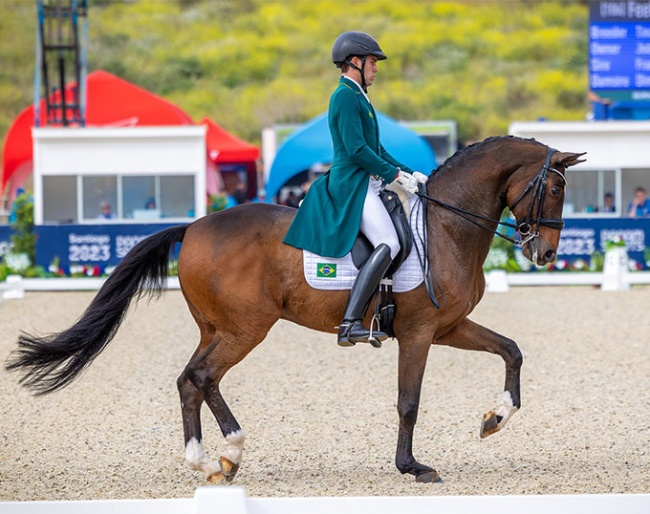 Team USA holds the lead after the opening day of competition at the 2023 Pan American Games in Quillota, Chile on Sunday 22 October 2023. However, a super test from the last man into the ring, João Victor Marcari Oliva with Feel Good VO saw Brazil overtake Canada for second place going into tomorrow's second day of action.
The Format
The Team championship competition at the 2023 Pan American Games takes place over two rounds: the Prix St Georges/Grand Prix and the Intermediaire I / Grand Prix Special. Scores from both rounds are totalled to determine the winner. 
As the Pan American Games allow for mixed teams of small and big tour combinations, a coefficient has been added to the Grand Prix scores.  Grand Prix scores may appear unusually high, but that is because each Grand Prix score gets a 3% coefficient added on top of the actual result achieved. 
The Pan Am team competition is an Olympic team qualifier and two highest scoring nations can earn a spot at the 2024 Paris Olympics. The U.S.A. already qualified at the 2022 World Championships in Herning. The countries chasing down a ticket are Argentina, Brazil, Canada, Chile, and Mexico as they have fielded the minimum of two Grand Prix combinations to be eligible for the Olympic race. 
Brazil's Oliva Earns High Score of the Day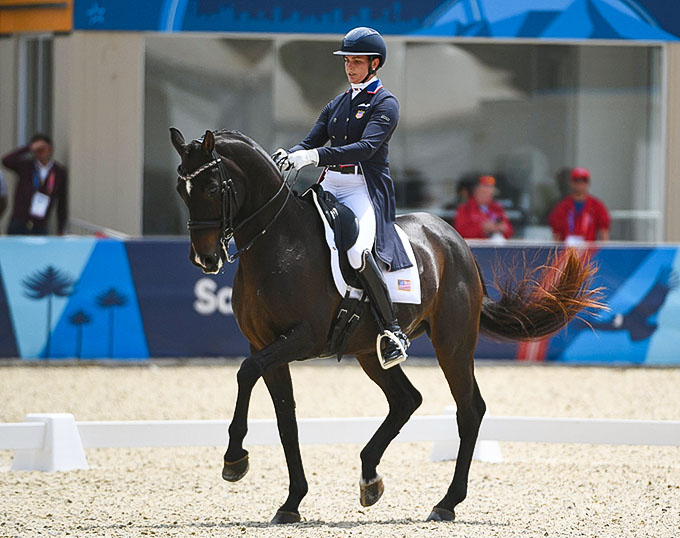 Oliva and the 11-year old Westfalian Feel Good VO (by Franziskus x Dimension) topped the individual leaderboard with the biggest score of the day, 76.478%, while a personal-best of 76.065% leaves defending individual champion Sarah Tubman from the USA in second place with First Apple (by Vivaldi x Partout). Another Brazilian, Renderson Silva de Oliveira, is in third on a score of 75.304 with the famous Lusitano stallion Fogoso Campline (by Rico x Raja). And in fourth spot going into day two is America's Anna Marek who put 74.891 on the board with Fire Fly  (by Briar Junior x OO Seven) .
The team rankings are tight. USA is out in front on a collective score of 224.338 when the best three results are counted while Brazil is just over three points behind on 221.151. Canada lies third on 214.277, the hosts from Chile are in fourth on 209.920, Mexico holds fifth place on 202.822, Argentina is in sixth on 201.609 and Colombia is in seventh spot on 197.205.
With only three combinations from the outset, Ecuador is no longer in contention following the elimination of Caroline Espinosa and Findus K, who was too overwhelmed by the arena and atmosphere and showed resistance.
However fifth place in the individual rankings is held by Ecuador's Julio Mendoza Loor and Jewel's Goldstrike (by Bretton Woods x Scandic) while in sixth is the Small Tour combination of talented 21-year-old American Christian Simonson and the Danish gelding Son of a Lady (by Soreldo x Welt Hit II). Simonson is the youngest rider competing at the Pan Ams.
Thrilled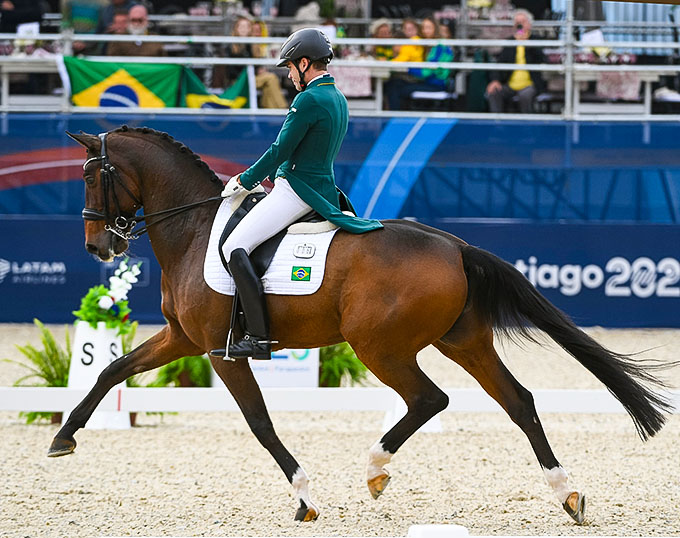 The Portuguese based Brazilian Joao Oliva was thrilled to take individual pole position at the end of day one, but he is not getting carried away.
"I didn't really expect this," he said. "I was expecting to bring another horse but I had to change last week because the horse was not in the best shape so I had to bring this horse which is my second option - I expected to do a clean test, help my team, maybe get a medal from the team but not to win! I'm really happy, no words."
Oliva added, "I was crying after my test! I think I made my team proud, my trainer, my family and my country and this is what matters!"
He wasn't at all intimated by being the last rider into the arena this afternoon.
"I liked going at the end of the day, I was making a joke that I was first to go in the Olympics and now I'm last to go at the Pan American Games!", he said. Asked what he felt lay ahead he replied that "everything is possible here, maybe we won't get a medal but I will still be happy. I achieved my objective today but tomorrow is another day and anything can happen," he concluded wisely.
Putting USA in the Lead
Meanwhile Sarah Tubman reflected on the test that helped lift the USA to top of the team leaderboard. When she took the individual title in Lima (as Sarah Lockman), Peru four years ago she was still competing at Small Tour level. Today's Grand Prix result was all the more special for that.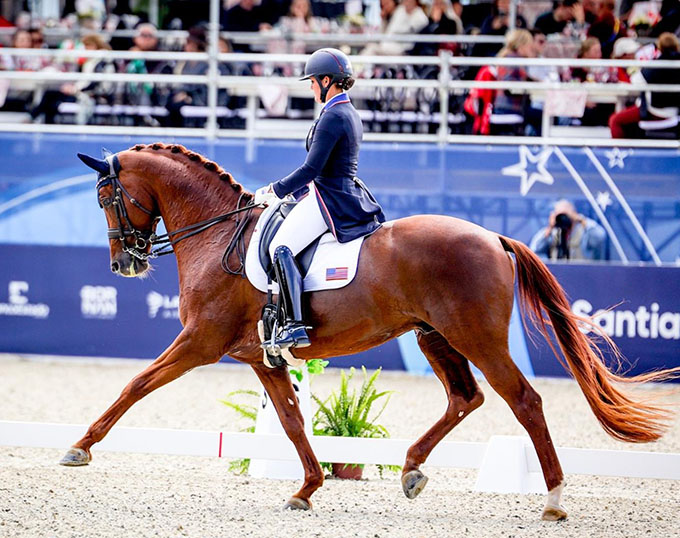 "It's really cool to have gone through this process. USA have given us such a great opportunity, coming last time (to the Games) with an entirely Small Tour team. I felt I was more prepared this time because I knew what to expect. I've been really lucky in the last three or four years to travel a lot and be on other teams. But every time you go into that ring it's the craziest butterfly feelings! So I'm just really proud of my horse. We've come a long way. It is not a small journey from Small Tour to Big Tour so to be rewarded in such a big ring - I think that was my personal best for the Grand Prix, I'm really proud of myself," said Sarah.
Chef d'Equipe George Williams stated, "the highlight for me today is that it's a younger team, and for some of them it's their first major international experience, and I'm just proud of how they handled the environment and all of them rode very well and stepped up to the moment. There's terrific team spirit amongst the athletes, the grooms, and staff so it's a really positive environment and we're looking forward to the next few days."
Marek explained, "I was trying to keep my head under control coming into this, just with the crowd and everything. What's great is when I focus on the riding, I don't see or hear anything, and my whole goal coming here was that I wanted to have a clean test in the Grand Prix. All the things we've been working on leading up to this all worked in there and that's what made it so awesome. Anytime I felt like I wanted to make a big correction, I disciplined myself not to and he relaxed, and he was just amazing in there."
Dream come true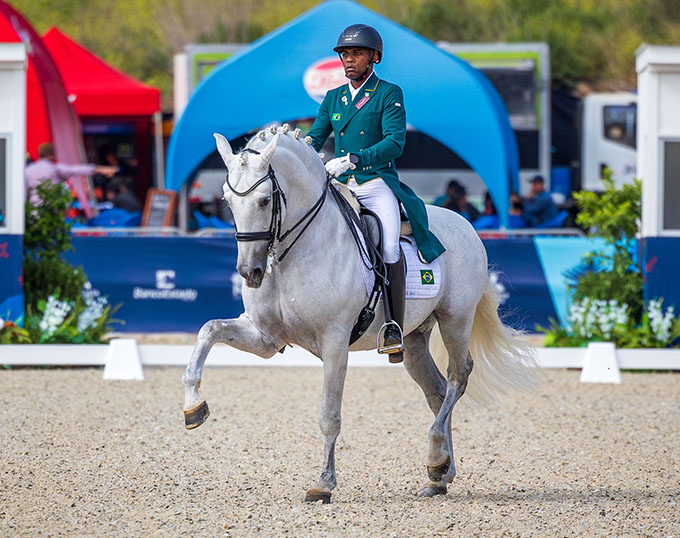 For third-placed Brazilian, Renderson Oliveira, today was a dream come true. He started out in the horse world cleaning stables and today the 31-year-old found himself putting his country within sight of achieving one of the two qualifying spots on offer this week for the Paris 2024 Olympic Games. Portuguese sponsor and horse owner Horse Team Campline made the strategic decision at the start of the year to match Renderson with the plucky little stallion Fogoso Campline in pursuit of an Olympic team ticket for Brazil. Renderson only competed in his first Grand Prix in February this year, but he has a very special horse in Fogoso Campline who is doing everything to help him.
"I waited a long time for this moment in my life, I work hard every week and today my dream came true and I am really happy!", he said. "It's super to represent Brazil at the Pan American Games because it is my country, where for some people life is not easy but the people there are very special", he said. 
"I started cleaning boxes and I worked really hard for a Brazilian rider who competed in the Pan American Games and Olympic Games. He said I can help you if you want and I said yes I want! He said you work and when you have time I can teach you. I started, and in a few months I had five or six horses and started competing in small (dressage) tests. This is now my life!"
"It is super to ride Fogoso," he said of the 13-year-old horse that was previously ridden by Portugal's Rodrigo Torres. "I only started doing Grand Prix this year and now I've done seven. In the first I made mistakes and each time I tried to improve. In my mind I know the Pan American Games is coming and I have to make my best test. And this here was my best test!", he said, filled with joy. 
His reaction when he realised he had executed his best-ever ride today was to lean back in the saddle in the final halt and salute the crowd. And they loved him for it. Now, like all the rest, he has to try to do it all again.
Canada Third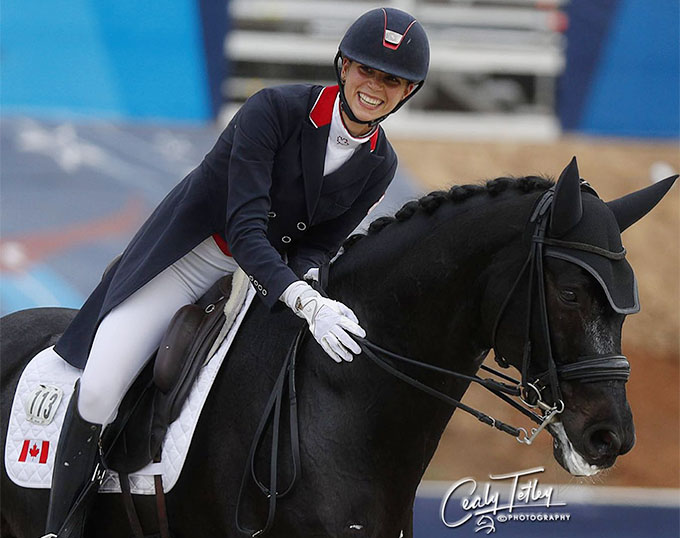 After a dynamic first day of competition, the Canadian dressage team sits in 3rd place going into Intermediate I and the Grand Prix Special.
The team's best result was achieved by Tokyo Olympian Naima Moreira Laliberte aboard the Hanoverian bred Statesman (by Sandro Hit x Brentano II) who scored 72.739 % in the Grand Prix to finish 9th on the leaderboard. The globe-trotting Naima has been working with former Spanish team rider Jordi Domingo, the original owner and trainer of Statesman from whom she bought the horse in 2018. A student of Albrecht Heidemann as a youth rider and then coached by Canadian Olympian Ashley Holzer with Wellington, Florida as her main base, Naima recently turned her head to Europe and has been spending more time training in Spain with Domingo and competing on the European scene; 
Canada's second best score was achieved by the small tour pair Beatrice Boucher  on the 10-year old Canadian bred Hanoverian mare Summerwood's Limei (by Londonderry x Weltmeyer) with 71.147%, placing 11th. Right on her heels was Mathilde Blais Tetreault  aboard the Dutch warmblood Fedor (by Johnson) with a Grand Prix score of 70.391%.
Competition Resumes on Monday
Competition resumes at 11.00 local time tomorrow with Intermediate l for the Small Tour Riders and Grand Prix Special for the Big Tour contenders, and once again the top three scores from each team will count towards the final result. Team medals will be awarded tomorrow evening and it's a close-run contest so far, so don't miss a hoofbeat…
-- text by Louise Parkes for FEI, edited by Eurodressage
Photos © FEI / Kristy Pasto / MacMillan - Cealy Tetley - Matt Turer/US Equestrian
Related Links
Eurodressage Coverage of the 2023 Pan American Games
Scores: 2023 Pan American Games