2023 Polish Young Horse Championships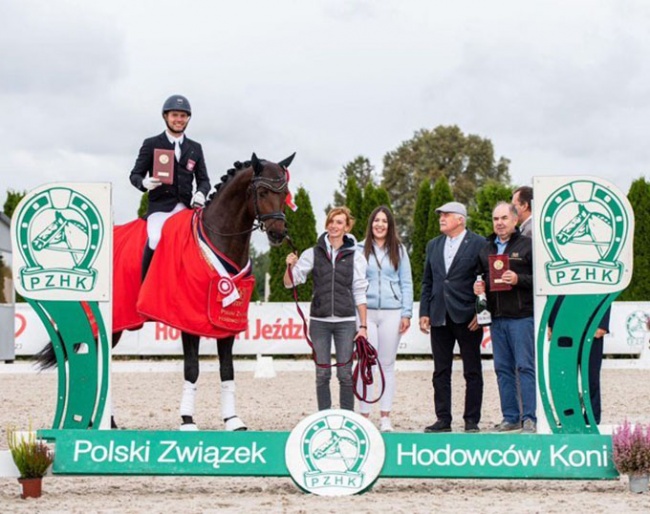 - Text by Agata Grosicka, edited by Eurodressage - Photos © Wiktoria Roznowska & Liliana Jachimowicz
The 2023 edition of the Polish Championships for Young Dressage Horses on 22 - 24 September 2023 delivered an action packed programme in which education and entertainment were key.
Hosted for the first time at Cichoń Dressage in Radzionkow (POL) in partnership with the Polish Association of Horse Breeders (PZHK), the weekend not only featured a National Young Horse Championship with split classes for Polish and foreign bred horses, but there was also the FEI Young Horses Judges Seminar, organized by IDOC together with Polish Equestrian Federation (PZJ), a Masterclass with Eva Möller, and a dressage foal auction.
The FEI seminar was led by Susanne Baarup and Raphael Saleh who instructed and supervised the candidate judges throughout the weekend.
The 2023 Polish Young Horse Championships
The Championships were very successful for Karola Mazurek and home rider Mateusz Cichoń who won medals in several classes.  
4- year old Polish bred horses:
1. Karola Mazurek on Si Donna Deluxe (by Don Deluxe x Insider) - bred and owned by Karola Mazurek
2. Wiktor Wojtarowicz on Hope (by Florestano x Aron HBC) - bred by Agnieszka Szymanek, owned by Krzysztof Szmidt
3. Katarzyna Porożyńska-Pankau on Daisy VIL (by For Emotion x Weltstein) - bred and owned by Stefan Wiluś 
4-year old foreign bred horses:
1. Mateusz Cichoń on Ebano (HANN, by Escamillo x Fiorano) - owned by Cichoń Dressage
2. Mateusz Cichoń on Face Time (OLD, by Foundation x Sir Donnerhall) - bred by Gestut Lewitz and owned by Cichoń Dressage
3. Urszula Krzewicka on Ontario (KWPN, by Cum Laude x Johnson) - bred in Holland and owned by Natalia Lesisz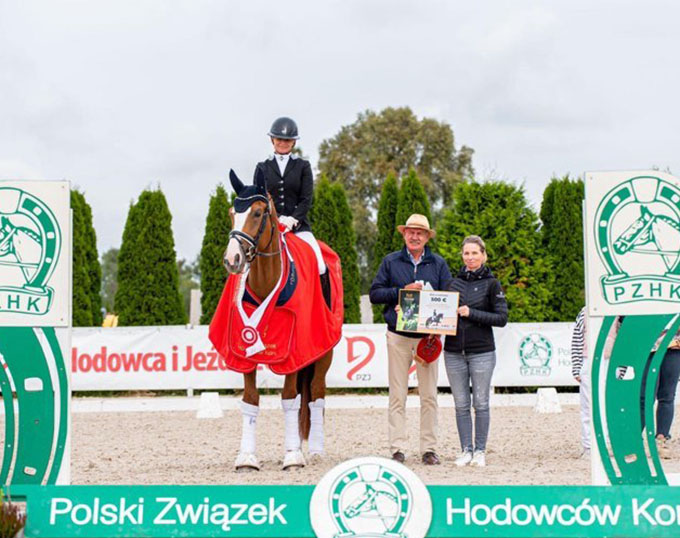 5-year old Polish bred horses: 
1. Karola Mazurek on Fibrina (by Belive In Me x Le Duc) - bred by Paweł Mazurek and owned by Karola Mazurek 
2. Olga Safronova on Foscolo (by Florestano x Insider) - bred by Paweł Mazurek and owned by Paulina Burchardt-Kowalska 
3. Kinga Paszkiewicz on King of Heaerrts (by Furstentraum   x Weltstein) - bred by Joanna Burza and owned by Kinga Paszkiewicz 
5-year old foreign bred horses: 
1. Kamil Puliński on Quando Dancier G (HANN, by Quando Unico x Danicer) - bred and owned by Paweł Gąsinski 
2. Tomasz Jasiński on Sirius Black (DSP, by Santana x Carry Son) - bred by Bielin Horse Stud and owned by Tomasz Jasiński 
3. Oliwia Laferi- Sapiej on Magic Dream (OLD, by Marc Cain x Desperados) - bred in Germany and owned by Aleksandra Szulc 
6-year old Polish bred horses: 
1. Monika Cierpicka on Gaszma LA (by Gold Quaterback x Samba Hit) - bred by Dębno Horse Stud and owned by Szymon Cierpicki 
2. Dominika Mucha on Babilon (by Sommerhit x Akcent) - bred by Ryszard Jakubczak and owned by Dominika Mucha 
3. Ivette Czok (on Dzjaf B (by Le Duc x Ramadan) - bred by Roman Borysiuk and owned by Klaudia Nalepa 
6-year old foreign bred horses: 
1. Katarzyna Łukasik on Nabucco PP (HANN, by Negro x Jazz) - bred by Procima Ltd. And owned by Justyna Zakrzewska 
2. Mateusz Cichoń on Radius (SWB, by Revolution x OO Seven) - bred in Sweden and owned by Cichon Dressage
3. Kamil Puliński on Vivienese G (OLD, by Vivaldi x Bretton Woods) - bred and owned by Paweł Gąsinski
7- and 8-year old horses - Polish Cup
1. Marta Ginda on Dance For Me (OLD, by Diamond Hit x Chico's Boy) - owned by M.Ginda 
2. Ilona Janas on Ferrero Rocher (HANN, by First Ampere x Sir Oldenburg) - owned by Kamil Iwicki 
3. Katarzyna Konarska on Indian Summer (HANN, by Radisson x Stedinger) - owned by Marcin Konarski 
Eva Moller Masterclass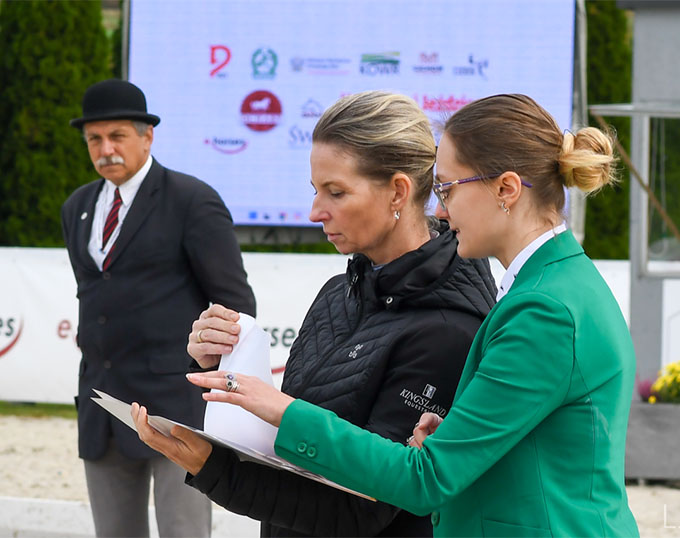 The Eva Möller Masterclass was a highly educational inclusion in the time table of the Polish Championships, with many riders, trainers, judges and spectators listening in on her advice.  Möller was very outspoken about her training of young horses and how trainers are influenced by the judges. 
"Communication between us is very important because we work together – we – trainers and riders don't work against judges," she said. "Through training we should be producing the horses and showing the horses the way judges like it. We get rewarded for good training. Judges may sometimes have different taste and for example want to see the horse more expressive and forward going, the point is still the supplenesss – every judge likes it but their taste might differ. And if we – the riders - by taking their advice are able to change the presentation for better, then it works. 
Möller has been presenting young horses for 35 years and has built up a massive amount of experience. 
"We all know how much training a young horse needs, or less training at times, how much break time in between, how the warming up should look like," she stated. "That's what makes the experience in the end of the day. Don't be too motivated and work the horse too much, because at the end of the day a young horse runs out of energy, power and motivation as well as willingness to work."
Möller stressed the importance of careful selection when breeding horses and warns breeders not to choose stallions that are simply popular. The sire x dam combination needs to fit.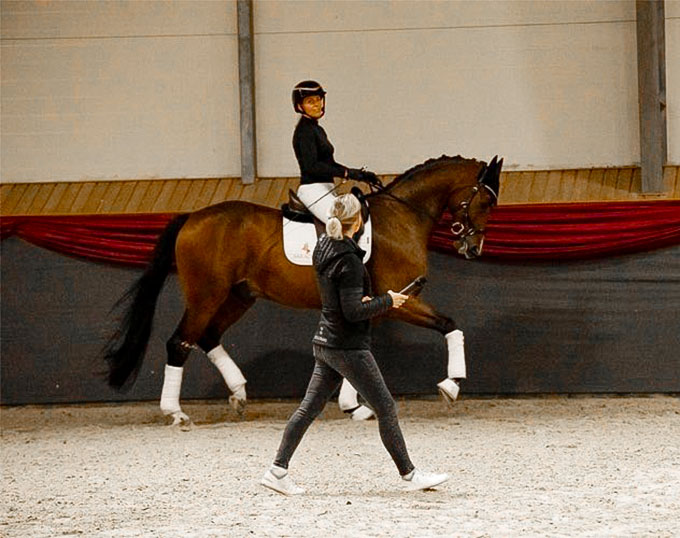 "The first question when I come on the horse is naturally what the breeding is because I come from breeders' family and worked with all these breeding stallions so for me breeding is always very important but at the end f the day it is the horse that matters the most," she said. ."Sometimes you wonder why people combine this mare with that stallion because you know it won't work out and it doesn't."
Eva was very realistic of the quality that was being presented in the clinic as well as the riding. 
"The horses here also show good quality, " she said. "I could see that sometimes riders lack some elements of basic work or the feeling, the position, and you wonder that the horse is still doing the job. You have out there good professional riders like Karola Mazurek, Anna Mierzwinska or Kamil Pulinski and Poland qualified to the Olympics as a team which is outstanding. Breedingwise you should work on mares and go to Germany to get some really nice mare out of good dam lines. Top stallions you can get anywhere now. You should be more selective, not just produce a horse but breed it in a smart way."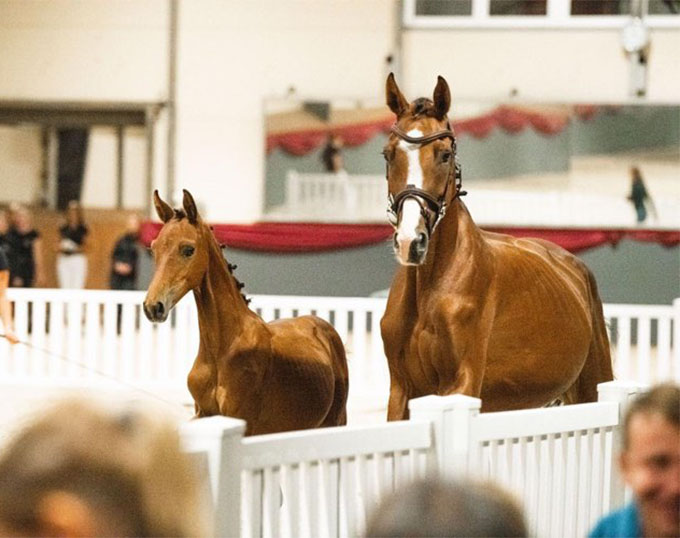 When asked what Eva's response is to the often used statement "but these young horses you never see again at Grand Prix" she firmly replied the contrary. "90% of young horses I was riding became top GP horses. Sometimes it happened that these young horses were sold to riders that were not able to produce a GP horse but the potential was there. Of the German team competing at the Europeans this year I rode two out of four horses in the finals of Bundeschampionat – Bluetooth I rode at 3, 4, 5 and the finals and Thiago also. So this is totally untrue. You give them good experience as a young horse to go out there and to feel confident in the atmosphere, yet if you go out there and see that the horse is not ready and that's too much pressure when you feel as a rider that the horse is ready to show, that you should go out and do it. It's good for the people to see and follow the young horse to the GP level and see how the good training makes the horse develop and achieve the best."
The masterclass concluded with an auction of dressage foals registered in the PZHK studbook, hosted by Cichon Dressage. The most expensive colt was Nimphybano (by Ebano x Franklin) who sold for 15,500 euro to Kamil Iwicki. The average price for a foal was 11,000 euro. 
FEI Young Horse Judging Seminar
The FEI Young Horse Judging seminar was led by Susanne Baarup and Raphael Saleh.
"The organizers took really good care of us – we had good backup which makes it much easier to prepare things," said Saleh. "The seminar here in Poland was very interesting because we both worked with videos and watched horses in real life competition. For this kind of seminar it is very important because you have a good quality of young horses but it's not the same level as videos we saw – of more advanced horses and more prepared ones and it was very good for candidates to see both. 
Baarup added, "we asked the participants to judge into pairs and judge as they do in real life. They found out how quick it goes when you do it live. In classroom we can play the video again and confirm the mark but this is not how it is in the real life." Saleh agreed,  "it was good for the learning process to be able to have both and do it in the different way."
There candidate judges from countries such as Guatemala, Japan, Lithuania, Austria, Denmark and Poland. First a written exam was held about rules and riding principles, followed by an oral and a practical exam. The candidates had to judge a set of 5 and 6-year old horses on video, after which a debrief followed the next morning. Another written exam followed for those who didn't do so well on the first day due to stress or misunderstanding of the questions.
"It is a lot of pressure. We tried to make them feel confident but it is always a stressful situation," said Saleh.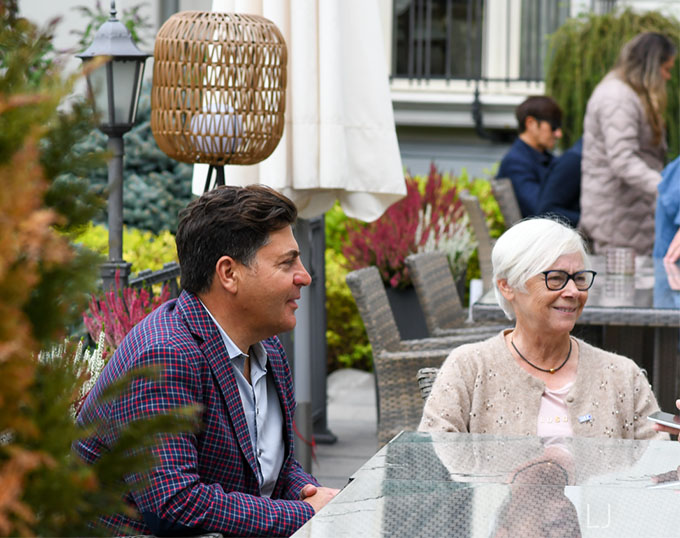 When asked how Poland can improve the quality of young horse presentation, Baarup replied, "the training and clinics with such top trainers as Eva is a big step forward, it's training, training and correct training." Saleh added, "being really focused on basis. What Eva did yesterday was really good, because she followed the training scale in a clear way from one point to another and that's the way to improve. We saw good quality horses and now they really need to know what they are looking for and be sure that we are really judging according to the training scale."
Saleh explained that the education of the judges is key for the future of the sport and for that IDOC (International Dressage Officials Club) collaborates with the National Federations. 
"We are really happy to organize the seminar together with Polish Federation and IDOC, because we really want to promote the sport as much as we can with the opportunity for good candidates to have access to seminar like this," said Raphael. "For us the collaboration between IDOC and the Polish Federation worked really well and that's something we should keep going on to have it more often. We are also grateful to Mateusz Cichon who kindly hosted our seminar. It was very well organized."
Related Links
Don Deluxe, Revolution, Dynamic Dream and Totilas Foals in 2021 Cichon Dressage Hybrid Auction
2018 Cichon Foal Auction Brings Top Quality Dressage Foals to Poland
All in One, Sir Europe, Victory, Casablanca, Breakdance, Gigi Lady, E Smaragd Win 2017 Polish Young Horse Championhips
Photo Report: 2014 Polish International Dressage Season Concludes with 2014 CDI Zakrzow
2014 FEI Refresher Seminar for Judges in Zakrzow: "Judge with Feeling"
FEI to Hold Refresher Seminar and Steward Promotion Course in Poland
FEI Judges and Technical Delegate Seminar at 2011 CDI Wroclaw
Arduous Work Delivered at FEI Technical Delegates' Seminar at 2011 CDI Wroclaw