Education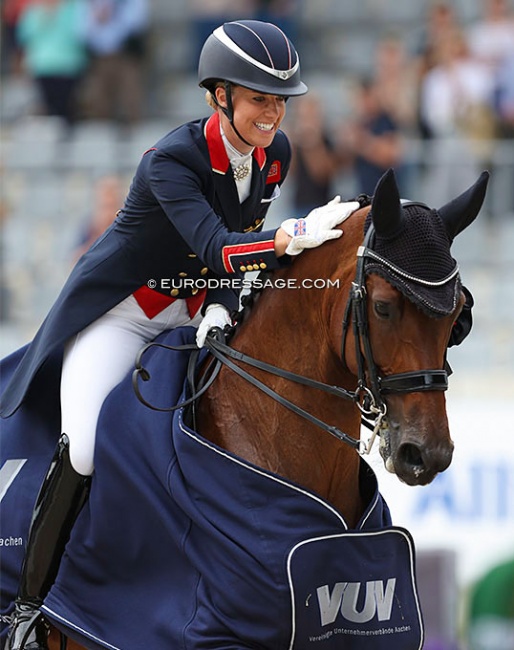 Equestrian Management Agency is firing up for their Autumn series of masterclass events, as the top names begin the demo season.
Charlotte Dujardin heads back to CHIO Aachen today for her first masterclass in Germany tomorrow (30 September 2023), while the world number one, Jessica von Bredow Werndl heads to the UK to give her first masterclass in the country on Sunday 1 October 2023.
Both riders have had a headlining season including the recent European Championships and have selected an variety of horse and rider who will take part in both masterclasses.
For the young horses, Dujardin chose Julia de Ridder and 5-year-old Faridero who will show the level alongside Aubenhausen based Norwegian rider Celina Bodstangen. Jette de Jong will be showing the importance of the basics with SoulSister and British born Meghan Ingham will be showing the Medium Advanced level with 7-year-old Lamourdale. The Grand Prix will be demonstrated by Bonhomme resident rider Moritz Treffinger with the 14-year-old Fiderdance.
United Kingdom
Inundated with demo rider applications which Von Bredow-Werndl spent over two weeks going through between Championships; she elected for Jessica McConkey to demonstrate the young horse level with Treldegards Spirit alongside Kirkland Dressage's Harrison Ashton on new ride, Visionnaire (by Vitalis).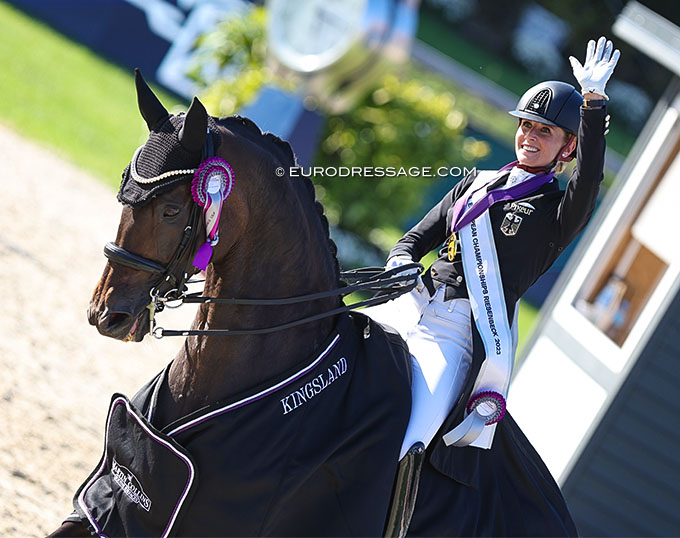 Fresh from the Spanish Young Horse Championships, Sergio Moron Basoco will show the Novice level with the up and coming Fiona (by Secret x Blue Hors Don Romantic). 
Georgia Nicholls and eight year old Silas will show the Medium level alongside Annie Cowan and her Dutch wamblood Lumiere. Alex Hardwick and Joie De Virve Prins will be showing the Prix St George level and Alice Oppenheimer will be showing the Grand Prix work with the notable Headmore Bella Ruby.  Georgie West will ride alongside Alice with Skyla, a 14-year-old mare by San Armour x King Arthur.
British Columbia, Canada
Carl Hester will be heading back to British Columbia next week to give a symposium to the Canadian crowd on October 8th, kicking off an unparalleled year of masterclass events across both sides of the Atlantic.
Ever a popular clinician for demos, Hester will be back at Thunderbird Show Park, a venue that he has held a masterclass in before and one he is looking forward to revisiting.
The dressage clinicians will work with a variety of rider and horse combinations from young horses through the Grand Prix across the masterclasses, giving those who secure tickets, a glimpse into the training methods which have taken these riders onto podiums for years.
EMA Masterclasses
Equestrian Management Agency began creating their own events back in 2016 when they hosted Carl Hester's birthday celebrations and have continued to grow in the space ever since. Later this Autumn will see the agency hosting further masterclasses in the UK alongside the British Dressage National Convention which Dujardin is set to headline. 
EMA has been the strategic rider management team behind some of the most upcoming and well-known riders in the sport for ten years and has been expanding its agency offering ever since.
Lemieux are the title sponsors of the event slate, alongside the very interesting company, Cavago.  Leading footing company, who were also the surface partner of the recent European Championships "Martin Collins" are also supporting the events, alongside NAF, Monte Velho, Roeckl Nedz Bedz and African Horse Safaris. 
Kirkland Dressage, the rising UK sales and training stable was also an early supporter with more sponsors in talks for the remainder of the year and 2024.
Tickets
For Dujardin CHIO Aachen tickets: https://www.chioaachencampus.com/
For Jessica tickets in the UK: https://www.tickettailor.com/events/equestrianmanagementagency/854382
Hester masterclass in British Columbia Canada. https://www.tickettailor.com/events/equestrianmanagementagency/887433 
All details of events and ways to sponsor can be found on the EMA website. www.equestrianma.com