Denmark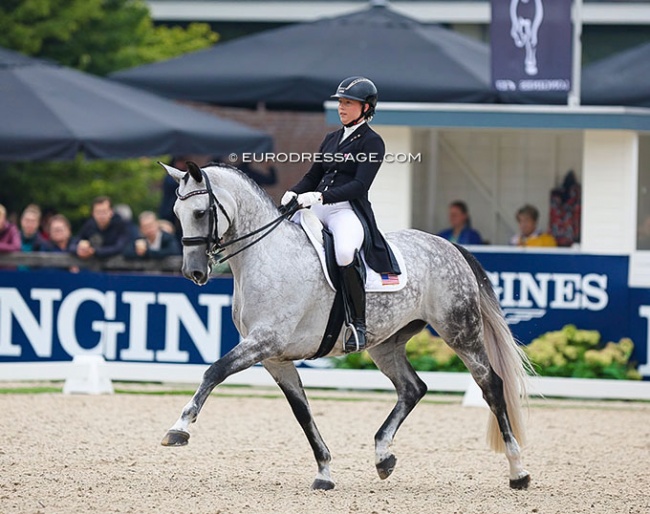 Cathrine Dufour has taken over the ride on the 7-year old Vianne from Australian Hope Beerling. The grey mare finished 10th at the 2023 World Young Horse Championships in Ermelo.
Vianne is a 2016 born American Hanoverian mare by Vitalis out of Raureif (by Ramiro's Bube x De Niro x Figaro). She is bred by Catherine Haddad-Staller
U.S. Bred
Vianne is the product of three generations of Catherine's breeding program, starting with the foundation broodmare, Elfenschein (by Figaro x Goldstern) that Catherine purchased from Ewald Grotelueschen in Germany.
She was raised at Hilltop Farm as a young horse and moved to Catherine's farm in New Jersey at the age of 3 years where she was started by her current rider, Hope Beerling of Australia. 
Hope Beerling
Under Hadded's assistant rider Hope Beerling, Vianne was produced to FEI level. Hope started to ride for Haddad in 2019 as an apprentice young horse rider. 
The pair won the silver medal at the 2021 U.S. Young Horse Championships in the 5-year old division with an overall score of 8.964 and won the Highest U.S. Bred Horse Award for the division. She was at the time listed as owned by Kimberly Butenhoff.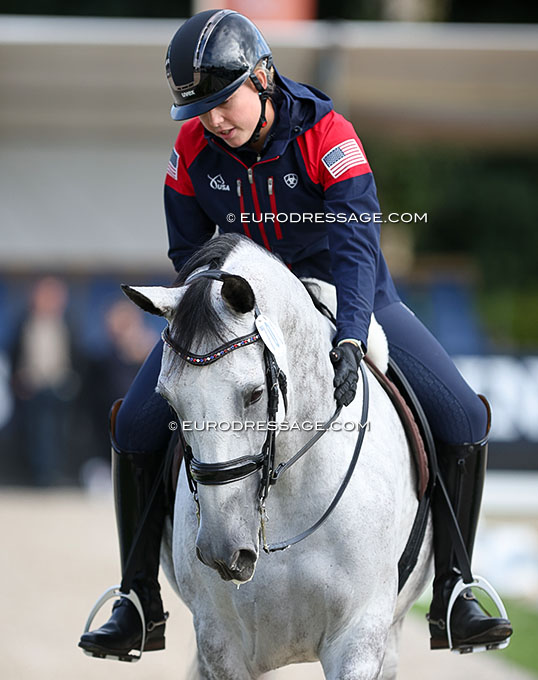 The duo made its international show debut in 2023 in the 7-year old classes at the CDI Lexington, which they won. They were nominated on the American team for the 2023 World Young Horse Championships in Ermelo and landed a 10th place in the 7-year old Finals
Cathrine Dufour
Now listed as owned by Norcordia USA, a horse sales and investment company consisting of Catherine Haddad and Danish Ulrik Clemmensen, Vianne did not return to the U.S.A after Ermelo but was sent to Cathrine Dufour in Denmark.
The mare arrived in Dufour's barn around two weeks ago and the Danish Olympian already premiered her in competition. The pair won the 7-year old qualifier for the Danish Young Horse Championships in Frederiksværk, scoring 81,415%.
"She gave me all her heart and all her trust today," Dufour wrote on social media after her win on Vianne. Dufour did not reply to questions about the mare's future and the planned length of this new partnership.
Owner Catherine Haddad stated, "no decision has been made as to Vianne's future at this time. We are very pleased to place her with Cathrine Dufour because a happy horse is a well trained horse. Cathrine's approach to horsemanship is synonymous with our own so it's a great partnership. The mare is too young for Paris. We are not pushing her toward the Olympics."
Related Links
Danciero Dethrones Global Player in 7-YO Finals at 2023 World Young Horse Championships
American Horses Selected for 2023 World Championships for Young Dressage Horses
Australian Horses Selected for 2023 World Young Horse Championships After Last-Minute Deadline Change
Fontenay, Glory Day, Sonata MF Win 2021 U.S. Young Horse Championships