2023 European Pony Championships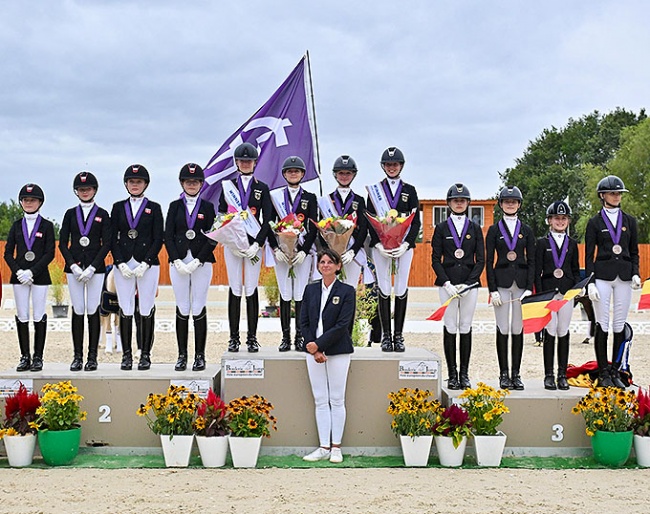 Team Germany did what was expected of them and secure yet another team gold medal at the 2023 European Pony Championships in Le Mans, France, on Thursday 27 July 2023.  Silver went to silver subscribers Denmark, while Belgium bested The Netherlands for bronze. 
After two years of Polish residency in Strzegom, the European Pony Championships moved to Emmanuelle Schramm and Pierre Rossi's equestrian center Pole Europeen du Cheval in Le Mans, France, welcome Europe's best dressage, show jumping, and eventing pony riders. 
The ground jury for 2023 included Eva-maria Vint-Warmington, Magnus Ringmark, Susanne Baarup, Isabelle Judet, and Thomas Keßler and they received the challenge of sorting out 57 riders who competed in the first round, the team championship test. The group was split into two with the first riders competing on Wednesday 26 July and the second half the next day. 
Golden Germany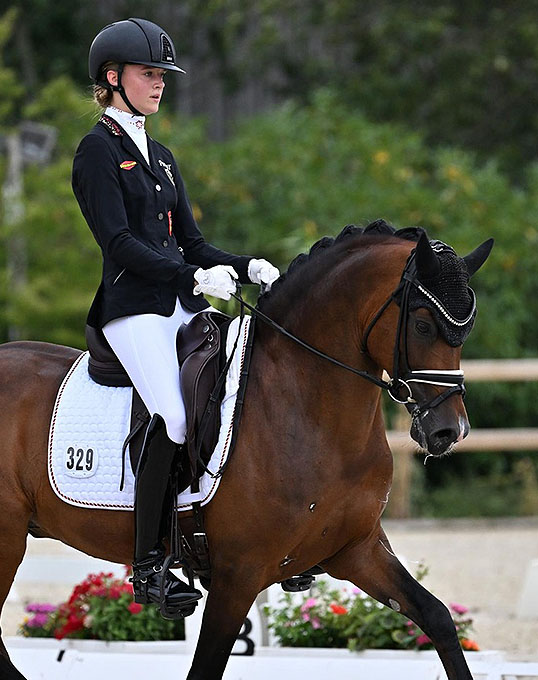 One of the questions I'm often asked is why Germany continues to be so successful, year after year, and I always reply it's the institutionalisation of the sport from grassroot level to high performance, closely tied together with breed societies. Sport and breeding are so closely interwoven, much money is invested in improving it; young pony riders are trained proper (classical) riding already at local level and a clearly structured system to source talent in the nooks and crannies of the countries and bring them to the fore. For pony sport there are several stepping stones with the "developing pony rider" programme/level as the step before FEI pony sport. 
All four of Germany's current team members competed at the Developing Pony Rider Championship, Lohe and Schmitz-Heinen won it (Collin was third, Pohl fifth). In Le Mans the 2022 European individual test gold medal winner Lilly Marie Collin spearheaded the campaign on Cosmo Callidus, an 8-year old Westfalian stallion by Cosmopolitan x Cyriac). Her score of 79.771% set her miles apart from the rest of the competition, placing first with all five judges. 
Julie Sofie Schmitz-Heinen contributed Germany's second best score of 74.600% which ranked her third in the team test. Aboard the 11-year old Chilly Morning  (by Calido G x Sandro Ace) she put consistent scores on the board.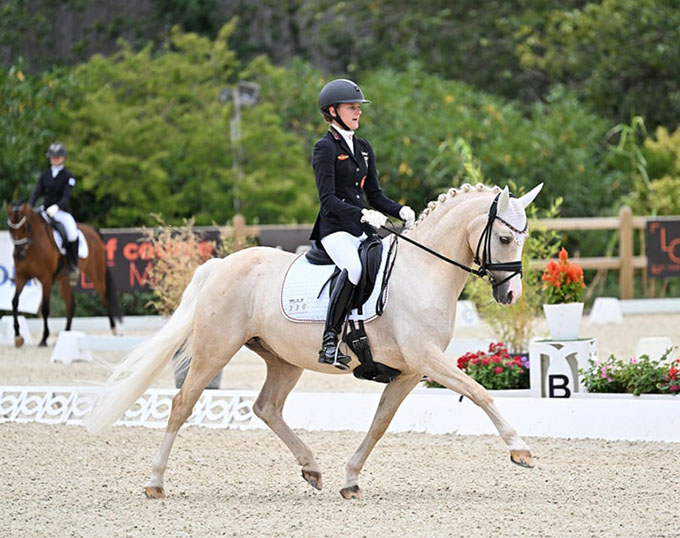 Germany's golden team score was 228.114 percentage points but it could have been even higher had the score of reigning European Kur champion Mia Allegra Lohe not been brought down to 73.743% (4th). The judges were probably puzzled what to do with the wrong canter strike off and the not so rhythmical collected walk of the 14-year old Tovdals Golden Future Imperial (by CJ Chargon Bredager x Ryyterbjergets Imperial). However, the bridle contact was soft and elastic and the "uberstreichen" part was very well ridden. When Lohe came out of the arena her score was 74.600% with the low score being 71.714% (Baarup) and the high score no less than 80,000% (Ringmark). Such huge score discrepancies are corrected by the computer system. If one result is 5% above/below the average of the four other scores, then that rogue mark will be adjusted to the highest/lowest score closest to what was given. So Ringmark's 80% was reduced to 75.714% which Vint-Warmington gave.
Germany's "scratch" score was 73.514% achieved by substitutes Maria Teresa Pohl on the 13-year old Der Kleine Sunnyboy (by Der Feine Lord x Valentino), who replaced Hubertus Stallmeister and an unfit 17-year old Adriano B only two hours before the vet check. 
Silver for Denmark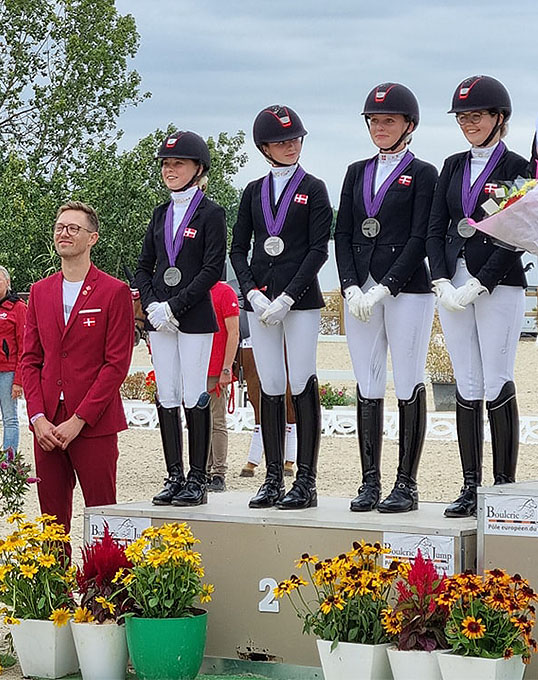 The Danish pony team finished in silver medal position with 217.772 percentage points.
After a bronze medal in 2022, the Danes stepped it up with a brand new team: all four members are first-timers and they were confident in their task. The team leader was Anna Munkebo on the 9-year old Danish bred Lyngdal's Mira Puella who is more than interestingly bred. She is by Daugaarden's Boomboy and out of German team pony mare Tovdals Golden Future Imperial. This new duo scored 73.686% to place fifth. Her marks ranged from 72.286% to 75.571%
Rikke Schoubye Johansen and the 12-year old Danish bred Lykkesholms Cyperb (by Lukas x Maior Domus) were not far behind with 72.229% in 8th place, while Sofia Rosenkilde on the 9-year old German bred stallion Cosmo Royale (by Cosmopolitan x Casino Royale K) landed 11th place on 71.857%. 
Denmark's pathfinder was Ingeborg Schou on the 15-year old FS Calimero (by FS Dior de Luxe x Challenger), who was previously shown by Anna Raben. They posted 70.257% for 15th place. 
Bronze for Belgium
The real battle at the European Championships was between last year's silver medal winning team from The Netherlands and Belgium. The two countries were in a thrilling race but in the end, Belgium held the best hands and scored a team total of 216.057 points, almost two percentage points ahead of Holland (214.770).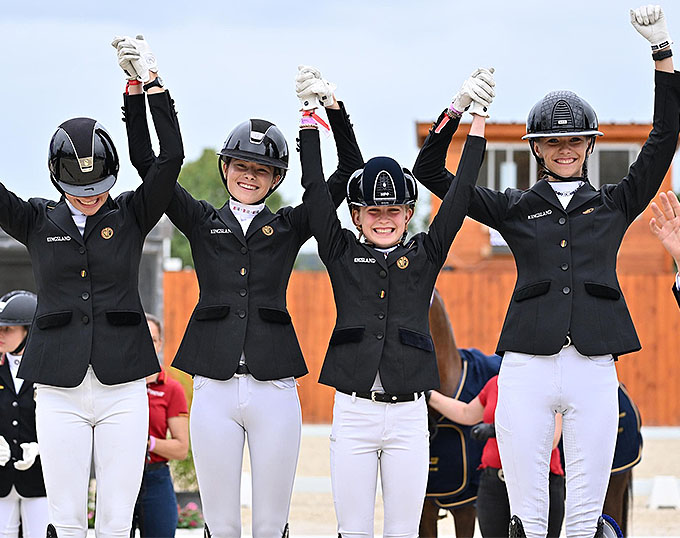 Belgium's medal winning ticket is Liezel Everars who is making her last year on ponies count. The well known pony rider has competed in four CDI's this season (Lier, Aachen, Le Mans, Grote Brogel and won 8 out of 12 CDI classes, placing second in three and third once. At their preparatory CDI in Grote Brogel they scored a triple victory with scores in the high seventies and with her 12-year old Rhinelander gelding FS Capelli de Niro (by FS Champion de Luxe x FS Don't Worry) she is considered Germany's greatest threat for individual medals on the podium. In the team test, Everars scored 74.743% and placed second.
Belgium's second score came from team returnee Emilie Herweyers aboard Steendieks La Perla (by Steendieks Dalai x FS Chambertin). Herweyers and her 9-year old grey mare scored 72.000 to place 10th. Anna Peeters, who is also in her last year on ponies and was double team selected as a junior, decided to give it a final crack on her pony at the Pony Euros. Aboard the 13-year old Balotelli (by Benetton S x Sweet Dream SF) she posted 69.314% for 21st place. 
Team rookie 12-year old Alexine Herweyers and the former Danish team medal winning pony Terbofens Charico (by Charivari x Contendro I) scored above her season average when she posted 67.743%, Belgium's drop score which placed her 29th.
In the past two decades Belgium has scored team bronze with its youth teams every decade. It did so a first time in 2003 (Hickstead), in 2013 (Compiegne) and now in 2023 (Le Mans).
Worth Nothing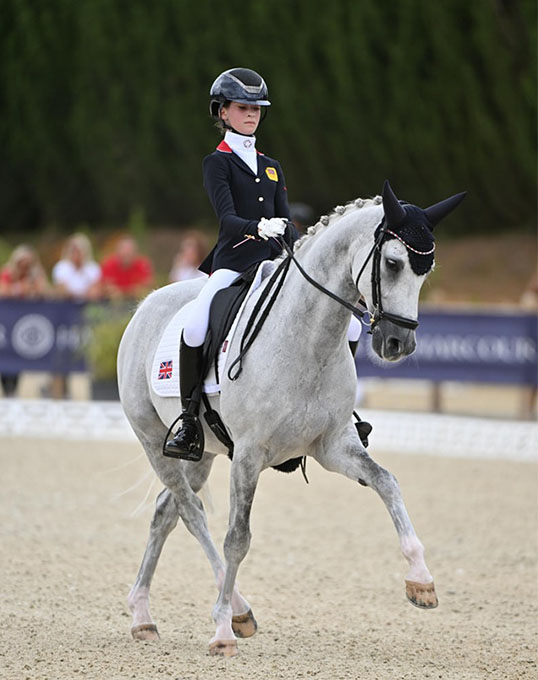 The highest scoring rider from a team that didn't place on the podium was Great Britain's Abigail Gray on Mette Dahl's former British team pony, George Clooney B.S., a British bred KWPN pony, by Caesar x Santano). The 15-year old Gray from Banchory in Aberdeenshire posted a personal best of 72.800% to bolster Britain's team total and put GBR in provisional silver overnight and individual 7th place. In the end, Britain finished fifth. 
Holland's best scoring rider was Isabella Karajkovic on the 11-year old NRPS gelding First Hummer (by FS Mr Mobility x Jarno). The former Dutch children team rider posted 72.228% to place 9th. 
Italy's Virginia Spönle and the 10-year old German riding pony stallion Coer Noble (by Caramel x Noir de Luxe) finished 13th with 71.171%. The top scoring Sweden was Vida Nordling Pettersson with the 10-year old German bred Dreimalhoch S (by Dreidimensional) on 69.428%
Photos © Les Garennes
Related Link
Eurodressage Coverage of the European Pony Championships