Australia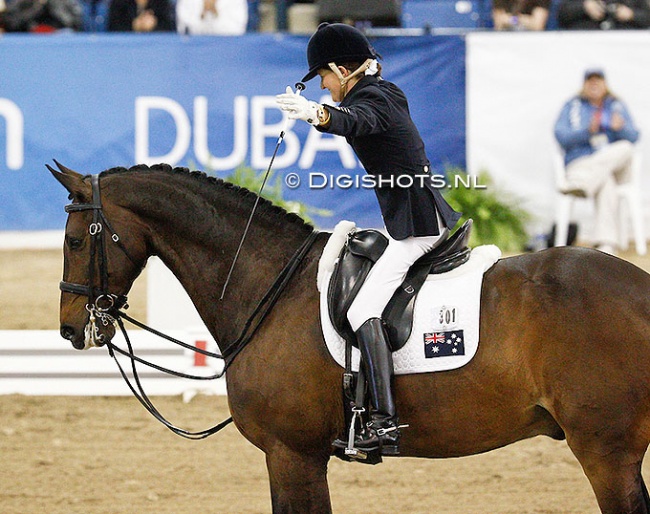 Australian para dressage rider Sharon Jarvis said goodbye to her 2008 Paralympic mount Applewood Odorado. He was 27 years old.
Applewood Odorado was a 1996 born Dutch warmblood by Indorado out of Jadelinda (by Nimmerdor x Lucky Boy xx). 
Holland - UK
Odorado was bred in The Netherlands, but grew up in the UK, originally as a jumping horse but soon showing more talent in dressage.
At a young age Sharon was diagnosed with a Ewing's sarcoma bone tumour in her left femur. Originally she was given a 20% chance of survival and about 3 months to live but the doctors experimented with treatments and saved her and her leg from amputation. As a result she has impaired use of both her legs with limited movement and strength.
Sharon was introduced to para sport in 2006 and went in pursuit of a suitable horse for the the 2008 Paralympics.
"Knowing I really wanted to compete at the Paralympics we had to find a horse suitable," she told Equestrian Life. "Firstly, we had to work out how to afford one! I sold my best mate Fabian, sold as many of my ponies that I had been breeding as I could, and with the help of my parents and the bank we went in search for the horse. Nothing turned up in Australia so we went overseas."
Sharon discovered Odie while flicking through a Horse and Hound magazine while in the UK to compete at the 2007 World Championships at Hartpury on borrowed horses.
"I just knew when I saw Odie go, he could be the horse for me, and our ride was really special," she told Equestrian Life. "Odie turned out to be such a character with lots of quirks but really an amazing horse, he had the ability to compete small tour and para in the same day, loved a crowd, but could also have a ripper spook too! I takes a special horse to win a medal, he is a special horse."
It took 6 months to get Odie into Australia after getting stuck in UK quarantine during the Australian Equine Influenza Outbreak.
Australian Medal Winner
Sharon Jarvis and "Odie" competed at the 2008 Beijing Paralympics where they placed 4th in the Individual Championship Test at Grade III level (the para dressage grading system and championship tests have since changed).
Two years later they travelled to the 2010 World Equestrian Games in Lexington, KY, where they became double bronze medal winners. Jarvis was named 2010 Equestrian Australia Domestic Athlete of the Year
He was retired midway through the 2012 London Paralympic team selection due to an injury and ended up living out his retirement happy at Jarvis' family farm.
Photo © Digishots
Related Links
Australia's Para Dressage Team Selected for 2021 Tokyo Paralympics
Sheer Grit Earns Gold for Sheardown, Brenner Makes it a Double at 2010 World Equestrian Games
British Young Rider Sophie Wells Wins World Para-Equestrian Games Gold Medal