The Netherlands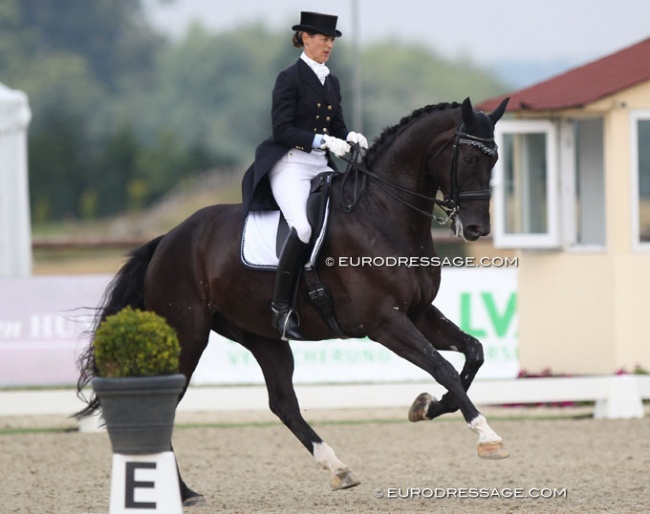 Dutch professional dressage rider Petra van Esch said goodbye to her international small tour horse Fifty Fifty. The 13-year old NRPS gelding was euthanized following a long illness.
Fifty Fifty was by Florencio out of Nelinora (by Climax). He was bred by Hendrik van Esch.
Petra van Esch
The home bred Fifty Fity was a full brother to Fido Dido and Fiji, although they were bred by M.J. Ewals. 
Petra and Fifty Fifty made their international show debut at small tour level in February 2019 at the CDI Neumunster, where they were fourth twice. That same year they also competed at national shows in Germany, including the developing prix st. georges horses classes in Ingolstadt, followed by the CDI Randbol. 
In 2020 they returned to Neumunster and were second twice, followed by the CDI Hagen in July 2020.
Later that summer they competed at Grand Prix level in Germany in Mannheim. Their last show in Germany was two years later in April 2022 in Zeutern, also at Grand Prix level.
Fifteen Months Ill
Van Esch announced the passing of her horse on Facebook. He was euthanized on Sunday 5 June.
"My Fiftyfifty has been ill for 15 months," said Van Esch. "We tried everything within our power, but it wasn't meant to be. We had to put him to sleep."
She added, "when two hazel eyes ask you 'help me I don't feel' should you be selfish because you feel the end is near? When you feel this isn't getting better and he's getting more in pain, should you be selfish because you can't miss him?"
Photo © Astrid Appels
Related Links
Petra van Esch's Fiji Sold to Japan
Mara de Vries and Habibi DVB Sweep Small Tour at 2020 CDI Hagen
Theodora Livanos' Fido Dido Passed Away